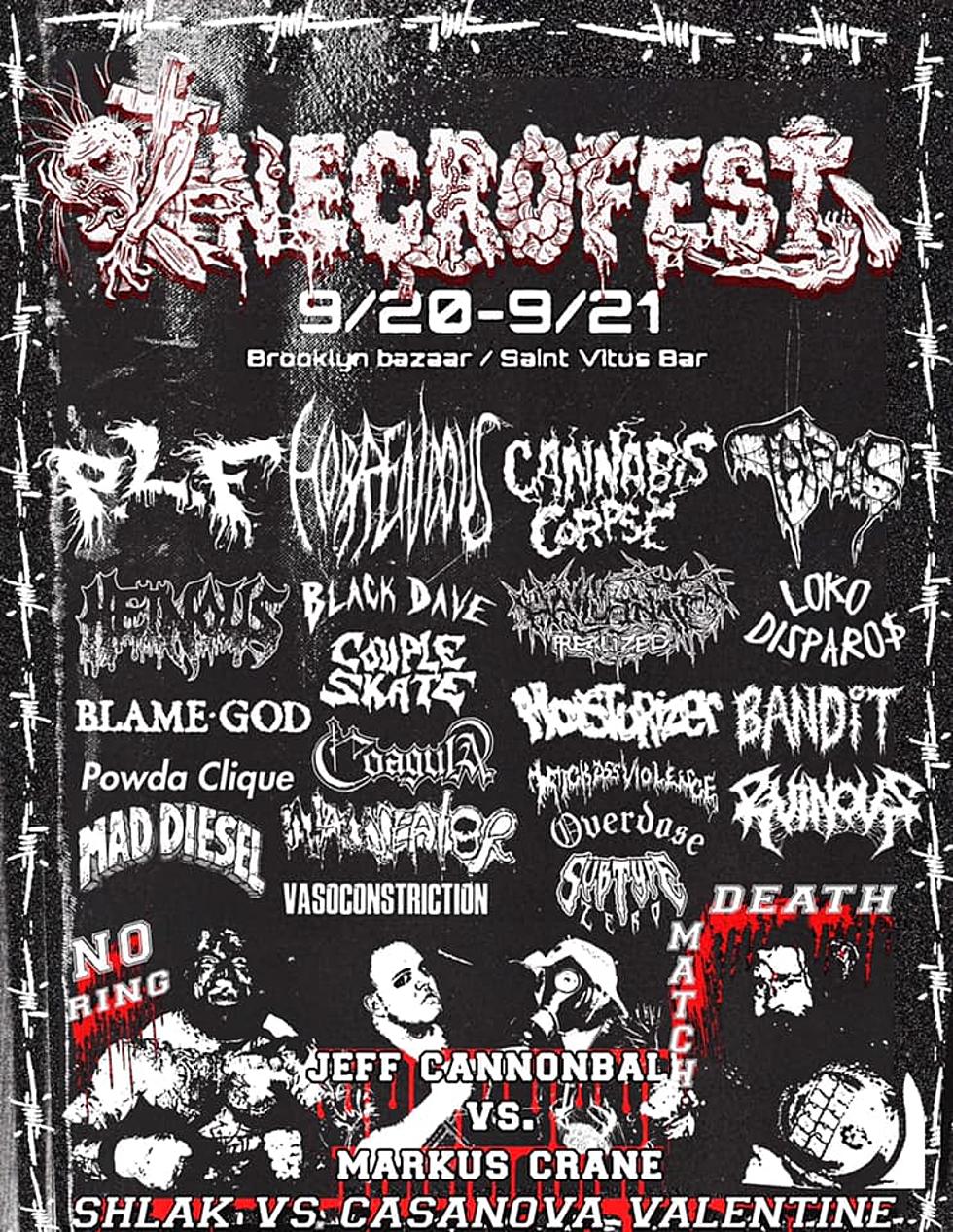 PLF, Cannabis Corpse, Horrendous & more playing NYC's inaugural Necrofest
Brooklyn is getting a new metal, punk, and hip hop festival called Necrofest coming to Brooklyn Bazaar on September 20 and Saint Vitus on September 21. The full lineup will be revealed later this month, but a handful of acts have already been announced, including PLF, Cannabis Corpse, Horrendous, Taphos, Ruinous, Heinous, Couple Skate, Black Dave, Blame God, Overdose, Bandit, Coagula, and more.
There will also be a wrestling match at Lucky 13 on 9/20 as part of the fest. Here's more:
COMING OUT HARD THIS SEPTEMBER THE FIRST ANNUAL NECROFEST IN BROOKLYN, NY. 9/20 and 9/21

An Independent two day multi venue fest bringing you the best of the underground in metal, punk, hip hop and A FUCKING WRESTLING DEATHMATCH. Bringing out all the crews together to rage in the same place for an entire weekend. NO SLEEP NO FOOD….JUST MANIACISM!! Spreading out between Brooklyn Bazaar, Saint Vitus and Lucky 13. Bringing you acts from up and down the east coast, the southwest, Europe and even CANADA.
Stay tuned for the full lineup and ticket links. Check out the initial lineup as it currently stands below.
Necrofest -- 2019 Initial Lineup
PLF (TX)
Cannabis Corpse)RVA)
Horrendous( DC)
Taphos (Denmark)
Ruinous( NYC/NJ)
HEINOUS (AZ)
Couple Skate
Black Dave (NYC)
Blame God
Overdose
Bandit (PhillY)
Coagula (MA/NY)
Loko Disparos (NJ)
Kick Ass Violence (Quebec)
Hallucination Realized (Rochester)
Moisturizer (PVD)
SUBTYPE ZERO (OHIO)
Vasoconstriction
Mad Diesel (NYC)
Unmen (NJ/ATL)