Ponytail, Deer Tick, Titus Andronicus, Abe Vigoda – lots of NYC shows and new 2008 Tour Dates
Titus Andronicus @ Market Hotel (more by Leia Jospe)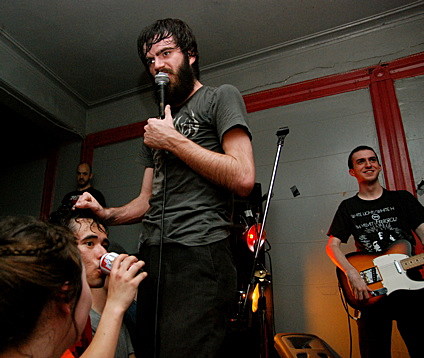 Ponytail @ Knitting Factory (more by Ryan Muir)

Ponytail are also playing the free After the Jump show happening at Music Hall of Williamsburg this Saturday afternoon (June 21st), but not before playing a "Less Artists More Condos" party tonight (Friday June 20). And while they're here from Baltimore, why not fit in as many shows as possible. Ponytail are also playing a second show on Saturday at Silent Barn:
==== SATURDAY 6/21 --EARLY-7PM!-- @ SILENT BARN ====

:: PONYTAIL
:::: DEER TICK
:::::: White Hinterland
:::::::: Sal Feathers
Titus Andronicus are also playing After The Jump on Saturday, but they're playing the part of the festival that costs $10 and happens later inside Music Hall of Williamsburg. Health are playing that show too.
Myopenbar Presents:
Stimulus Package
July 4th, 1pm - 9pm

Performances by:
Ponytail
The Apes
Indian Jewelry
Marnie Stern
Double Dagger
Power Douglas
Special Guest: 80's Hardcore (Gavin McInness and Terry Richardson) and
DJ Dirty Fingers
complimentary PBR and Southern Comfort
free treats from the Ice Cream Man
The Yard, Gowanus, Brooklyn
Then Ponytail is playng the Yard AGAIN eight days later - at the huge, crazy, Todd P show that Titus Andronicus and Abe Vigoda are also playing. This outdoor show is one day before the show all three of them play Mercury Lounge (see above), and it's one day after Abe Vigoda plays the Seaport with No Age (who may or may not be the special guest at any one of these other events).
THEN, Ponytail plays The Yard AGAIN 10 days after their last Yard show - this time as part of a tour with Joan of Arc which also includes a show at Knitting Factory one day later (for those counting, that makes 8 upcoming Ponytail shows in NYC - 3 of which are at the Yard). Make that nine: tickets are already on sale for an August 23rd show at Knitting Factory with Don Caballero.
We're not finished. Titus Andronicus are also playing Knitting Factory on June 27th, and a free show with Obits at the East River Amphitheater the next day, AND another show at 123 House in Brooklyn later that night, AND at Maxwell's with The Dirtbombs on July 11th (two days before they play that Mercury Lounge show that started this post) (and one day before that big Todd P show at the Yard). All tour dates for everyone below....

Deer Tick - 2008 Tour Dates
Jun 20 - Rooftop Films Romance Show New York, New York
Jun 21 - Silent Barn, Brooklyn, NY
Jun 23 - Middle East Upstairs w/ White Hinterland & Virgin Forest Cambridge, Massachusetts
Jun 28 - The Living Room w/ Times New Viking & The Viennagram Providence, Rhode Island
Jun 30 - Southpaw w/ Those Darlins Brooklyn, New York
Titus Andronicus - 2008 Tour Dates
Jun 21 - After the Jump Festival w/ HEALTH @ Music Hall of Williamsburg Brooklyn, New York
Jun 25 - Rock and Roll Hotel w/ Times New Viking Washington DC, Washington DC
Jun 26 - Johnny Brenda's w/ Times New Viking Philadelphia, Pennsylvania
Jun 27 - Knitting Factory New York, New York
Jun 28 - East River Amphitheater w/ Obits (Ex- Drive Like Jehu, Hot Snakes) New York, New York
Jun 28 - 123 House Brooklyn, New York
Jun 29 - Great Scott w/ Times New Viking Boston, Massachusetts
Jul 11 - SHOEGAZE ACROSS AMERICA Glen Rock, New Jersey
Jul 11 - Maxwell's w/ the Dirtbombs Hoboken, New Jersey
Jul 12 - Outdoor Venue TBA w/ ONEIDA, High Places and many more In or around NYC, New York
Jul 13 - Mercury Lounge New York, New York
Jul 14 - Circle of Hope Philadelphia, Pennsylvania
Jul 15 - Garfield Artworks Pittsburgh, Pennsylvania
Jul 16 - Cafe Bourbon Street Columbus, Ohio
Jul 18 - Bear's Place Bloomington, Indiana
Jul 19 - Pitchfork Music Festival Chicago
Jul 21 - First Avenue - 7th Street Entry Minneapolis, Minnesota
Jul 22 - Vaudeville Mews Des Moines, Iowa
Jul 23 - The Bluebird St. Louis, Mississippi
Jul 24 - Pistol Social Club Kansas City, Missouri
Jul 25 - B-Side Gallery Wichita, Kansas
Jul 26 - Larimer Lounge Denver, Colorado
Jul 27 - Kilby Court Salt Lake City, Utah
Jul 29 - Fun House Seattle, Washington
Jul 30 - Holocene Portland, Oregon
Aug 1 - Lil' Red Lion Eureka, California
Aug 2 - Nick's Nightclub Chico, California
Aug 3 - Hemlock Tavern San Francisco, California
Aug 4 - The Echo Los Angeles, California
Aug 5 - Modified Arts Phoenix, Arizona
Aug 7 - Hush Gallery El Paso, Texas
Aug 8 - Mohawk Austin, Texas
Aug 9 - The Lounge on Elm Street Dallas, Texas
Aug 10 - The Dragon's Den New Orleans, Louisiana
Aug 12 - The Earl Atlanta, Georgia
Aug 13 - TBA Athens, Georgia
Aug 14 - Bull City Headquarters Durham, North Carolina
Aug 15 - TBA Charlottesville, Virginia
Aug 16 - The Red and the Black Washington DC, Washington DC
Aug 17 - Ottobar Baltimore, Maryland
Aug 18 - The Barbary Philadelphia, Pennsylvania
Ponytail - 2008 Tour Dates
Jun 19 - Copy Gallery Philadelphia, Pennsylvania
Jun 20 - Less Artists More Condos New York, New York
Jun 21 - After the Jump Festival @ Music Hall of Williamsburg Brooklyn, New York
Jun 21 - Venue TBA (Todd P Show) w/ Deer Tick Brooklyn, New York
Jul 4 - The Yard w/ Indian Jewelry Brooklyn, New York
Jul 12 - Todd P NYC Mid Summer Outdoor Party @ The Yard w/ Oneida, High Places, Titus Andronicus, Abe Vigoda Brookyln, New York
Jul 13 - Mercury Lounge w/ Titus Andronicus, Abe Vigoda New York City, New York
Jul 18 - Building 16 Providence, Rhode Island
Jul 19 - Live Block - BSR 88.1 FM WELH Providence, Rhode Island
Jul 19 - Middle East ** Boston, Massachusetts
Jul 20 - Whartscape Festival Baltimore, Maryland
Jul 21 - The Yard ** Brooklyn, New York
Jul 22 - Knitting Factory ** New York, New York
Jul 23 - First Unitarian Church ** Philadelphia, Pennsylvania
Jul 24 - Floristree ** Baltimore, Maryland
Jul 25 - Grog Shop ** Cleveland, Ohio
Jul 26 - Howler's Coyote Cafe Pittsburgh, Pennsylvania
Aug 23 - Knitting Factory, New York, NY
Abe Vigoda - 2008 Tour Dates
Jun 25 - The Smell w/ Small Breed, Shed & Seahouse! Los Angeles, California
Jun 28 - Modified Arts ** Phoenix, Arizona
Jun 29 - The Blue Iguana ** El Paso, Texas
Jun 30 - Palladium Ballroom ** Dallas, Texas
Jul 1 - Emos Jr. ** Austin, Texas
Jul 2 - 121 Millsaps ** Jackson, Mississippi
Jul 3 - Eyedrum ** Atlanta
Jul 4 - Secret Squirrel Athens, Georgia
Jul 5 - The Rocket Club w/ EAR PWR! Asheville NC
Jul 6 - The Milestone w/ EAR PWR! Charlotte
Jul 7 - The Pom Hole w/ Narwahlz! Richmond VA
Jul 8 - Rock and Roll Hotel ** WASHINGTON, Washington DC
Jul 9 - Floristree ** Baltimore, Maryland
Jul 10 - First Unitarian Church Philadelphia, Pennsylvania
Jul 11 - Seaport Music Festival Pier 17 New York, New York
Jul 12 - Todd P Outdoor Show w/ High Places, Ponytail and others NYC
Jul 13 - Mercury Lounge w/ Titus Andronicus, Ponytail New York, New York
Jul 14 - Middle East Downstairs ** Cambridge, Massachusetts
Jul 15 - La Sala Rossa ** Montreal, Quebec
Jul 16 - Legendary Horseshoe Tavern ** Toronto
Jul 17 - Eagle Theater ** Pontiac
Jul 18 - Empty Bottle w/ Guns N Bombs, Hollywood Holt Chicago, Illinois
Jul 19 - Pitchfork After Party @ Schuba's w/ High Places Chicago, Illinois
Jul 21 - Triple Rock Social Club ** Minneapolis
Jul 23 - Artlife w/ Women Calgary, Alberta
Jul 24 - Richards on Richards **, Mika Miko Vancouver
Jul 25 - Capitol Hill Block Party! Seattle WA
Jul 26 - Hawthorne Theater **, Mika Miko Portland
Jul 28 - Great American Music Hall **, Mika Miko San Francisco
Jul 29 - LoBot Gallery **, Mika Miko, KIT Oakland, California