Pop Montreal 2010 – Day 4 in pics & review (Mary Margaret O'Hara, Deerhoof, Diamind Rings, Little Scream & more)
Deerhoof

No rain, a bit of sun (if only briefly) and finally a day party outside to start Day Four (Saturday) of Pop Montreal (catch up with day 1, day 2 and day 3).
The Notman House had the grill up and running and the speakers loud enough I could clearly hear the first band of the day, Edmonton's The Whitsundays, in my room at the Opus Hotel across the street. People lined up for free pulled pork and/or lentil sandwiches, sipped beer, listened to the Edmonton quartet's opening set (a solid, catchy blend of garage rock/pop) or milled about the house. It was an eclectic mix of people with little kids running around with their faces painted and even greeting people as they made their way up the Notman House front steps. It felt like a party which the weather managed to kill off on Thursday and Friday.
Stuck around for a really entertaining set by another Edmonton band, Hot Panda, before catching the bus (free bus pass was a godsend) to catch Think About Life and Diamond Rings at Divan Orange. I walked up to see people hanging out and then caught a glimpse of the sheet of paper stuck to the door. "Sold Out," it read. Or, since it was a free day party 'at capacity' was more apt. So, I hung around in hopes of getting in, not nearly as disappointed as some of those around me who were clearly crushed by that white sheet of paper.
Think About Life played before Diamond Rings, and it cleared out a bit after their set. Diamond Rings is the solo project of John O'Regan of the D'Urbervilles, and he shows a lot of promise. Synths, guitar and processed beats via laptop made for some simple, yet agreeable, dance numbers. Though his own dance moves were cringe-inducing.
The evening part of the program looked to be a long one with Deerhoof announced via Twitter as the 2am Loft Party headliner at Espace Reunion. It started off at Cabaret Mile End and the news that Doveman, who was slotted in between Mary Margaret O'Hara and Little Scream, was unable to make it out of New York and canceled. Instead, Little Scream's short but enchanting opening set complete with string accompaniment gave way to replacement act Becky Foon + Howl which was Little Scream, Becky Foon on cello Jess Robertson on violin and other members. But I opted to dash up Parc to another Cabaret, Playhouse, to see what was happening there. The official Pop Schedule said I was supposed to be catching Secretary City, but instead I found a seven-piece collective, Olenka and The Autumn Lovers, who were supposed to play Thursday but their van broke down on the way in from London, Ontario. The pleasant surprises to this point were few and far between but Olenka and Co. were the biggest. A solid dose of folk, chamber pop and Americana (can you call it that if they're Canadian?) wrapped in Eastern European themes (there's certainly a bit of Beirut in their sound) through Olenka Krakus's memories of Communist Poland.
Mary Margaret O'Hara

Then it was back to Mile End for Mary Margaret O'Hara. In the past 10 years you could probably count her number of public performances on two hands, with fingers left over. Whirling in with her band 20 minutes before they took the stage, everything was left to chance; even the setlist, which was drawn from a hat by O'Hara and audience members. Clearly uncomfortable on stage, O'Hara flittered about, cracked jokes, forgot lyrics and made others up as she went. Her voice was clear and powerful, and despite only releasing one proper record in the late eighties (Miss America), she is still roundly adored. Hers was one of the highlights of the festival, including a beautiful remembrance of Vic Chesnutt that led into "Somewhere Over The Rainbow." (vid below) It was emotional stuff and when Little Scream came out right after to do a free improv piece, she was wiping away tears. "I don't think I can sing," she said, "I'm crying too much."
Reluctantly, I left to make my way up to Espace Reunion and caught the last couple of songs by Buke & Gass and worked my way to the front for Deerhoof who despite going on at 2am were up for it and so was the audience. During the rowdier numbers, and between drummer Greg Saunier's awkward attempts to banter in French, the crowd surfed and repeatedly tumbled on to the stage with even a few people deciding to just sit on the stage in front of the band. When I left at 3am (after devouring some incredibly good tacos) they were still going, but with one day remaining the only thing I could think about was my hotel bed.
More pictures from the whole day, and a few videos, below...

--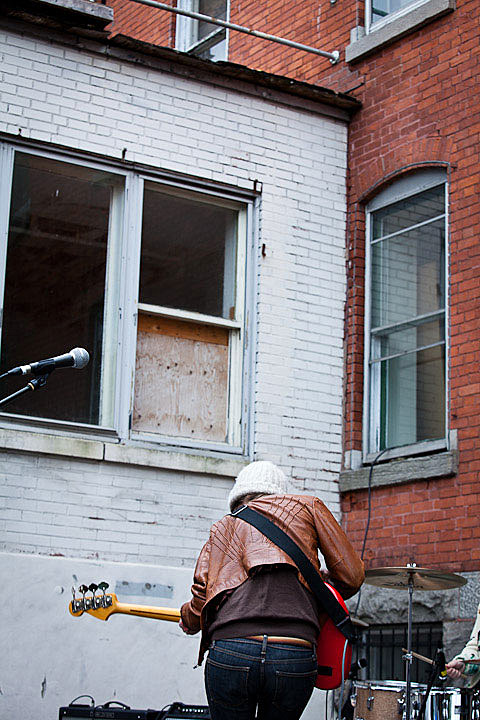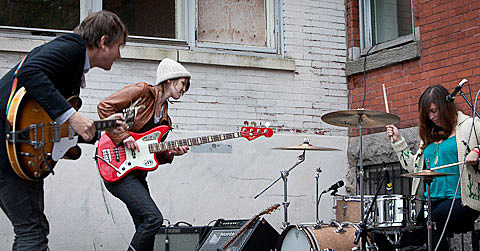 Olenka & The Autumn Lovers