Pop Montreal Day 3: 'The Besnard Lakes are the 17-piece band', Ruth Garbus, Crosss, Jib Kidder & more
The Besnard Lakes @ Pop Montreal 9/18/2015

I try not to throw the word "epic" around much as a person who writes about music but that pretty much describes The Besnard Lakes' Pop Montreal performance Friday night at Rialto Hall. A special event, years in the dreaming, the Montreal quintet expanded performed "The Besnard Lakes are the 17-piece Band -- a one-time-only Pop show, featuring string and horn sections, backup singers, two drummers, a vibraphone player and three guitarsts (who, for one song were all playing with E-Bows). Besnard Lakes' sound is already widescreen, this was Cinemascope.
Despite word that they would play their forthcoming album in full, it was a career-spanning, nearly two-hour set hit most of their albums' highlights ("Like the Ocean, Like the Innocent" was the only thing they didn't play that I really wanted to hear). It was very hot in Rialto Hall, with sweat pouring down frontman Jace Lacek's face as he noted it took a lot of sweat to make it happen, too, but "right now this is fucking fun." The whole show was recorded and shot with plans for release "if we don't fuck it up," joked Lacek. They didn't. Setlist is below. The Besnard Lakes will open a few shows for Ride this week, including their Tuesday (9/122) show at Irving Plaza (tickets).
It was a busy Friday night at Pop, with other options including Viet Cong, whose show was widely rumored at the fest to be the last time they'd use that name, as well as Godflesh, Motorhead, and Giorgio Moroder. (Downstairs at Rialto Hall lobby, Owen Pallett was guest-chef at Pop's pop-up restaurant, and his menu included Monte Cristo sandwiches, Scotch eggs, veggie burgers and more. I didn't try anything.) I stuck to smaller bands, catching Ruth Garbus (sister of tUnE-yArDs' Merrill) at Casa Del Poplo. Her music is more winsome, charming folk whose jazzy chords reminded me just a little of sunshine pop band The Free Design. While there I also caught a few songs by quirky and slightly obtuse singer Jib Kidder, and then went across the street to La Sala Rossa to catch soulful young band Un Blonde. After The Besnard Lakes I managed to catch the tail-end of Toronto's doomy Crosss who were closing out the night at Club Lambi. I finished my night watching a bit of Grease 2 (dubbed in French) on my hotel while downing my sixth (seventh?) Montreal bagel of the week, before crashing out.
Saturday at Pop Montreal: a record fair, some unofficial day parties and at night: Built to Spill, Babes in Toyland, Stars of the Lid, The Cribs, Nick Diamonds, Absolutely Free and lots, lots more. A few more iPhone pics from Friday night, below.

---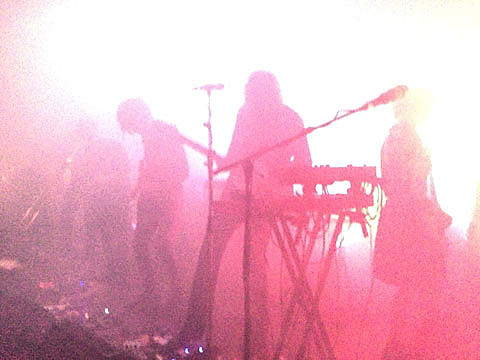 Owen Pallett's pop-up restaurant
SETLIST: Besnard Lakes @ Pop Montreal
Because Tonight
Chicago Train
Rides The Rails
And Her Eyes Were Painted Gold
Catalina
In The Forest (Live debut)
And This Is What We Call Progress
Golden Lion (Live debut)
Pressure of Plans (Live debut)
Refugee (Live debut)
The Specter
46 Satires
Albatross
Disaster
Encore:
Devastation
And You Lied to Me
Four Long Lines