Pop Montreal Day 4: The Cribs (with Lee Ranaldo), Doldrums, Absolutely Free, Blanka & more
The Cribs w/ Lee Ranaldo / Doldrums @ Pop Montreal 9/19/2015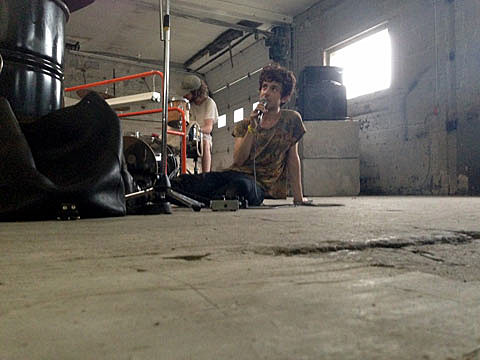 After three days of perfect weather (this is my first time in Montreal where it was hot) we got rain on Saturday (9/19), which was also the most walking around I've done all week. Things started fairly early for an afternoon "picnic" thrown by Arbutus Records at 820Plaza which is a DIY performance space/record store/zen garden in what was an old auto garage. A pretty cool space. There was free beer (Kronenbourg 1664 seems to be the free beer of choice in Montreal), grilled stuff and performances from Devon Welsh (before I got there), She-Devils (who I'd seen on Thursday), Better Person (very "Careless Whispers" style '80s soul ballads) and surprise guests Doldrums. With his brother Daniel's band Moon King elsewhere, Airick Woodhead had a different Doldrums lineup than when they toured in the spring, and he tried out a few new songs in between cuts from this year's underrated The Air Conditioned Nightmare.
After the picnic, I went to check out new venue Mothlight that just had its first event a few days ago; DIY-ish with legit aspirations. Upstairs with no air conditioning, Mothlight was insanely hot and I sweated out most of the free beer I'd had earlier. The band formerly known as Viet Cong were supposed to have been the surprise performer, but someone in the band was sick so they did not play. Both the band's Mike Wallace and Matt Flegel were there, though, and the latter's brother, Andrew Flegel, was playing drums in Blanka who did play. Blanka's icy, synthy postpunk brought the temperature down to still-too-hot. You can check out their just-released their six-song debut, below. Also playing were the noisy/loud Ashley Soft and you can stream a couple of their songs as well.
After a much-needed dinner break, I headed over to Theatre Fairmount for the Arts & Crafts showcase. The Cribs were headlining, their first time in Montreal in a while apparently, and delivered a lot of favorites (it has been a long time since I've heard them do "You Were Always the One") and, as a special treat, brought out Lee Ranaldo for "Be Safe" in which recites a spoken word piece. (They do it live usually with a video of Lee playing in the background). Video is below. I always forget how much I like The Cribs. Fun set.
Before the Jarman brothers' whoa-oh-ing, we got sets from kraut/baroque/psych trio Absolutely Free (terrific), Win Win (a little more guitar-y than I remembered their new album being), River Tiber (downtempo laptop-y R&B), and new Arts & Crafts signings Charlotte Day Wilson. The Cribs and River Tiber both play Brooklyn's Music Hall of Williamsburg on Tuesday (9/22) and tickets are still available.
Tonight (9/20) is the final day of Pop Montreal with, among lots of other shows, a closing night party that has a Smiths cover band, The Smiffs, that features members of Suuns. You can read Pop Montreal recaps of day 1 HERE, day 2 HERE, and day 3 HERE. A few more iPhone pics from day 4, below.