Portishead played ATP NJ — night 1 pics & setlist, night 2 video w/ special guest Chuck D
Dana (distortion) Yavin
photos by Dana (distortion) Yavin
After leaving us hanging for over 14 years, Portishead finally returned to the east coast of the United States to play one of my personal favorite shows of all time at Asbury Park's Convention Hall as part of ATP's "I'll Be Your Mirror" on Saturday night (10/1). Unfortunately I couldn't stick around to see them do it again on Sunday (with special guest Chuck D of Public Enemy who played before them that day), but I do plan on being at one or both of the Hammerstein Ballroom shows this week to relive it again. I'll definitely watch Fallon too.
Much like Radiohead recently, Portishead's live lineup included two bald men. Like Radiohead, one of those bald men was Clive Deamer on drums (at least I think it was). The guy is keeping busy.
Jeff Mangum, who played the night before, and the two days after (including tonight) was in the audience to check out the NJ fests's co-headliner. From my seat I could see him talking to the drummer of Shellac (who also played the night before and who also plays tonight). Beth Gibbons crowdsurfed on top of that audience at the end of the amazing set.
More ATP coverage coming. For now, here are the Portishead pics from Saturday (with setlist), and a video of Chuck D joining them on "Machine Gun" on Sunday (like he did in 2008 at Primavera). It all continues below...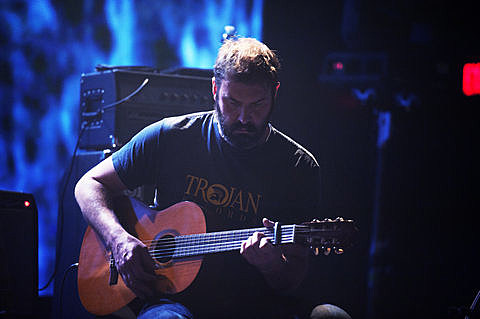 Porishead "Machine Gun" w/ Chuck D Public Enemy
Live at ATP NJ I'll Be Your Mirror 10/2/11 in HD