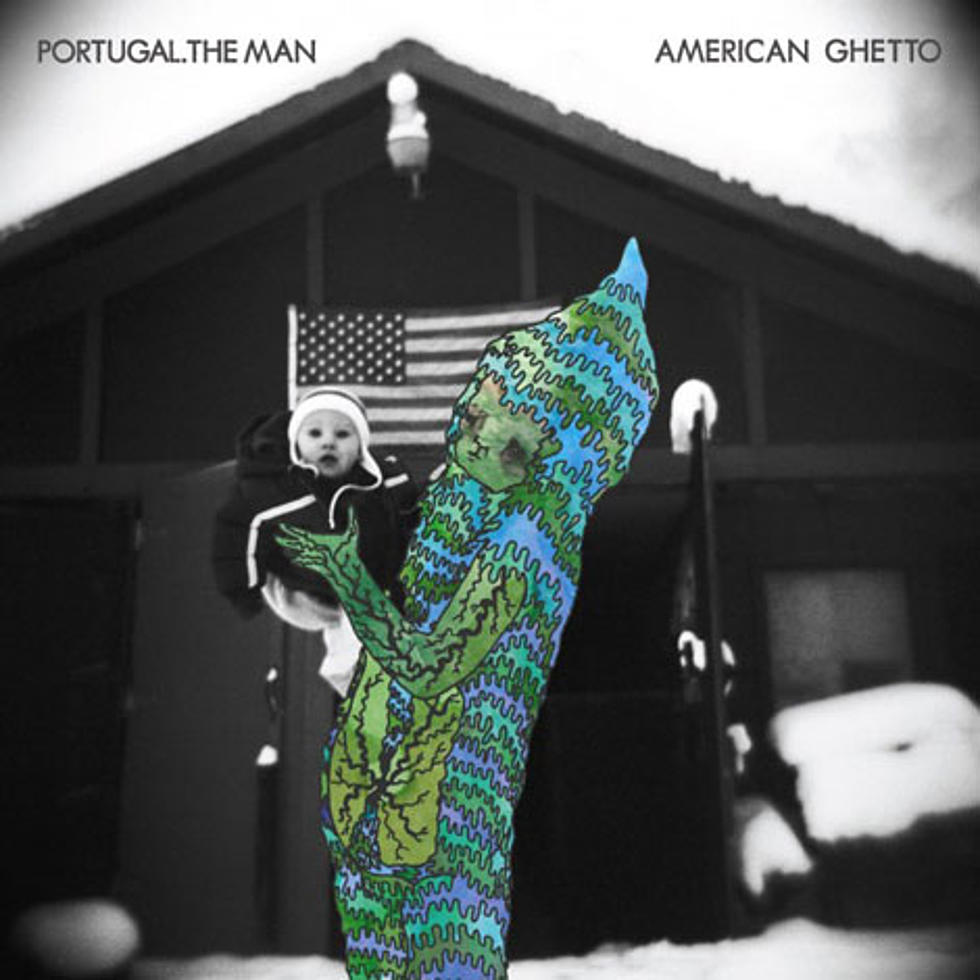 Portugal. The Man – new album (MP3, video), 2010 tour dates
DOWNLOAD: Portugal. The Man - The Dead Dog (MP3)
Wasilla, Alaska, exports Portugal. The Man are releasing a new record, American Ghetto, March 2nd on Equal Vision. The band will tour with Port O'Brien and NY's The Dig in support of that this February and March. The tour kicked off last night (2/24) in Fargo, ND, and visits NYC's Highline Ballroom on March 19th. Tickets are still on sale.
"The Dead Dog," the first song off the record, is posted above (that's also the cover art above).
"The Dead Dog" was the second song that Anthony Saffery, Adam Taylor and I began working on for the American Ghetto project. We started tracking this on my second day back in Boston... it may have been the first, I am not quite sure. This track began with a break beat and a loose set of chords that I had put together in the morning before tracking. Lyrically, this was the first album where I really went out and referenced the streets and places around where I grew up. "The Dead Dog" was a bar out towards Big Lake off Pittman Road where, no offense Pittman ralliers, some pretty shady folks spent their time. I don't know what it was about that area that drew me in but it did, for whatever reason. As with all the songs on American Ghetto there is a focus on our teenage lives and the things we did and the paths we chose. Some of the moments are sadder than others but "The Dead Dog" was written more about the setting than with a specific person in mind. [Portugal. The Man]
You can hear the band's progression (they say "slightly more electronic, beats, samplers, etc.") by comparing it with a video for a song off 2009's The Satanic Satanist, which is posted with all tour dates, below...

Portugal The Man "The Sun"

'American Ghetto' tracklist
1. The Dead Dog
2. Break
3. 60 Years
4. All My People
5. 1000 Years
6. Fantastic Pace
7. The Pushers Party
8. Do What We Do
9. Just A Fool
10. Some Men
11. When The War Ends
--
Portugal. The Man - 2010 Tour Dates
02/24/10 Fargo, ND The Aquarium US #
02/25/10 Minneapolis, MN Varsity Theater US #
02/26/10 Chicago, IL Lincoln Hall US #
02/27/10 St. Louis, MO The Gargoyle US #
03/03/10 Dallas House of Blues/Pontiac Garage US #
03/04/10 Houston Warehouse Live US #
03/05/10 Austin The Parish US #
03/06/10 Austin The Parish US #
03/09/10 Gainesville Common Grounds US #
03/10/10 Ybor City Crowbar US #
03/11/10 Orlando The Social US #
03/12/10 Elkton Harvest of Hope Festival US
03/13/10 Atlanta The Earl US #
03/17/10 Richmond, VA The Canal Club US
03/18/10 Washington, DC 930 Club US #
03/19/10 New York Highline Ballroom US #
03/20/10 Millvale Mr. Small's Theater US #
03/21/10 Cincinnati 20th Century Theatre US #
03/24/10 Columbia Mojo's US #
03/26/10 Denver Bluebird Theater US #
03/27/10 Vail The Sandbar US #
03/28/10 Aspen Belly Up Aspen US #
04/13/10 Eugen, OR WOW Hall US
04/14/10 Santa Cruz, Ca Rio Theatre US
04/17/10 Indio. CA Coachella Music and Arts Festival US!
# with Port O'Brien and The Dig