Power Trip, SPECIAL GUEST TBA & Sick Feeling playing next BV Red Bull Sound Select LATE show at Palisades (RSVP)

poster by Jay Morris
We're happy to announce that the next BrooklynVegan-curated installment of the Red Bull Sound Select series happens at new-ish Bushwick venue Palisades (906 Broadway in Brooklyn) on Friday, September 12 at MIDNIGHT (so technically 9/13). The show will feature Texas thrashers Power Trip and a special guest co-headliner TBA next week. Opening the show are Brooklyn punks Sick Feeling, the current project of Don Devore (Ink & Dagger, Amazing Baby, etc) with bassist Danny Wood (Trail of Dead / The Rise / Shock Cinema), guitarist David Gagliardi (Trash Talk), Jesse Miller Gordon, and Alan Yuch.
UPDATE: WHITE LUNG ADDED.
Admission for our show is $3 at the door if you RSVP and $10 at the door without. Even if you RSVP, entry is first come, first served, so get there on time to guarantee you get in!
--
Power Trip at Power of the Riff East 2012 (more by Greg Cristman)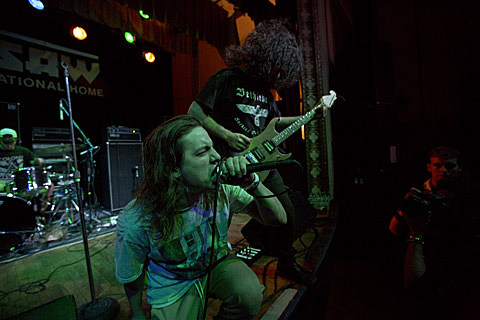 --
Stay tuned to find out the third band playing this show.
UPDATE: It's White Lung. Also, the show is all ages despite the initial poster saying 21+.
Videos/streams below...

---