Primus & Gogol Bordello played Williamsburg Waterfront (pics, review, video, setlist)
words and photos by Benjamin Lozovsky
Les Claypool

Primus triumphantly reunited for their first new tour in four years with gypsy punks Gogol Bordello, whipping the crowd into a mindless frenzy at the Williamsburg Waterfront Friday night (7/30). While its not surprising that one of the most irreverent and technically proficient groups of the "alternative" era were so powerful after such a long break from recording, what was intriguing was their ability to engage the crowd so thoroughly.
A lot has happened in 26 years of Primus's existence. Drummer Jay Lane left the band early and took a prolonged stay in patchouli country, playing with Bob Weir and Ratdog followed by Further. Leader Les Claypool dabbled a bit in that direction on his solo material, but always with an eye for innovative funk, avant-garde jazz, and futurism with a focus on his singular bass technique. Guitarist Larry LaLonde did session and touring work with artists like Tom Waits and Serj Tankian of System Of A Down.
So coming into this show, it was evident that the wide range of recent musical endeavors held by the three members would play interestingly under the guise of Primus. The end result was still a rock show tour de force, even if moments felt less Primus at full steam ahead and more like the confluence of these musical minds reinterpreting their previous work. The drums were looser on some numbers, like on the rollicking "Over The Falls." LaLonde's guitar was abrasive yet increasingly more blues-tinged and raggedy. It was Primus stretched out and muted, yet still brimming with aggression and plenty of warped imagery.
That said, Primus still proved capable of inciting furor on early classics like "Jerry Was a Race Car Driver," "Harold of the Rocks," and "Tommy the Cat", and it was a relief to see that Primus indeed still "sucks."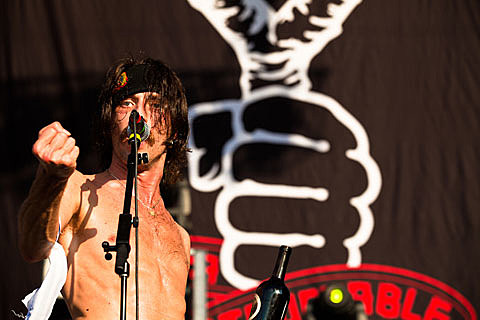 Gogol Bordello "Start Wearing Purple / Break the Spell" Live in Brooklyn, New York on July 30th, 2010

Gogol Bordello - "Punk Rock Parranda" Live in Brooklyn, New York on July 30th, 2010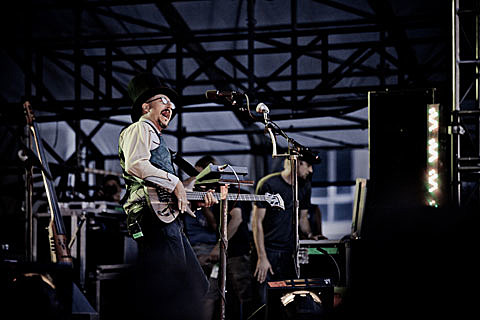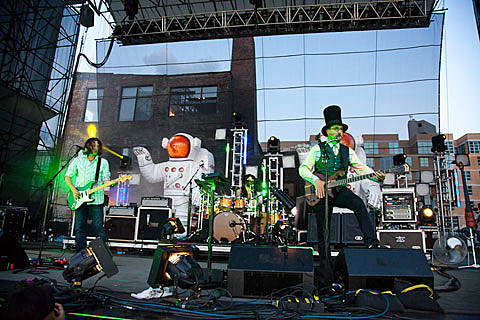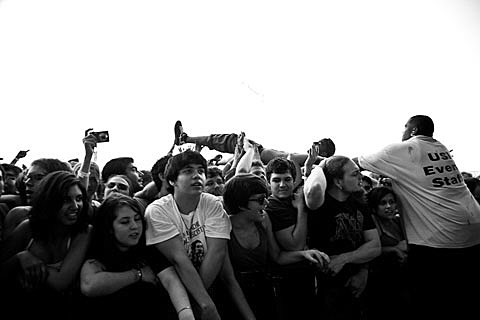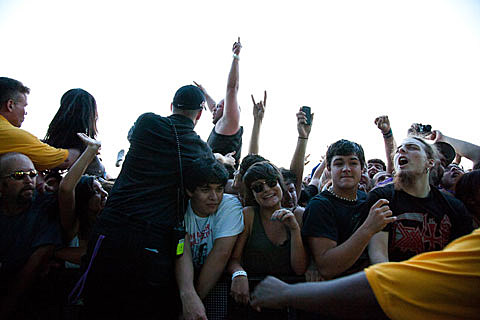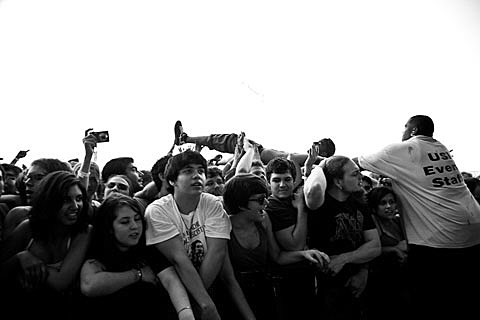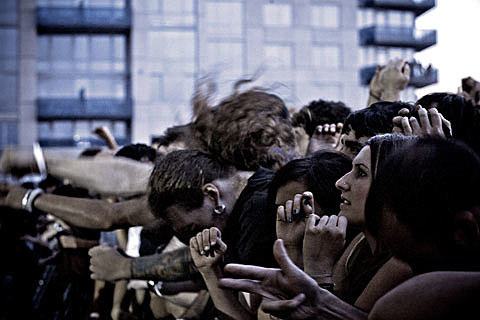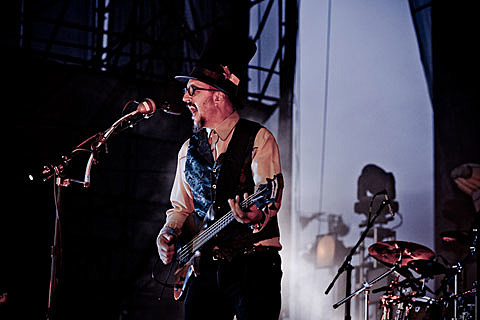 Primus - "Jerry Was a Racecar Driver" 7/20/10 in Brooklyn

Primus - "Here Come The Bastards" 7/20/10 in Brooklyn

A second set of pictures from this show, and more Primus tour dates, including Wellmont Theatre in NJ, HERE.
Primus Concert at Williamsburg Waterfront, Brooklyn, NY, USA Setlist on July 30, 2010
1. Pudding Time
2. Here Come the Bastards
3. Golden Boy
4. Those Damned Blue Collar Tweekers
5. Over The Falls
6. Sgt. Baker
7. American Life
8. Jerry was a Racecar Driver
9. Over the Electric Grapevine
10. Drum and Whamola Jam
11. Eleven
12. Harold of the Rocks
Encore:
13. Southbound Pachyderm
14. Tommy The CatAdditional Information: w/ "The Awakening" jam in middle