Prince did appear at New Power Generation's City Winery show this time (pics)
"Prince and company blew the roof off tonight with #npg #shelbyJ @ City Winery " - David Magdael
"Ninety minutes of Prince at City Winery tonight. Great set. Shorter than usual, but that new song "Big City" was SO GOOD. VMAs weekend." - Erik Sutch
"Back from a secret Prince-New Power Generation reunion at City Winery. My funk levels have been recharged for the year. That man is God." - Chris McCoy
Prince & NPG @ City Winery


New Power Generation, Prince's sometimes backing band, are in the midst of their "Purple Week" residency at City Winery, for which they've been promising "special celebrity guests nightly." The first night included Alice Smith at the early show and no guests at the late show, but at last night's (8/22) late show, Prince himself showed up.
The venue announced a little before 11:30 that Prince would be appearing at the midnight show, and admission would be cash at the door. A recap from the Prince message boards reads:
Just got in from City Winery.....Let me just say that History was made in NYC this morning. First NYC show with NPG and 3RDEYE Girl together....well sought of.....night started with Shelby and amazing horns of the NPG....then Liz performed a song.....then a great new talent Luke James performed a great new song........then something purple happened....drummer leaves and hear comes Hanna....then Donna takes her position .....then Ida and finally the man of the hour......Staring with Musicology..with eleven piece horns,,,,,,,AMAZING without being complete and in no particular order.....Musicology, Something in the Water Does not Compute, All the Critics Love You in New York, Brown Skin, Don't Stop Till You Get Enough/Cool (with Doug E Fresh), Nothing Compares 2 U and Big City......crowd was capacity of 500 and show started 1235 am...Prince enters stage 1:30 am....show was over at 3:00 AM
Pictures from the show are in this post, but... UPDATE: none of Prince .
NPG's residency continues with a late show tonight (8/23) and then the final (and most expensive) one is a late show on Sunday (8/25), which doubles as a VMAs after party. No word yet on whether or not Prince will be appearing at that show, or the VMAs.
More pictures and videos below...

--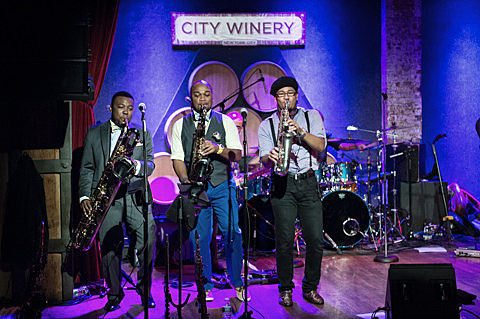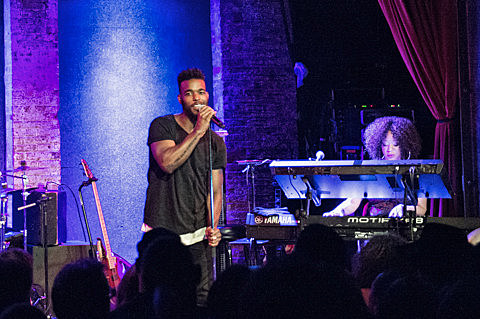 [Prince photos removed at City Winery's request]