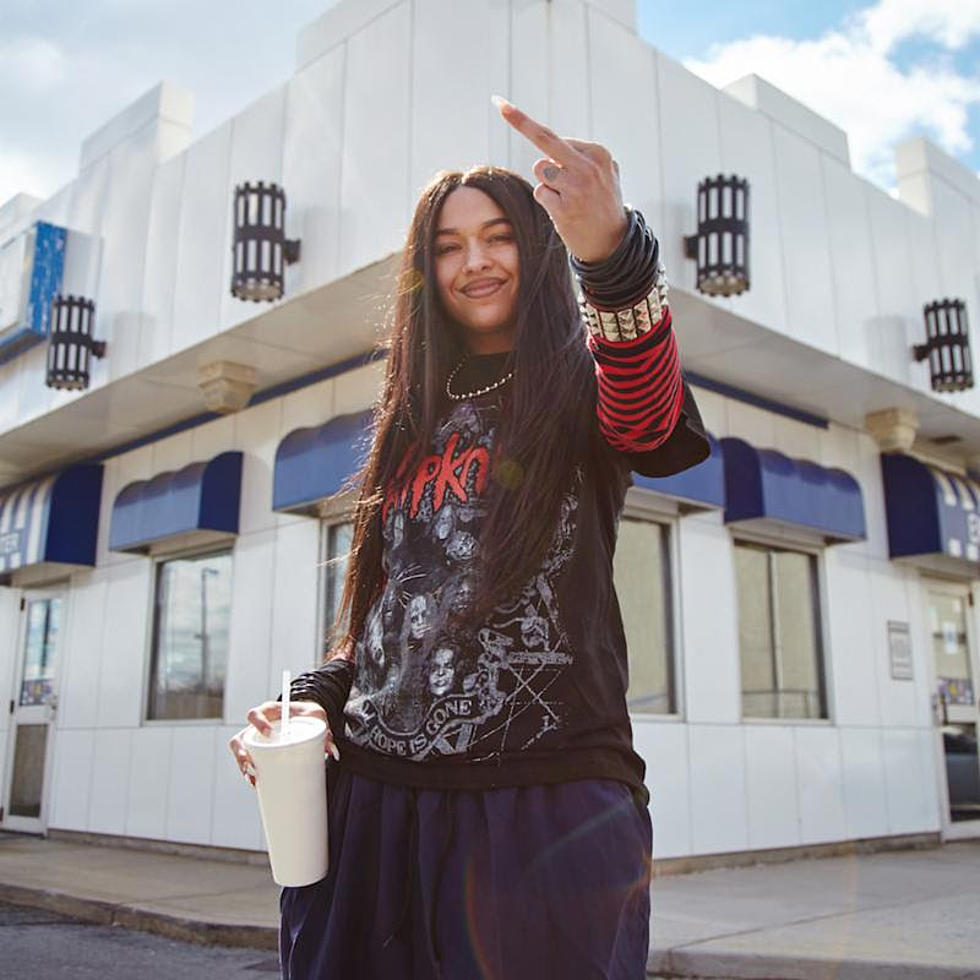 Princess Nokia releases "emo mixtape" and new video ahead of Coachella
'A Girl Cried Red' cover art, photo by Alberto Vargas
Last year, the great, fast-rising New York rapper Princess Nokia signed to Rough Trade and released a deluxe edition of her 1992 mixtape. Now she's following it today with her self-described "emo mixtape," A Girl Cried Red. Here's what she told Dazed about it:
The upcoming mixtape is called A Girl Cried Red. Who is she, and what does the colour red signify?

Blood, like a girl cried blood. It's taken from my favourite song, "The Robot with Human Hair". I have a lot of references from this Gavin Dance album, and the first line in the song is "Your eyes are bleeding." I always loved that image, and it's a big motif in my work. The mixtape name is supposed to mean a girl cried blood, or a girl cried fury. There's so many interpretations of what red is. But I can't give that out yet, baby. This is an exclusivo.

So is emo the overall sound and vibe?

Yes, it's not just a little touch of it or it blended into hip hop. It's real alternative music. There's no features, it's just me. But I do have Elijah of Phony Ppl playing guitar on it, and I've got the wonderful producer Tony Seltzer who did all the production except for one song. We're all New York City kids and metalheads so I just like to hang out with my friends and listen to our favourite bands and work together. It's really lovely.
The mixtape is out today, along with the video for "Your Eyes Are Bleeding," which features footage from her last two years of touring. It really does have a clear mid 2000s emo influence, and it's pretty far removed from 1992. Watch the video and stream the mixtape below.
As mentioned, the tour includes hometown shows on May 5 and 6 at Elsewhere Hall, which are in conjunction with the Moniker Art Fair. Tickets for those shows are still available. Updated dates are listed below.
Princess Nokia -- 2018 Tour Dates
4/15 Indio, CA - Coachella Festival
4/20 San Francisco, CA - 1015 Folsom
4/22 Indio, CA - Coachella Festival
4/29 Chicago, IL - The Metro
5/5 Brooklyn, NY - Elsewhere
5/6 Brooklyn, NY - Elsewhere
5/12 Miami, FL - Rolling Loud Festival
5/25 Barcelona, Spain - Secret Location TBA
5/26 Madrid, Spain - Tomavistas Festival
5/27 A Coruna, Spain - Inn Club
5/31 Athens, Greece - Piraeus 117 Academy
6/1 Copenhagen, Denmark - Distortion Festival
6/2 London, UK - Field Day Festival
6/16 Richmond, CA - FEELS 6 @ Craneway Pavillion
7/7 Turku, Finland - Ruisrock
7/8 Zamárdi, Hungary - Balaton Sound Festival
7/13 Dublin, Ireland - Longitude Festival
7/14 Dour, Belguim - Dour Festival
7/15 Berlin, Germany - MELT Festival
7/19 Benicassim, Spain - Benicassim Festival
7/ 20 LisbonPortugal - Super Bock
7/21 Seyðisfjörður, Iceland - LungA Art Festival
8/18 Hamburg, Germany - Dockville Festival
8/20 London, UK - O2 Forum
8/21 Leeds, UK - Belgrave Music Hall