Princeton sign to Kanine – Pianos pics, 2009 tour dates
L.A.-based band Princeton collaborated with with the Stephen Pelton Dance Theater at their June 5th show at Lincoln Center's Pope Auditorium. The day after that (June 6th) the band played more standard set at Pianos with The Young Republic. Pictures from that Pianos show are in this post.
Coming up, Princeton has a fall North American tour planned in support of their debut record, Cocoon of Love, set to come out September 29th on Kanine Records. That trip stretches from the end of August into September, with tour-mates that include Ice Palace, Ra Ra Riot and Maps and Atlases. In NYC, they'll play with Phil and the Osophers at a Wednesday, September 9th show at Brooklyn's Union Hall. Ticket info to come.
More pictures from Pianos and all tour dates below...

Young Republic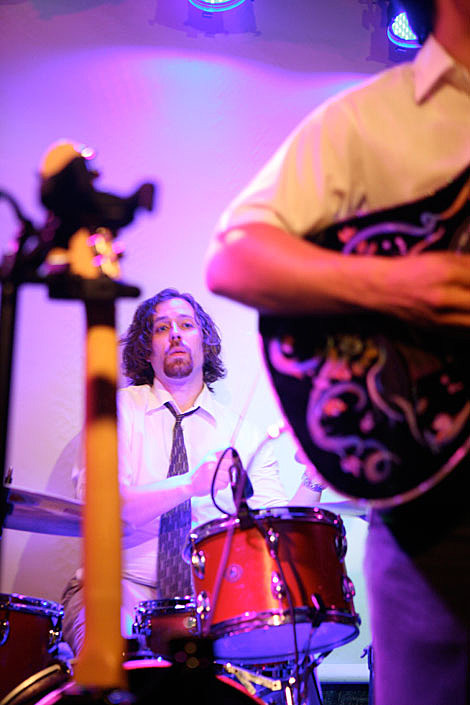 Princeton - 2009 Tour Dates
07/07 San Diego, CA The Casbah
07/09 Portland, OR Doug Fir Lounge *
07/10 Seattle, WA Azteca *
07/12 Olympia, WA House Party +
07/25 Los Angeles, CA E2 Building / Night Lights Benefit
08/29 Los Angeles, CA Pehrspace
08/31 Salt Lake City, UT Kilby Court
09/01 Denver, CO Hi Dive
09/02 Omaha, NE The Waiting Room #
09/03 Iowa City, IA Picador
09/04 Dekalb, IL The House Cafe #
09/05 Toledo, OH Frankie's #
09/06 Pittsburgh, PA Garfield Artworks #
09/08 Baltimore, MD Sonar / Talking Head Club Stage
09/09 Brooklyn, NY Union Hall %
09/10 Ithaca, NY Castaways $&
09/11 Toronto, ONT Lee's Palace $&
09/12 Buffalo, NY Mohawk Place &
09/13 Cleveland, OH Grog Shop $&
09/14 Columbus, OH The Basement $&
09/17 Minneapolis, MN Varsity Theater $&
09/19 Urbana, IL Krannert Center / Pygmalion Fest $
09/20 St. Louis, MO The Firebird $&
09/21 Lawrence, KS The Bottleneck $&
09/23 Dallas, TX Granada Theater $&
09/24 Austin, TX Emo's $&
09/25 Houston, TX Warehouse Live $&
09/26 Baton Rouge, LA Spanish Moon $&
09/27 Birmingham, AL Bottle Tree $&
09/29 Atlanta, GA The Masquerade $&
09/30 Carborro, NC Cat's Cradle $&
10/01 Washington, DC 9:30 Club $&
10/02 Philadelphia, PA Trocadero $&
* = w/ Miniature Tigers
+ = w/ LAKE
# = w/ Ice Palace
% = w/ Phil and the Osophers
$ = w/ Ra Ra Riot
& = w/ Maps and Atlases