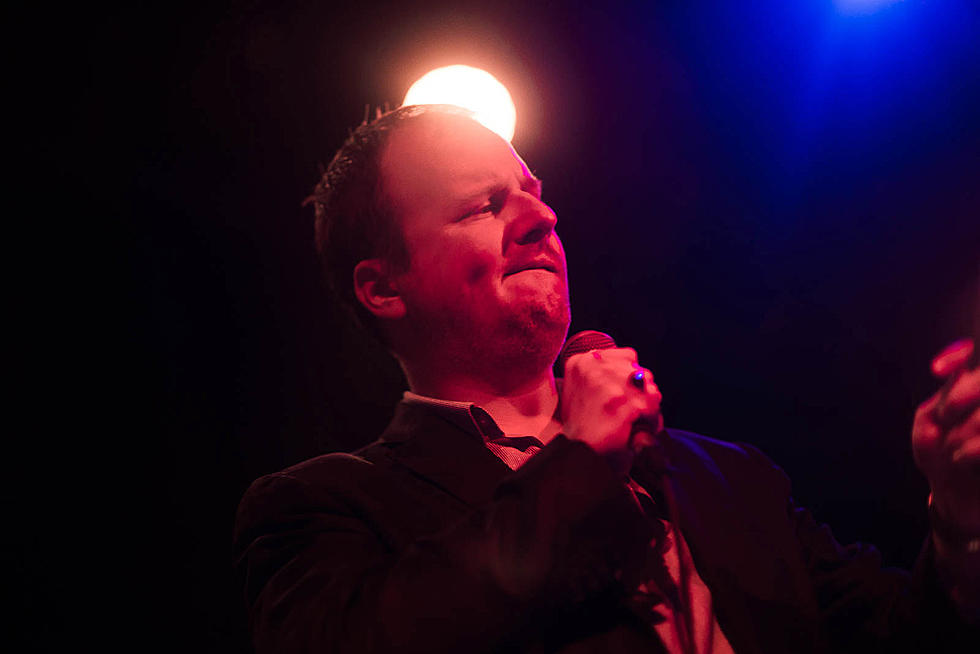 Protomartyr wrapped up their tour in Brooklyn (pics, setlist, review)
photo by Edwina Hay
Protomartyr's North American tour wrapped up in Brooklyn on Saturday night (10/28) at Music Hall of Williamsburg. They played the lion's share of new album Relatives in Descent and, as good as that record is (and it's very good), songs like "Here is the Thing," "Windsor Hum," and "Male Plague" are even better, darker and more intense live. In particular, I thought "Half Sister," which closes the album (and was the last song of the main set) was a revelation live, and with Scott Davidson's melodic bass line really driving the song it was almost like I was hearing it for the first time.
There wasn't much in the way of banter or downtime of any kind between songs, and sometimes songs flowed directly into each other. The sound was excellent at MHOW, too, which really highlighted just how talented all the members are. Greg Ahee is now playing some keyboards on this tour in addition to guitar duties, and frontman Joe Casey was in gloriously bilious form. (Meanwhile, I could watch drummer Alex Leonard play all night.) They came back for an encore of two of their best songs: "Why Does it Shake?" and "Scum Rise!" ending an amazing show on high note.
Tourmates Flasher, the band featuring Taylor Mulitz of Priests, were great too, with a tight set of very hooky indie rock. After an EP and a single, the trio are finishing up work on their debut album, due out next year. They also had the best t-shirts at the merch table. Opening the show were Brooklyn post-punks Weeping Icon. Pictures from the whole night are in the gallery above and Protomartyr's setlist is below.
SETLIST: Protomartyr @ Music Hall of Williamsburg 10/28/2017
My Children
Ain't So Simple
Corpses in Regalia
Windsor Hum
I Stare at Floors
Up the Tower
Night-Blooming Cereus
Male Plague
Cowards Starve
The Devil in His Youth
3 Swallows
A Private Understanding
Here Is The Thing
What the Wall Said
Don't Go To Anacita
Dope Cloud
Feral Cats
Half Sister
Why Does It Shake?
Scum, Rise!