Public Enemy played Central Park Summerstage w/ Blitz The Ambassador, Kendo And The Almost Famous Band, DJ Kool Herc AND Son of Bazerk! (pics, video)
Flavor Flav, in a rare moment of sanity, is sans clock and reality show video crew!

There was a moment between songs yesterday during Public Enemy's rollicking performance in the middle of a rain-streaked Central Park where Chuck D likened his legendary rap outfit to the venerable thirst quencher lemonade..."Take the water and the lemon out of that equation, and you get diabetes," Chuck said, referring to his scrawny partner in crime's recent reality show foibles. "VH-1 gave America diabetes."

While the crowd guffawed heartily, Flav took the diss in stride with a slight smirk on his face. The truth is the be-clocked rapper's turn on "Flavor of Love" probably only served to help Public Enemy in the long run. -[Crawdaddy]
Public Enemy brought the noise to Summerstage on 8/15, along with the return of Son of Bazerk (never thought I would say that name again), Blitz The Ambassador, Kendo And The Almost Famous Band, and a special DJ set from the hip hop legend Kool Herc. It was Son of Bazerk's first NYC show in 19 years(!):
"Son of Bazerk has the greatest voice ever!" That's according to Public Enemy frontman Chuck D, praising the lead rapper for the grandiosely monikered Son of Bazerk Featuring No Self Control and the Band, a Bomb Squad-associated group from Freeport, Long Island, who secured cult status in hip-hop off the back of 1991's critically acclaimed Bazerk, Bazerk, Bazerk album-and then promptly disappeared for nearly 20 years...

Hip-hop folklore attributes Son of Bazerk's vanishing act to one of two factors: Their sound was either ahead of its time, or they were stymied by Bomb Squad producer Hank Shocklee, who released their debut album through his M.C.A. imprint, S.O.U.L., but allegedly refused to sanction a follow-up, compelling Bazerk to characterize Shocklee as "one of the dirtiest motherfuckers I ever seen in my life" in a 2008 interview reprinted on the rap blog Unkut. -[Village Voice]
Son of Bazerk and No Self Control has a newish LP out now, I Swear On An Old Stack of Hits available now via Chuck D's Slam Jamz label. Get it here.
More pics from the Summerstage show are below...


Kendo And The Almost Famous Band
Son Of Bazerk "Change The Style" video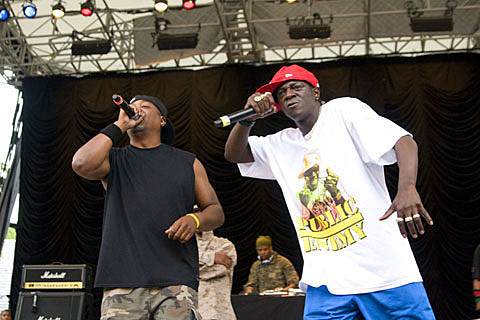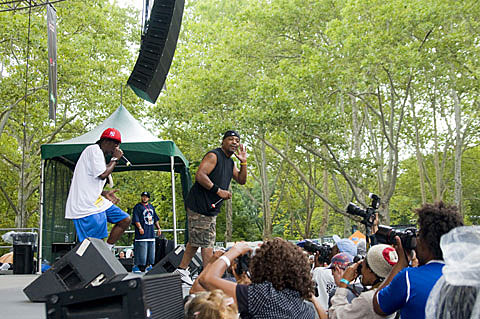 Public Enemy | NYC @ Central Park | 15 Aug 2010