Purchase Fall Fest in pics & review (Raekwon, Omar Souleyman, Death, Fucked Up, So So Glos & more)
words by Andrew Sacher, photos by Kellyann Petry
Brooklyn based garage rock band The So So Glos, who announced from stage that they're no longer signed to Green Owl who just released their EP Low Back Chain Shift, opened the show. The audience was initially unresponsive, but the band didn't let their energy die. By the second to last song, "Execution," the crowd started to feed off of the band's enthusiasm and broke out into a full blown push pit.
Instrumental downtempo artist Ras G played a DJ set mainly focused on hip hop influenced electronic beats. The set contained a great deal of improvisation and most songs flowed directly into the next. His songs put a greater emphasis on using monotonous ambience than melody to complement his beats. He added to the diversity of the show, but being sandwiched between two hard hitting rock bands definitely overshadowed his calmer performance.
If you ever find yourself in a darkened room, and three tall figures in black hooded cloaks who call themselves Death appear in front of you, you're about to encounter one of two things; either an eternity of suffering and punishment, or the reunited proto-punk trio from Detroit executing a half hour of raw fury. Once the band removed their cloaks, revealing that they were not in fact satanic demons, Death made no hesitation to crash down on the opening chords of "Views" and turn the entire room into a mass frenzy. The level of intensity only heightened when Death went straight into "Keep On Knocking" and proceeded to play For The Whole World To See in its entirety (other than switching the order of "Freakin' Out" and "You're A Prisoner").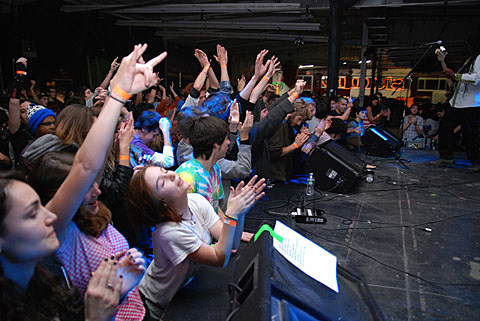 Just when it seemed like the show couldn't get crazier, Death's Dannis Hackney attacked his drums in "Rock-N-Roll Victim" with a ferocity matched only by his brother Bobby's piercing shouts, which cut through the music even more sharply than on 1975's recorded version. After truly making the audience feel like victims of Death's rock-n-roll, they lent a little bit of breathing room with "Let The World Turn." This song gave Death a chance to show off their more psychedelic, progressive side with Bobbie Duncan's reverb drenched guitar acting as the only complement to Bobby Hackney's confident vocal delivery. About two minutes in, however, the band schizophrenically shifted back into breakneck rock and roll, reigniting the audience's frenzy.
Later on, Bobby Hackney took the time to introduce the band members and honor his brother David, the original guitarist of Death, who passed away in 2000. "We refer to him not as the late David Hackney, but the early David Hackney," Bobby told the crowd, who responded with shouts of support. Hackney also took time before their last song to deliver one more speech. He told the audience that back in the '70s, under the reign of Nixon, anyone over the age of eighteen was constantly in fear of being drafted. Hackney added that although we don't have that problem today, the government is always taking new approaches to get in our way. "No matter what it is, we still say: POLITICIANS IN MY EYES!" The crowd erupted with applause as the one single Death was able to release back in 1975 thundered through the room, ending the set even more forcefully than it began.
Earlier that day I sat down with Death who answered some of my questions. Read that interview HERE.
Fucked Up didn't get kicked off by the cops this time, but they undoubtedly incited a riot. The assault of Fucked Up's triple guitars coupled with the fact that frontman Damian Abraham spends as much time in the audience as he does on stage was worthy of at least a misdemeanor. The audience didn't think twice about adding to the beast that the band created. At least one person stage dived every other second into the sea of mosh pits. After a half hour of pure aggression, Fucked Up ended their set with a rendition of Nirvana's "Breed."
If you were to walk in on the middle of Omar Souleyman's set, you wouldn't know what the hell was going on, but you would know that you wanted to be a part of it. Omar Souleyman, who played Music Hall of Williamsburg in Brooklyn three days earlier, is a pop musician from Syria who plays a style of music native to his country known as dabke. Whether or not you're familiar with dabke, you can enjoy its perfect mix of Arabic melodies and dance beats. Omar Souleyman built upon that sound with a prophetic vocal delivery that captivated the audience until the moment he left the stage. It's unlikely that anyone in the audience understood a word of what Souleyman was saying or singing, but not even the language barrier could prevent a dance party breaking out both on and off stage.
Wu-Tang Clan member Raekwon, whose solo debut Only Built 4 Cuban Linx... was one of the defining albums of the golden age of hip hop, has been making a huge comeback after the release of 2009's Only Built 4 Cuban Linx... Pt II, the thematic follow-up to his debut. Since its release, he has been performing constantly and writing prolifically (including releasing 2010's Wu-Massacre with Method Man and Ghostface Killah, and is currently working on another solo album expected to be released in 2011). Raekwon's performance at SUNY Purchase's Fall Fest furthered the impact of his comeback. He performed songs off of both parts of Cuban Linx in addition to some Wu-Tang classics, including a throwback/dedication to O.D.B. In between songs, he gave appropriate advice for a college crowd, advocating a balance of partying while still getting a degree: "You can do your drugs and still be a smart mothafucka." He remained positive even when a fight broke out on stage during one of his songs. Raekwon stopped the song and did everything in his power to clear the stage and break up the fight: "Push that bitch off stage!"