Puss N Boots played Clearwater Fest, releasing debut LP, touring in July (dates, stream, Clearwater pics/video)
Puss N Boots @ Clearwater Fest, 6/22/2014

Puss N Boots, the country trio of Norah Jones, Sasha Dobson and Catherine Popper, have been playing live since 2008 but are just now getting ready to release their debut album. No Fools, No Fun will be out July 15 on Blue Note and features a mix of originals and covers (Neil Young, The Band, Wilco). A few of the songs, like Neil Young's "Down by the River," were actually recorded live and you can stream that one below.
The band just played this past weekend's Clearwater Festival in Croton, NY and pictures and video from their Sunday (6/22) performance are in this post. Puss N Boots will be touring in July, including a record release show in Brooklyn at The Bell House on 7/15. Tickets are on sale now.
All tour dates are listed, along with LP tracklist, song stream and more Clearwater Fest pics/video, below...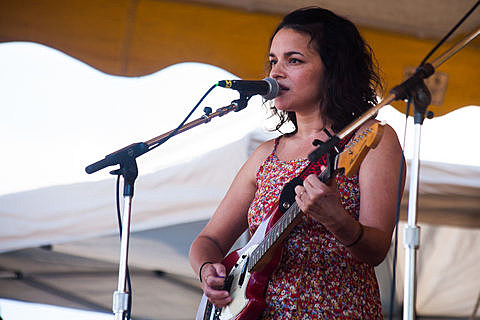 Puss n Boots- Sex Degrees, Jesus Etc. @ Clearwater 2014

Puss n Boots- GTO @ Clearwater 2014

Puss n' Boots - No Fools, No Fun - tracklist
1. Leaving London -Tom Paxton cover
2. Bull Rider (live) - Rodney Crowell tune made famous by Johnny Cash
3. Twilight - cover of The Band song written by Robbie Robertson
4. Sex Degrees of Separation - Sasha Dobson original
5. Don't Know What It Means - Norah Jones original
6. Tarnished Angel (live) - Roger Miller tune made famous by George Jones
7. Jesus, Etc. - Wilco cover
8. Always - Catherine Popper original
9. Down By The River (live) - Neil Young cover
10. GTO - Jeb Loy Nichols cover
11. Pines - Catherine Popper original
12. You'll Forget Me - Sasha Dobson original
Puss n' Boots - 2014 Tour Dates
7/12 - Greenfield, MA @ Green River Festival
7/15 - Brooklyn, NY @ The Bell House
7/17 - Washington, DC @ 9:30 Club
7/18 - Philadelphia, PA @ Theatre of Living Arts
7/22 - Hamden, CT @ The Ballroom at The Outer Space
7/24 - Cambridge, MA @ The Sinclair
7/26-27 - Newport, RI @ Newport Folk Festival