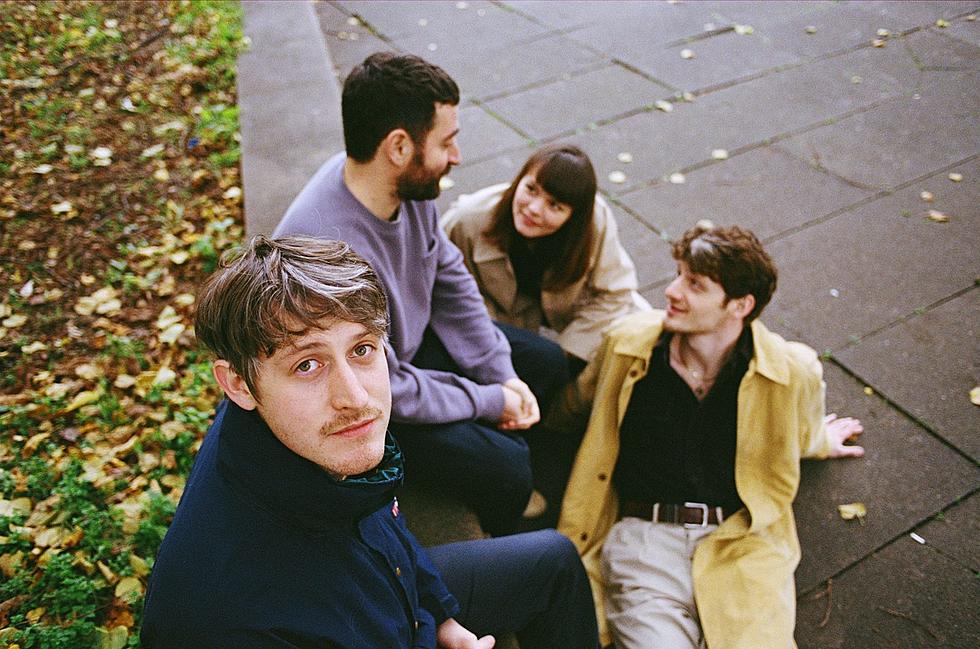 Pynch discuss the inspirations behind 'Howling At A Concrete Moon' (stream it)
One of our Artists to Watch in 2023, London's Pynch recall the mid-'00s days of post-Libertines guitar pop, but in a very 2020s way. Following a few singles produced by Dan Carey, they've hooked up with Stereolab drummer Andy Ramsey for their debut album that is breezy, dipped in nostalgia but fearful of the future. Read our review here and listen to the whole thing below.
We talked with frontman Spencer Enoch about some of the influences behind Howling at a Concrete Moon, which include bands, record labels, places, and one iconic animated series that inspired the album title. You can read that below.
Pynch will be touring the UK and Europe in the coming weeks. All dates below.
The Simpsons
A cultural institution--I think the album's tone shifts between irony and sincerity a bit like the early episodes and it's named after Moe's poetry collection so I'd say it's definitely had an influence.
Margate
The front cover of the record features the Margate skyline including Dreamland, one of the first places I ever worked. Me and Scott both went to High School in that part of the world and our parents still live there so it's home for us. "2009" is about skating the summers away along the coast as a teenager and I wrote "Somebody Else" there right after moving back home after losing my job because of Covid.
Synthesisers
Since starting the band and over the course of writing and recording the album me and James have gone progressively further down the synthesiser rabbit hole. We've slowly built up quite a collection between the two of us and on the record there's a lot of Roland Juno, Wurlitzer, Microkorg, OP1 and Boog model D.
Super 8 film
We bought a super 8 camera last year and have been using it to shoot all of our music videos which has been such a fun and rewarding process. It's definitely added to the lo-fi aesthetic of the record.
Captured Tracks
When I was first learning to record and making demos at home I was really inspired by artists on Captured Tracks like Beach Fossils and Mac Demarco. I loved the DIY ethic of the label and thought it was so cool that these artists created their records on their own terms. It made the prospect of making an album seem way more tangible.
LCD Soundsystem
Similarly to Captured Tracks, I love the story of LCD Soundsystem and DFA records and find their approach to making music super inspiring. They're one of our favourite band and we've definitely been influenced by James Murphy's songwriting and production.
Pavement
Another one of our favourite bands. I just love Stephen Malkmus' lyrics and the way he plays with song structures. I also used the proco rat overdrive pedal all over the album and that's probably down to Malkmus and Thurston Moore.
Creation Records
Such an iconic British Indie label and one that some of our favourite bands released on like The Jesus and Mary Chain, Oasis, My Bloody Valentine and Super Furry Animals.
Neoliberalism
Capitalism and the effects of neoliberalism are sort of lurking throughout the album and form the backdrop for a lot of the soul searching that takes place within it.
Getting Lit
There's quite a few references to smoking, drinking and hedonism laced throughout album but it's about being young and adrift in a cold and indifferent world so what do you expect. I'll mostly be singing about Jesus on the second record though so that should balance things out a little.
--
Pynch -- 2023 Tour Dates
Thurs 20th April - Where Else, Margate
Fri 21st April - Moth Club, London
Sat 22nd April - Hope and Ruin, Brighton
Sun 23rd April - Heartbreakers, Southampton
Weds 26th April - The Adelphi, Hull
Thurs 27th April - The Castle Hotel, Manchester
Fri 28th April - The Crofters Rights, Bristol
Sat 6th May - L'International, Paris
Fri 12th May - V11, Rotterdam