Q-Tip – an album, a book (Industry Rules) & a Summerstage show Saturday (w/ Little Dragon who is @ LPR tonight)
Q-Tip @ Highline Ballroom in December (more by Leia Jospe)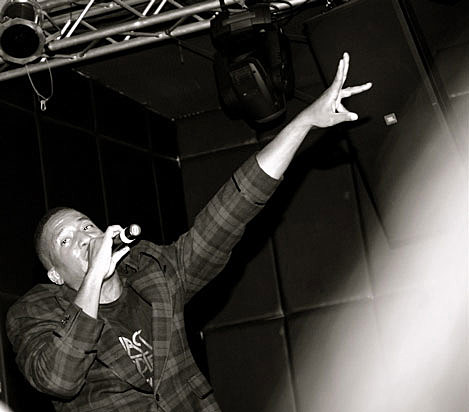 Ballantine Books will publish Industry Rules by Q-Tip, world-renowned artist, producer, DJ, and lead MC of hip-hop's legendary A Tribe Called Quest...Q-Tip was inspired to write Industry Rules as he acknowledged upcoming milestones in his personal life and professional career--most notably, 2010 marks the twentieth anniversary of A Tribe Called Quest's first album, People's Instinctive Travels and the Paths of Rhythm (Jive Records, 1990). The main idea for the book grew from a verse Q-Tip penned a year later, in the group's critically acclaimed 1991 release The Low End Theory. In the song "Check the Rhime," he raps, "Industry rule number 4080: record company people are shady." The book will expand on the 4080th rule and include more of Q-Tip's thoughts on the entertainment business, fashion, love, and morality.
Q-Tip will playing the Central Park Summerstage on Saturday, July 18th (3pm-7pm) for a free show with Chester French, Little Dragon & Benji B. His album Kamaal/The Abstract, originally recorded in 2001, is finally due out September 15th on (BMG-owned) Battery Recrods.
Little Dragon will also be at the The Freedom Party NYC at (Le) Poisson Rouge on Friday (tonight). Tickets are on sale.
Q-Tip album art, tracklist, book info, and Little Dragon tour dates, below...



Kamaal The Abstract tracklist
1. Feelin'
2. Do U Dig U?
3. A Million Times
4. Blue Girl
5. Barely in Love
6. Heels
7. Abstractionisms
8. Caring
9. Even If It Is So
Q-Tip's 'Industry Rules' info
Q-Tip says, "It was important to me to write a book because on the whole, I feel we could all be more literate, and as an artist, I'm always looking for ways to do something cool, different, and both light and introspective at the same time. With so many influences, like Duke Ellington's writing, or the music played by radio DJs in the 70's, or just what you see hanging out on Linden Blvd., there's a lot to say, and I look forward to reaching a bunch of colorful dudes and gals with the project." The book will include never-before-told stories about Q-Tip's personal experiences, family life, celebrity friends, inspirations, and career.

Q-Tip (Kamaal ibn John Fareed), has been pushing the envelope of creativity and breaking new ground for personal and cultural expression since founding the group A Tribe Called Quest with his friends, Queens natives Phife Dawg and Ali Shaheed Muhammad. Before officially disbanding in 1998, the group recorded five studio albums for Jive Records, including People's Instinctive Travels...(1990), The Low End Theory (1991), Midnight Marauders (1993), Beats, Rhymes, and Life (1996), and The Love Movement (1998). Q-Tip then went on to release Amplified (Arista Records, 1999) and the critically acclaimed album, The Renaissance (Universal Motown, 2008), and will soon release his long-awaited LP Kamaal the Abstract (Battery Records, 2009).

Grammy Award-nominated and beloved by music lovers of all types, Q-Tip will add Industry Rules, his latest element to the pop culture canon, in late 2010.
Little Dragon - 2009 tour dates
Fri 07/17 - LPR New York NY
Sat 07/18 - Central Park Summerstage New York NY w/ Q-Tip, Chester French
Sun 07/19 - Liv Nightclub Washington DC
Tue 07/21 - The Fire Philadelphia PA