Q-Tip headlining Brooklyn Hip Hop Festival, is okay w/ A Tribe Called Quest documentary (which is out in July)
Q-Tip at Rock The Bells w/ A Tribe Called Quest (more by Eric Townsend)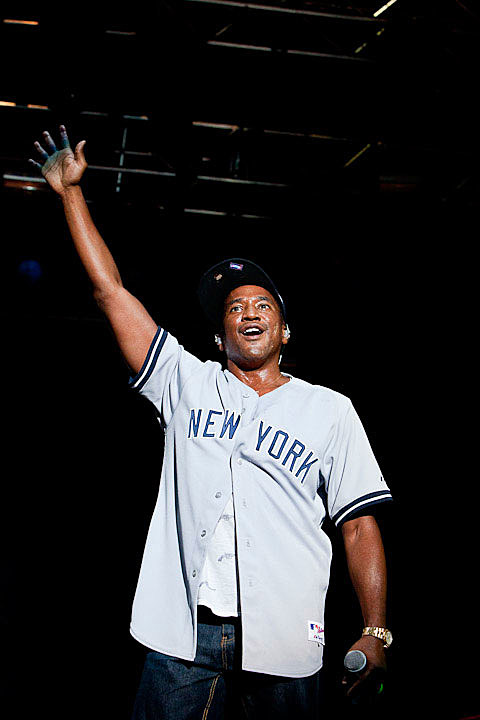 Q-Tip will headline the 7th Annual Brooklyn Hip-Hop Festival on July 18th in DUMBO, the last day of a week-long celebration of hip hop culture at various venues in Brooklyn. The daytime show (12-8PM) will undoubtedly also feature a gang of other hip hop notables, but the full lineup is still TBA. Tickets are on sale though.
Despite their initial concerns, it appears that A Tribe Called Quest is finally on board with Michael Rapaport's controversial documentary, 'Beats, Rhymes & Life: The Travels of A Tribe Called Quest.'

Though Tribe frontman Q-Tip publicly denounced Rapaport's film, which he claimed was not a fair representation of his group, he has since turned an about-face, voicing his approval, though he was notably absent at its Sundance and Tribeca film festival screenings.

Appearing to "support and represent" at Tribeca Film Festival on Thursday (April 29), alongside Tribe rapper Phife Dawg, DJ-producer Ali Shaheed Muhammad said that the group is happy with the film's final cut, despite Tip's absence.

"Just because Q-Tip is not here does not mean he's not in support of the film," Muhammad told Rolling Stone. "I'm here, and I'm representing Q-Tip. We're happy with the finished version. If none of us were fine with this, no one would be seeing the film."
Beats, Rhymes & Life: The Travels of A Tribe Called Quest opens on July 8th in NYC and LA, and wider in July and August. Full list of theaters and opening dates below.

----
A Tribe Called Quest Documentary (Trailer)

Beats, Rhymes & Life: The Travels of A Tribe Called Quest RELEASE SCHEDULE
7/8
NEW YORK
Sunshine
Empire
Magic Johnson
LOS ANGELES
Arclight Hollywood
Century City 15
Criterion Santa Monica
7/15
SAN FRANCISCO
Metreon
Kabuki
CHICAGO
Century Centre
River East
CineArts Evanston
WASHINGTON, DC
E-Street
Georgetown
Bethesda Row
Shirlington
Magic Johnson
BOSTON
Kendall Square
Boston Commons
Embassy Waltham
PHILADELPHIA
Ritz 5
Ritz Center Voorhees
ATLANTA
Midtown
Phipps Plaza
SAN FRANCISCO - ADD ONS
Shattuck
Century Mountain View
Marin Sausalito
CineArts Santana Row San Jose
7/29
DALLAS
Angelika
Angelika Plano
SEATTLE
Pacific Place
Metro
Lincoln Square Bellevue
8/5
PHOENIX
Tempe Marketplace
8/12
SAN ANTONIO
Bijou
AMC Huebner
COLUMBUS
Gateway
AMC Lennox
KANSAS CITY
Palace
AMC Studio Olathe
NEW ORLEANS
Canal Place
Elmwood
RALEIGH-CHAPEL HILL
Colony Raleigh
Chelsea Chapel Hill
--