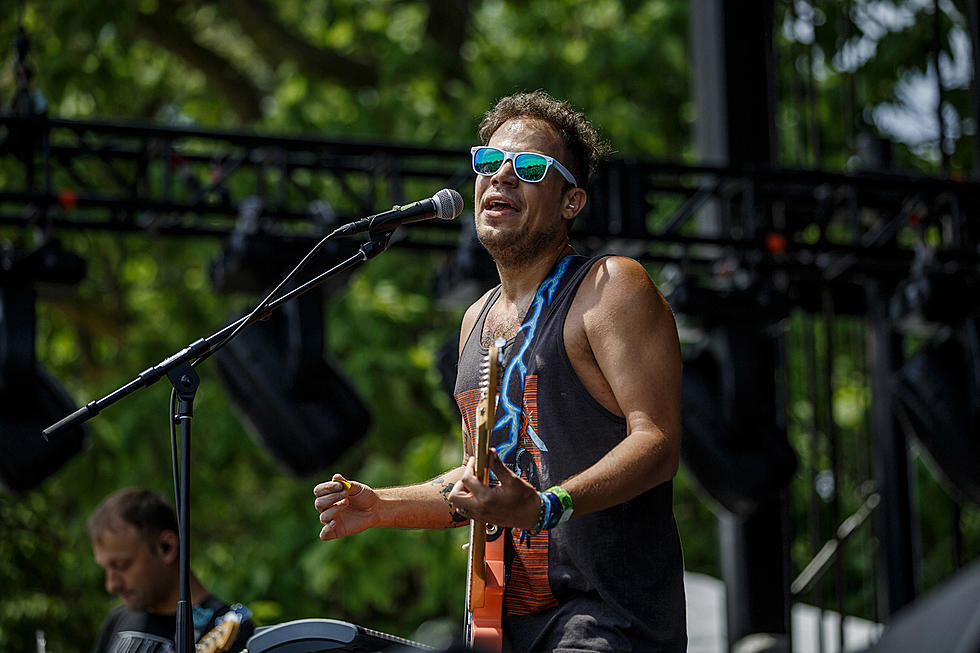 Q&A w/ Jeff Rosenstock on surprise releases, pop punk, 10 songs that inspired 'NO DREAM' & more
Jeff Rosenstock at Pitchfork Fest 2017 (photo by James Richards IV)
This sounds more like a '90s California pop punk record than anything else Jeff has made as a solo artist, and Jeff knows how to recreate '90s California pop punk in a way that sounds tasteful and fresh. NO DREAM might be the most wall-to-wall fun album Jeff has released under his own name -- almost all the songs are short, fast, punchy, and Jeff even writes "we hope it makes you feel good" on his Bandcamp -- but like his last few albums, it's fun music with a purpose. It may sound like classic pop punk but the lyrics are never carefree or juvenile or any other negative stereotype associated with the genre. NO DREAM is an angry, socially conscious record that tackles Trump's immigration policies, capitalism, hypocrisy, and other topics in a way that's smart, incisive and avoids cliche punk sloganeering. NO DREAM makes you feel good, but it also makes you think, and as has been the case with Jeff's last few records, I have a feeling it'll keep making you think as time goes on. His music has an immediacy and instant adrenaline rush to it, but it also has layers buried deep within the songs that reveal themselves over time. I can't claim to have cracked the surface just 48 hours after the album came into our lives, but I already can tell there's a lot to dig into on NO DREAM, and that it's gonna be worth it. [Notable Releases]
Jeff Rosenstock surprise-released his new album NO DREAM on Polyvinyl last week (that's an excerpt of my review in Notable Releases above), and I spoke to him over email about the new album, life in quarantine, the act of surprise-releasing albums, and more. He also gave us a list of 10 songs that inspired the album in one way or another, with must-read commentary on each pick, including songs by The Muffs, Jimmy Cliff, Scared of Chaka, The Mr. T Experience, The Chinkees, Sleater-Kinney, Sicko, The Selecter, and more.
Despite it being Jeff's first album since moving to LA and the California-looking album artwork, he said it wasn't influenced by the move at all (and was written before he left New York), but if you hear the California pop punk influence, that part was intentional. "This was also the first record I wrote after signing to Polyvinyl, and I thought it would be fun if our first respected-indie-label release was pop-punk as hell," he said.
And on the decision to surprise-release his last two albums, Jeff said, "It's a little strange that the agreed upon method right now is release your three best songs, beat 'em into the ground for months before your record comes out, and then eventually you release a record with those three songs you liked surrounded by often less good songs. Like, who would care about that?"
Read on for the full chat, Jeff's list of songs, and a stream of NO DREAM...
Hey Jeff, thanks for taking the time to answer some questions. How have you been holding up with everything going on?
I have been holding up alright, thank you for e-asking!
The live experience is such a crucial element of your music, and the songs on the new album especially sound built to be heard live. What has it been like releasing it at a time like this?
Hahaha, I mean, we definitely were looking forward to playing these songs live for people this summer. I had it in mind while writing, even like, trying to keep the arrangements kinda lean so when we played it live we wouldn't necessarily have to reverse engineer songs at practice or have everyone play a keyboard with one hand while playing a guitar with a maraca with the other hand which is the kinda shit we end up doing sometimes. These songs were really fun to learn and record as a band and I think they'll be fun to play live some day.
At the same time, it's like, what am I gonna do, hold onto this record? For what? When live music happens again we'll be able to play these songs, it doesn't matter if they were released a year ago or if the album just dropped. I think it'll be sick. Putting out the album now felt good. I think it represents our band better than me playing an acoustic livestream and it feels like a way for us and the people who listen to us to share something.
From the cover artwork to the sound of some of these songs, NO DREAM feels very California. How much would you say it was influenced by your move to LA?
None of it at all, I moved a few months after this record was done being written! You can probably sense the longing to get out of a rut I felt I was digging into, but nothing like "Hey! I'm around palm trees now! Sun!" From the start, the songs on this record leaned towards Bay Area pop-punk and J-Punk stuff, and between Craig of the Creek, Mikey Erg Band and Bruce Lee Band - plus the music I listen to while driving the van or running - I've been pretty immersed in those West Coast punk vibes. Our band has always been split between the coasts, I've felt like part of the Asian Man Records crew even though I lived in New York and I've been coming out here for longer and longer visits because of family and the cartoon. So those influences are probably just always in there. This was also the first record I wrote after signing to Polyvinyl, and I thought it would be fun if our first respected-indie-label release was pop-punk as hell.
As you sort of spoke about when the album was released, you've been playing music forever but getting a lot more attention than ever for the last few albums. In what ways has that affected how you write, if it has at all?
I try my best to just ignore it, and write the way I always have, when there was way less attention. I've put out a lot of records and I've had a lot of fans give up on my music as it has grown in different ways and getting over that was a really big hurdle for me. All I come back to is that if I write honestly and try to make a good record that's the best I can do, people are going to like it or they're not going to like it. That applies to critics as well - the response to the last few records has been really validating and has helped us reach more people but I know the other shoe is going to drop eventually. It always does. You can't adjust to what people like, that's playing catch up. I feel like I was just lucky that eventually a few resonated with a larger audience, but I don't expect it to always be that way so might as well make it something I like. That said once it's all done being written and ready to go, I'm pretty terrified about what people will think and relieved when it's finally out.
Your last two albums were surprise-released. What makes this your release method of choice these days?
A lot of it has to do with what I said above. A long rollout feels excruciating to me, it makes me overthink things and exacerbates my anxiety. I like to write at a constant pace, so those months of lead-up takes away from time where I could be doing something more creative with my time, or can slow me down to where it's hard to start back up again. I also think it's a little strange that the agreed upon method right now is release your three best songs, beat 'em into the ground for months before your record comes out, and then eventually you release a record with those three songs you liked surrounded by often less good songs. Like, who would care about that? It's interesting to me that at a time where everyone has the same exact means of distribution (internet) we still find ways to fit into these pre-conceived molds and plans when really musicians can music out whenever and however the fuck they want.
Since we're all missing live shows right now, can you share a favorite memory you have from being on stage or on the road?
The first thing that comes to mind is simply our crew hanging out at night and in the morning. When we're not at the venue. Used to be at the houses we were sleeping at, now it's the hotel, but it's the same vibe. It's like, I miss my roommates. I miss my family. I miss walking down to the lobby and seeing Dan P painting watercolor parrots, Rick Johnson talking shit all day, driving for hours staring at the sky and mountains... shit like that. I miss Hiro. I miss my friends. The last show our band played on tour was almost a year and a half ago now. We were with Joyce Manor and Remember Sports at the Basement East in Nashville which has since been destroyed by a tornado. Afterwards we all went to a karaoke bar situated in a double wide trailer in the middle of nowhere, and everyone was singing, hanging out, having a good time. I remember Carmen singing the shit out of Shakira songs. That's a nice memory. Or the festival we played in a small town on the south coast of Spain, starting at like 1:45 AM, speaking Spanish on stage the best I could, mostly playing to drunk locals who had no idea what our band was but just wanted to fuckin' rage, and us being all coffeed up in the middle of the night haha. I don't know, so many days you're on tour there's just some weird crazy life shit happening that to you seems normal because you're so fuckin' sleep deprived and used to seeing weird stuff happen all around you. I'm definitely missing all those moments right now.
Thanks again for taking the time to do this. Anything else you'd like to like people to know about the new album?
10 SONGS THAT INSPIRED NO DREAM
Damn, I have loved the Muffs for a really long time. Mike Park would lend me his van when I was in San Jose and there was a CD of Blonder and Blonder in there and I would just listen to it nonstop. My Muffs obsession kicked into high gear the last few years, listening to this record nonstop while running... it sounds so good, the songs are so good. Their other records are so good too. I hoped we'd get the chance to play a show together or something when this record came out. Although I didn't know her, Kim Shattuck's death hit me really hard, but she left us with a lot of really really great songs to remember her by. RIP.
Jimmy Cliff - "Sufferin' In The Land"
I fucking love this fucking record. This album cover as well as "Special" definitely seared the hypercolor rainbow vibe into my brain. This song, like a lot of reggae and ska, is empowering political pop music so everyone stop acting like ska bands only sing about french fries and cats and shit.
Scared Of Chaka - "Who's To Know"
This song kicks off a stretch of three perfect power-pop songs on one of my favorite underheralded punk records, Crossing With Switchblades by Scared of Chaka. Just like, impossibly good melodies nonstop.
The Mr T Experience - "Love Is Dead"
Mr. T Experience has a bunch of records with 15 songs on 'em that are all good. It's fucking crazy. I liked this band so much growing up and I like them so much now too. Their records sound great and Dr. Frank writes dark lyrics that are really funny. "Still there's not a sadder lie than I love you" is such a good-ass lyric. Bonus points for Kim Shattuck backup vocals.
Mike Park is a great songwriter. It was hard to pick a Chinkees song, I went with the first one I ever heard. This is just such a fun propulsive song to dance to, to keep you awake while doing a long drive, to make coffee to in the mornin y'know get fuckin' PSYCHED!!!!
Sleater-Kinney - "The Fox"
I think of this song every time I make a record, every time I record a demo. I want to feel the way I felt the first time I heard the beginning of this song again, planning on some angular guitars and mathy drums and instead getting blasted in the face with a fucking flamethrower.
Hard to pick a Sicko song too! I think what was getting me listening to all these pop-punk and ska bands that I liked growing up is just the amount of super fucking good songs they put out. Every Sicko record is good. That rules. I like that at points Sicko are playing their songs so fast n loud it sounds like the wheels are gonna come off.
The Selecter - "Too Much Pressure"
This record rules and this song kicks so much ass. More ska to bounce to while you're going through hard times and the world is crumbling around you. The last four years felt like the cover of this album.
It is so inspiring to me how often Joe Strummer seemed to not give a shit about his voice cracking, breaking, being out of tune or sounding silly, like perfection is unattainable so might as well just give it the rawest real performance you can give, like every word is your dying breath. He's just goin' hard all the time, it kicks ass.
Tenement - "Stupid Werld"
Such a good record. Tenement rules. I remember hearing this and being blown away that a punk record could sound so fucking good without sounding over produced - and that it was a band in our scene! It's so tight, so heavy, so poppy, fuzzy... all the good stuff. This record is my favorite kinda shit.
Cleaners From Venus - "It Could Have Been Cheryl"
I listen to this Cleaners From Venus demos LP all the time. Martin Newell writes really really great melodies and I think they shine with the spare arrangements / GBV vibe on this particular album. Also I gotta support a guy whose made like thirty records, that's tight.
Check out pics of Jeff Rosenstock at Pitchfork Fest 2017 and Silent Barn in 2017: