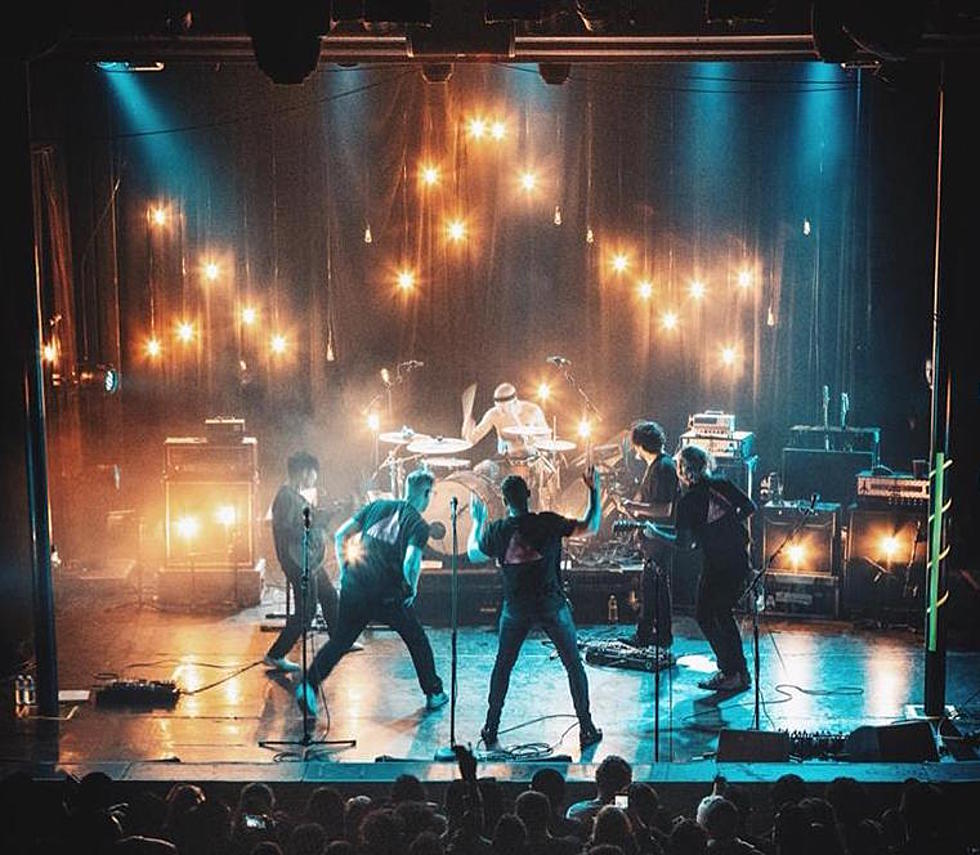 Q&A with The Sound of Animals Fighting, whose first tour in five years is underway
The Sound of Animals Fighting at The Observatory - 2/23/19 (photo by Porter McKnight)
Experimental post-hardcore collective The Sound of Animals Fighting just recently embarked on their third tour ever and first in five years. For this tour, band leader Rich Balling and co-frontman Anthony Green (Circa Survive, etc) are joined by guest vocalist Keith Goodwin (also of Good Old War and Days Away) for the first time since the 2006 shows, as well as Matthew Kelly (also of The Autumns) who also toured with them in 2014. That means they're playing the Keith Goodwin-fronted "This Heat" for the first time since 2006, as well as the Matthew Kelly-fronted "The Heretic" and other classics like "Chasing Suns," "Skullflower," and more.
The openers for this tour are also very well curated, with fellow long-running post-hardcore bands Planes Mistaken for Stars (whose Gared O'Donnell had a hand in naming TSOAF's 2006 album Lover, the Lord Has Left Us...) and The Saddest Landscape, as well as alt-pop artist Lorelei K. The tour began in LA on Friday (2/22), and then hit Santa Ana on Saturday (2/23) and San Francisco last night (2/24). You can check out a pro-shot clip from the LA show and see last night's full setlist below.
As mentioned, TSOAF will land in NYC on March 8 at Terminal 5 with all three openers on board (it's the only show on the tour with both PMFS and The Saddest Landscape on board). Tickets are still available. All remaining dates are listed below.
Just ahead of the tour, we spoke to Rich Balling about the rarity of the band's touring, the guests for this tour, the possibility of new music or another live film, the carefully selected openers, and more. Read on for our chat...
Touring is a rare thing for The Sound of Animals Fighting, and if I'm not mistaken, this is only your third time doing a proper run of shows, your first in five years, and your longest one yet. Are you excited to get back on the road? What inspired the decision to tour again?
Touring is definitely a rare deal for this project. We are all neck deep in other projects and jobs, many of us have kids, and because of the logistical demands we have really only been able to align our lives and schedules three times now in 15 years. Anthony is doing incredible things as a solo artist on top of regular touring and recording with Circa Survive and even Saosin, that timing is key as well to avoid saturation. Matthew Embree is now a full time member in Dispatch who is constantly touring. And in the end, this project is rooted in the idea that it is a vehicle to explore all of the left field ideas we would not normally in our other projects. There is a common thread, but there is also an overarching understanding that almost anything goes. It is really cathartic and healthy for us all to have this around. Lastly, I personally wanted my kids to see what I did full time prior to them and right now they are old enough to appreciate the experience, so that has been nice to share with them.
The last tour had a smaller lineup than the first run of shows, with you and Anthony Green on lead vocals. On Facebook the band posted that Keith Goodwin is joining for this tour too. Does that mean we can expect to hear "This Heat"? Any other early songs getting broken out on this run?
Absolutely. Keith came along for the first tour in 2006 but was not with us at all in 2014. This tour he will be with us on all dates and we are excited for it. Many of the songs from the last album The Ocean and the Sun demand numerous vocal parts that are easier to cover with him along. "This Heat" will be played. A possible interesting side note that feels appropriate to mention here would be that the song "This Heat" got its title from the band of the same name, and is off our second album Lover, the Lord Has Left Us..., which is an album rooted in found art and found poetry- all of the song titles, many of the lyrics, etc are piecemealed from other artists as an homage and in the spirit of experimentalism.
Besides Keith, can we expect to see other guests joining at these shows?
Yes, Matthew Kelly will be on all dates. It is his voice on The Heretic, which I believe it our #2 track on Spotify. Others will pop up in various cities.
It's been over a decade since The Sound of Animals Fighting released a new album. Any plans for new music that you can talk about?
This is something we have discussed many many times in the last couple years. I am confident everyone is open to it, but it would need to fit organically in our lives and schedules so it would be difficult to commit to a timeline. I do think that if we were to start the process we would move through it fairly quickly.
The first run of shows resulted in the band's now-classic live DVD. Is a live album or film something you'd be interested in doing again?
We are taking a full time photographer/videographer on this tour. Porter [McKnight] from the band Atreyu is an amazing photographer and he is excited to experience a tour purely on the creative side of things. We should have a surplus of footage and at the very least make sure the content being pushed through social channels is quality. Another DVD would be great and honestly it is flattering to see you use the word "classic" to describe it.
A number of these shows are with Planes Mistaken For Stars, and Gared O'Donnell from PMFS actually had a hand in naming the Lover, the Lord Has Left Us... album, right? Is it a long time coming that you're finally touring together?
This goes back to the other question where I mentioned Lover being the product of found art and poetry. Planes is one of my all time favorite bands. The evolution of that title went like this: I wrote Gared who I had known previously through his participation in the poetry book Revolution On Canvas I was involved in, asking him for an unused lyric or phrase that would make a good album title. He sent me the phrase "Lover, the lord has left us, if ever the lord was here." In the spirit of found poetry I accepted the line, took the first part of it and made it the album title. And I really love it as a title. Later on that lyric ended up being released on a Planes album.
PMFS and The Saddest Landscape are both post-hardcore bands like TSOAF, but the other opener, Lorelei K, is more accessible and more pop. You've experimented with a handful of heavier and more experimental styles of music with your various projects (TSOAF, RX Bandits, Pyramids, your Handmade Birds label, etc), but we've noticed you hyping a lot of pop music on Instagram and Lorelei K's billing on this tour seems to fit with that. Can you tell us about your current pop obsession?
Either I am crazy, or female pop artists are completely and totally crushing music right now in the best way. The best production and best songwriting is happening in that world. Artists like Charli XCX, Dawn Richard, and Billie Eilish are doing great things at every level. It brings me a lot of inspiration and enjoyment to listen to those artists. In early talks about the tour Anthony had mentioned considering changing the energy on the bill by not only having a bill of high energy, loud blistering bands. That component is important of course, but also having more of a balance on the bill was a priority. Dahlia (Lorelei K) is a good friend of mine and we are both in the Dallas/Denton TX area. What I admire about her is the way she pounds the pavement, builds her own brand, plays shows big and small constantly in pursuit of her dream, constantly working to be better and to do better. It seems so much entitlement has seeped into many younger artists who don't understand the level of work ethic required to do this, but she does. And as you mentioned, we exist in a very open plane in terms of styles and influences, and as I mentioned this project is rooted in the idea that it be a vehicle for exploration, so Lorelei K's style rests nicely in that space. Planes Mistaken For Stars and The Saddest Landscape were approached because they exist in that perfect space of equal parts classic and incredibly relevant. Many of our fans fall in the mid 20s-30s demographic and appreciate these bands as entities that have helped shape their lives while at the same time being just as powerful and progressive now as they were when they began. Capturing that balance was important in selecting support.
Any new album recommendations you have, pop or heavy or otherwise?

If you are into pop, Charli XCX's Pop 2 and Dawn Richard's Redemption are everything. Dua Lipa, Banoffee, SOPHIE... you can't go wrong. The harder side things I am excited about include new material from La Dispute and Daughters, and in between is that devastatingly beautiful album from Better Oblivion Community Center.
Anything else you'd like to let fans know before the tour begins?
The Sound of Animals Fighting at The Warfield - 2/24/19 Setlist (via)
The Heraldic Beak of the Manufacturer's Medallion
I, the Swan
Blessings Be Yours Mister V
My Horse Must Lose
This Heat
Act I: Chasing Suns
Act II: All Is Ash or the Light Shining Through It
Act III: Modulate Back to the Tonic
Act IV: You Don't Need a Witness
On the Occasion of Wet Snow
Cellophane
The Ocean and the Sun
Encore:
The Heretic
Stockhausen, es ist Ihr Gehirn, das ich suche
Skullflower
The Sound of Animals Fighting -- 2019 Tour Dates
3/1 Bomb Factory Dallas, TX^
3/2 Masquerade-Heaven Atlanta, GA^
3/3 Hard Rock Live Orlando, FL^
3/8 Terminal 5 New York, NY^*
3/9 House of Blues Cleveland, OH*
3/10 Ogden Theatre Denver, CO*
^ - w/ The Saddest Landscape
* - w/ Planes Mistaken for Stars
all dates with Lorelei K