reunited Quicksand played Bowery Ballroom (pics, setlist); play Music Hall of Williamsburg tonight
Atlanta, Georgia in March of 1995. Quicksand played an amazing set that drove me so batshit-crazy that my keys were lost in the mosh pit. I previously had no intention of sticking around to see the headliners Offspring that night, but now I was forced to wait until the crowd cleared to find the car keys. After the closing notes of "Come Out and Play", I scoured the floor for the key ring, kicking away cups and single shoes to no avail. It was then that a guy approached me
I looked up to see that it was Quicksand bassist Sergio Vega. I told him about the keys and we both looked through the filthy floor, talking about the new record Manic Compression until finally I gave up. Though I never found those keys, between the show and a moment with a member of one of my then-favorite bands, I gained something far more precious: a memory I'd never forget.
This was my favorite memory of Quicksand, a hard one to beat. But somehow the reunited post-hardcore heroes topped that at Bowery Ballroom last night (8/24). Looking greyer and balder, Walter Schreifels and co. were every bit as good as that night close to 20 years ago. Sure, Walter's pogo isn't quite as frequent and spastic stage moves have been replaced by creaking bones, but everything else was still balls-on accurate: start-stops, left turns and dynamics were all handled with precision. Not to mention the fact that their setlist was basically my personal wish list of favorites.
Great performance aside, the crowd responded to the post-hardcore heroes with an unexpected fervor for a crowd that skewed towards more Burn shirts than Expire. Old farts flexed their aching stage-dive muscles. Moshing from the greying set was bountiful. Bowery Ballroom was a singalong, and there was a moment when I realized that I had sung every word to a song that I hadn't heard in more than a decade. Fun night, and I am sure tonight will be similarly amazing.
Walter crowdsurfing

Italian Horn's Guided by Voices style pop opened the evening, and will do so again tonight at Music Hall of Williamsburg (8/25). Pictures from the melee that was Bowery Ballroom are below, along with a picture of the setlist.

---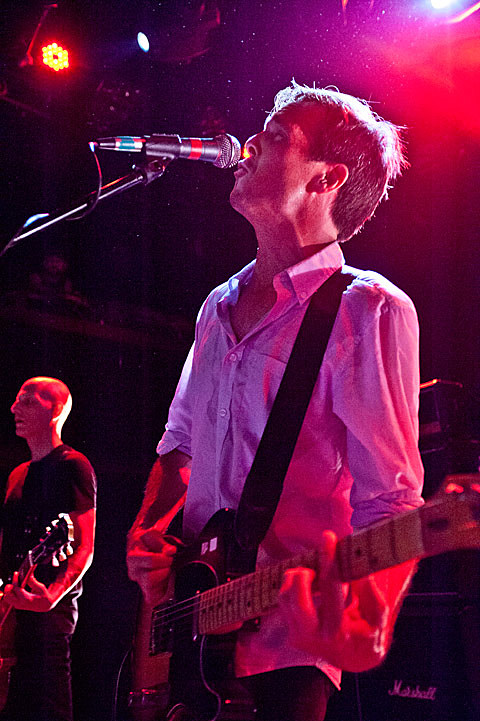 Setlist: Quicksand - Bowery Ballroom 8/24/2012
Omission
Unfulfilled
Head To Wall
Fazer
Too Official
Freezing Process
Brown Gargantuan
Lie And Wait
Delusional
Divorce
Slip
Thorn in My Side
Backward
Hypno Jam With Dan
Dine Alone
How Soon Is Now?
Encore:
Shovel
Landmine Spring