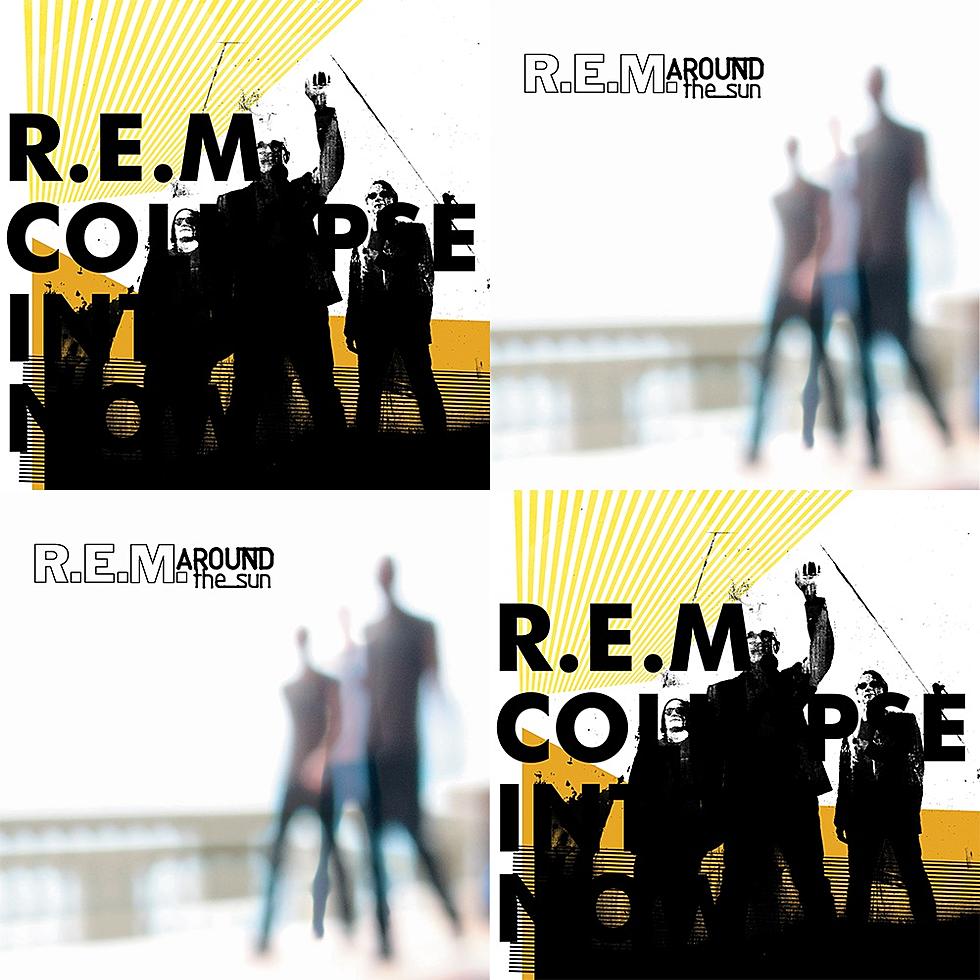 R.E.M.'s long out-of-print 'Around the Sun' & 'Collapse into Now' getting vinyl reissues
Two long-out-of-print R.E.M. albums -- 2004's Around the Sun and 2011's Collapse Into Now -- are getting new vinyl reissues, out July 14 via Craft Recordings (preorder). Both are pressed as double-LP sets in gatefold sleeves, were cut by Kevin Gray at Cohearent Audio, and pressed at Memphis Records Pressing. Neither album has been released on vinyl since their initial pressings.
Released in 2004, Around the Sun was a reaction to a post-9/11 world and was decidedly more somber and politically charged than 2001's Reveal; it gave them a hit with lead single "Leaving New York."
Collapse Into Now was R.E.M.'s 15th and final album, and found them going out with a bang. "That's the record where we put ourselves on the cover for the first time and I'm waving goodbye, and nobody got it," Michael Stipe told Scott Aukerman & Adam Scott in 2019. "We were saying, 'This is it, sayonara, we're out of here.'"
You can check out the packaging and tracklist for both reissues, and listen to the albums, below.
The band's Peter Buck & Mike Mills will be on tour as part of The Baseball Project (with Steve Wynn, REM associate Scott McCaughey, and Linda Pitmon) this summer.
Around the Sun:
Side A
1. Leaving New York
2. Electron Blue
3. The Outsiders
Side B
1. Make It All Okay
2. Final Straw
3. I Wanted To Be Wrong
Side C
1. Wanderlust
2. Boy In The Well
3. Aftermath
Side D
1. High Speed Train
2. The Worst Joke Ever
3. The Ascent Of Man
4. Around The Sun
Collapse Into Now Vinyl Tracklist:
X-Axis
1. Discoverer
2. All the Best
3. Überlin
4. Oh My Heart
5. It Happened Today
6. Every Day Is Yours To Win
Y-Axis
1. Mine Smell Like Honey
2. Walk It Back
3. Alligator_Aviator_Autopilot_Antimatter
4. That Someone Is You
5. Me, Marlon Brando, Marlon Brando And I
6. Blue