Radiator Hospital cover "Will You Still Love Me Tomorrow" for new single series (listen), touring w/ Allison Crutchfield
photo by Emily Burtner

Soft Speak Records are launching a new split 7" series which will include one release a month until the end of the year, with the proceeds from each going to a charity of the bands' choice. The first in the series is Radiator Hospital and Sorority Noise (due 9/30), then Frameworks and The Saddest Landscape (due 10/7), Pet Symmetry (aka Evan Weiss and members of Dowsing) and Slingshot Dakota (due 11/25), and finally Free Throw and OSO OSO (due 12/23). There will also be a boxset (limited to 100) of all four 7"s on Coke-bottle clear vinyl which you can pre-order now.
The first one features two covers, with Radiator Hospital taking on Gerry Goffin and Carole King's "Will You Still Love Me Tomorrow" (made famous by The Shirelles) and Sorority Noise doing Buddy Holly's "Every Day." The former makes its premiere in this post. Radiator Hospital singer Sam Cook-Parrott recorded this one solo with an acoustic guitar, and he makes the classic song sound naturally like his own. Check it out below. The proceeds from this one will benefit V-Day, "a global movement to end violence against women and girls."
Radiator Hospital, whose excellent new album Torch Song is out now, also has several tour dates coming up. Those dates include a run with Swearin' singer Allison Crutchfield, who will be playing songs from her new solo EP, Lean Into It, and Sam and Allison will also be playing some songs together. Most dates on the RH/AC tour will be Sam solo, but the Brooklyn show happening on October 19 at Silent Barn is full band. That show also includes two quality LA duos, Slutever and Girlpool, and the live debut of Libbie 2000. $7 gets you in. All tour dates are listed below.
In related news, Radiator Hospital bassist Jon Rybicki just released an album with the band he leads, Attendant. It's called Freaking Out and features all of Radiator Hospital, as well as Jen Twigg of The Ambulars (singing and playing bass on most songs), Allison Crutchfield of Swearin', Ashley Arnwine of Pinkwash and Bleeding Rainbow, and more. Swearin's Kyle Gilbride recorded it and also contributed some guitar and backup vocals. You can download the album (name your price) at bandcamp and stream it below.

---
Radiator Hospital - "Will You Still Love Me Tomorrow"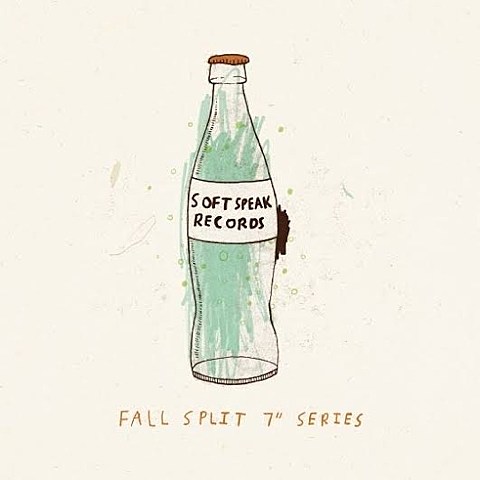 Radiator Hospital -- 2014 Tour Dates
9/2 Philadelphia, PA @ Golden Tea
9/3 Columbus, OH @ Ace Of Cups
9/4 Cleveland, OH @ Happy Dog
9/5 Ann Arbor, MI
9/6 Grand Rapids, MI @ Vertigo Music
9/7 Chicago, IL @ Fireside Bowl
9/8 Milwaukee, WI @Coccoon Room
9/9 Minneapolis, MN @ Hexagon
9/11 Denver, CO @ Mutiny Information Cafe
9/12 Salt Lake City, UT @ Kilby Court
9/13 Boise, ID
9/14 Seattle, WA @ Black Lodge
9/15 Olympia, WA
9/16 Portland, OR
9/17 Oakland, CA @ The Yellow Room
9/18 San Francisco, CA @ Honey Hive Gallery
9/19 San Jose, CA @ House of the Dead Rat
9/20 Los Angeles, CA
9/22 San Diego, CA @ the Hideout
9/23 Tempe, AZ @ Parliament Tempe
9/24 Albuquerque, NM @ Burt's Tiki Lounge
9/25 Oklahoma City, OK @ Blue Note
9/26 Austin, TX @ Hotel Vegas
9/27 Beaumont, TX @ The Art Studio
9/29 Tallahassee, FL @ All Saints Cafe
9/30 Birmingham, AL @ Seasick Records
10/1 Atlanta, GA @ Wonderroot
10/3 Charlotte, NC @ Snug Harbor
10/4 Raleigh, NC @ Nice Price Books
10/6 Washington, DC @ the Rocketship
10/7 Philadelphia, PA @ Wolf Cycles *
10/8 New Brunswick, NJ @ Cooler Ranch *^
10/9 Purchase College *^
10/10 Portsmouth, NH *^
10/12 Burlington, VT *^
10/12 Montreal *^
10/14 Toronto *^
10/15 Utica, NY *^
10/16 Western MA *^
10/17 Boston, MA *^
10/17 New Paltz, NY *^
10/19 Brooklyn, NY @ Silent Barn *
11/28 Philadelphia, PA @ Johnny Brenda's opening for Polaris
* - w/ Alison Crutchfield
^ - Sam solo show