Dresden Dolls, Kim Gordon, Sondre Lerche, Buzzcocks, Howlin' Rain & more celebrated RSD15 at Rough Trade (pics)
Dresden Dolls / Kim Gordon / Howlin' Rain / Buzzcocks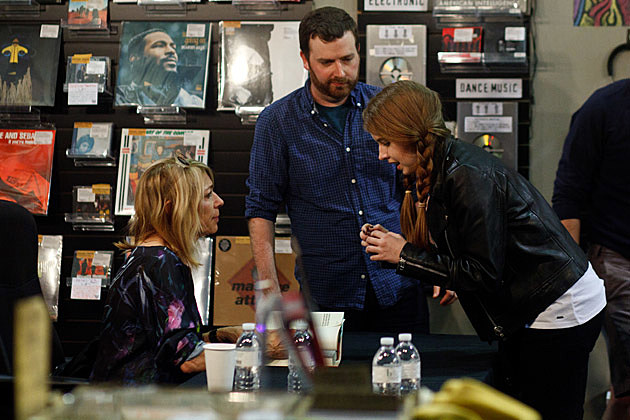 Rough Trade NYC celebrated Record Store Day 2015 will an all-day party featuring live performances and signings. Among the highlights: the first Dresden Dolls show in NYC in five years; Sondre Lerche cut a record live to 78RPM lacquer; and Kim Gordon signed copies of her memoir, Girl in a Band. Buzzcocks, who played two NYC-area shows that week, stopped by to sign stuff too, plus there were live sets from Howlin' Rain, Ava Luna, Lee Bains III, Saun & Starr and Lord Raja. Pictures from Rough Trade's RSD15 events are in this post.
You could just walk into Rough Trade if you weren't shopping for Record Store Day exclusive releases. For those who were, there was a long line that, right before they opened on Saturday, stretched down and around Kent Ave up to N. 8th St. Apparently people were in line just after midnight on Friday. Madness!
Dresden Dolls' set was webcast live for supporters of Amanda's Patreon (an archived stream will be made available to everyone soon). More pics from Record Store Day at Rough Trade, below...