Red Hook still needs help, residents without heat, businesses destroyed (though Sunny's is reopening) — more pics & info
photos by Gretchen Robinette
Red Hook on 11/3

"While electricity is on in some of the buildings in the Red Hook Houses, almost none have heat. For the second day in a row RHI purchased and distributed 150 space heaters. Knowing this will never be sufficient for those who have been in the cold for over a week, the following groups are working diligently to create warming centers in Red Hook: Brooklyn Public Library Red Hook Branch (learn more here), Red Hook Community Justice Center (learn more here), Bumblebees R Us (learn more here), NYCHA Miccio Center, and the Community Assistance Commissioner from the Mayor's Office." [Red Hook Initiative, 11/7/2012]
Red Hook remains a huge mess after the devastation of Hurricane Sandy. BV photographer Gretchen Robinette took a few photos out there on Saturday (11/3) which are in this post.
The New York City Housing Authority are still pumping out water and the DEP and Marine Corps are there assessing structural damage in the neighborhood. The Red Hook Initiative (RHI) has details of their most recent meeting and more information on how you can help. Blankets, flashlights, batteries and candles are needed desperately.
Yesterday we utilized volunteers, not only to help the business community with clean up, but to communicate about changes to Red Hook's polling sites and to mobilize and transport people to get out to vote. All week, volunteers have been reporting to the volunteer hub, Southwest Brooklyn Industrial Development Corporation (learn more here). [RHI]
If you're around right now (11/7), "RED HOOK INITIATIVE is understaffed! Go spend a rainy day with the lovely people over there. 767 Hicks St, BK." RHI also points out on their site that 767 Hicks is the only spot volunteers should be heading today.
UPDATE: "Volunteers will be needed in #RedHook [Thursday, 11/8/2012], report at 11AM + 3PM to 767 Hicks #SandyAid #SandyHelp".
Occupy Sandy has been one of the major helping forces since Sandy, in Red Hook and elsewhere. RHI is quick to also point that out. They wrote today:
Volunteers through Occupy Sandy congregated at RHI as soon as the storm subsided and spearheaded the relief effort for Red Hook residents. Because of their efforts, we have been serving close to 1,000 hot meals per day on RHI's four-burner stove along with tremendous support from individuals who have donated countless trays of warm, home-made food. Monday we opened space across the street at Calvary Baptist Church to help with meal distribution, while Occupy Sandy volunteers tore out a damaged rug and poured a new floor (yes, all in one day!). It is only because of Occupy Sandy that RHI has been able to react to the storm so quickly.
Join the movement. Find out how at Occupy Sandy's site or by following them on Twitter. Things are really getting scary again as the Nor'easter moves in.
videos games in the street in Red Hook (this pic via Jody Rosen)

Among those helping out Sunday was Phish's Trey Anastasio whose concert at the Capitol Theatre (like many shows there since Sandy) that was supposed to happen Monday night (after also being postponed from Sunday before the storm) got postponed again to a new date TBA
Red Hook's giant Fairway grocery store, which lost everything in the massive floods, says they're committed to re-opening and hope to do so in the next 6 - 8 weeks.
Restore Red Hook is working to restore all businesses destroyed by hurricane Sandy.
New Amsterdam Records still need help and info on the label's relief fund is here. Meanwhile, the label keeps going. Missy Mazzolli's new album, Song from the Uproar, is out now and there's a record release show this Sunday (11/11) at Le Poisson Rouge. Tickets are on sale.
Norton Records, as mentioned, had much of their stock of vinyl destroyed in the flood. They are salvaging as much of the actual vinyl as they can, though the sleeves are ruined. There's video detailing the damage and how you can help. For more info on volunteering in Norton Records cleanup, click here.
Red Hook Winery lost their entire stock, with extensive damage to their facility.
Legendary Red Hook bar Sunny's (which was featured on this weeks all-Brooklyn episode of Tony Bourdain's No Reservations, watch below) took on two feet of water but has had lots of help with the clean-up and is hoping to be open soon. A message on their website says:
Sunny's is sadly closed due to Hurricane Sandy (or superstorm Sandy, however the news wants to call it.) We took on about 2 feet of water above the basemant. It's been great to have the love and hard labor of those who have come to Red Hook to help out and it is greatly appreciated from all of us who live here. We are hoping to be back in business by next Friday or Saturday. Keep checking in to see any updates. And if you want to help Red Hook please check in with the Red Hook Initiative 402 Van Brunt St. They are organizing relief. We'll be back. All of us. And more importantly The Rockaways, Breezy Point and Staten Island can still use much help. We are hurt but OK in the grand scheme of things, so please try to devote your attention to those who need it most.

Thanks and Love,
Sunny, Tone, Izzy, Francis and the two Chrises.
An article at DNAInfo says they're "hoping to have Sunny's up and running for a post-hurricane celebration party by Wednesday." That would be tonight (11/7), though we have no confirmation at the moment that their wish came true.
And as previously mentioned, proceeds from Buke & Gase' new single (including a nifty New Order cover) go toward Red Hook disaster relief.
More pictures, songs and videos below...

---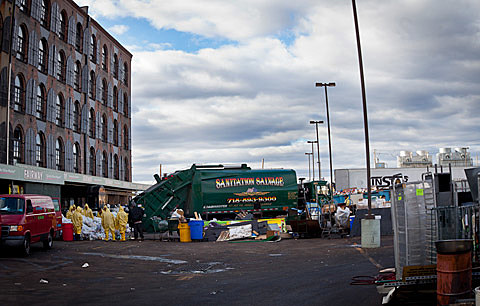 Saving Norton Records after Hurricane Sandy from Dust & Grooves on Vimeo.
No Reservations at Sunny's Bar