Red Hot Chili Peppers played Barclays Center before the Super Bowl (pics, video & setlist)
RHCP @ Barclays Center - 2/1/14

Red Hot Chili Peppers came to NYC for Super Bowl weekend, playing a WFAN-presented pre-game show at Barclays Center on Saturday (2/1) with MS MR, J. Roddy Walston & the Business, New Politics and Basic Vacation, before "crashing" Bruno Mars' halftime show to play "Give It Away." A Rolling Stone review of the Barclays show points out that Flea said it was "one last blowout" before they "go into a period of hibernation and make a new record." The review continues:
Even though the band's first record turns 30 this year, it focused its set list on the last decade or so. The Chili Peppers' cover of Stevie Wonder's "Higher Ground" - a punky highlight in the show - was the only Eighties song the group played. Instead they focused on hits ("Under the Bridge," "Californication") and the finer points of their most recent album, 2011's I'm With You, like the sex-charged "The Adventures of Rain Dance Maggie." It was a party.
Pictures of all five bands from the Barclays show are in this post.
More pics, RHCP's setlist, and a video of them playing with Bruno Mars during the halftime show in case you need to see that again, below...

---
J. Roddy Waltson & the Business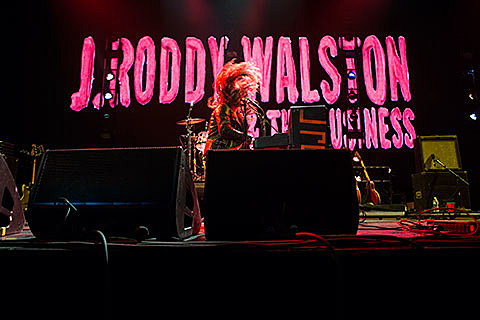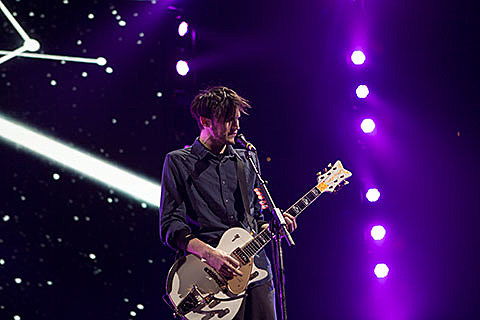 Red Hot Chili Peppers at Barclays Center - 2/1/14 Setlist: (via)
Intro Jam
Can't Stop
Dani California
Otherside
Factory of Faith
Snow ((Hey Oh))
I Like Dirt
The Adventures of Rain Dance Maggie
Higher Ground
Under the Bridge
Ethiopia
Californication
By the Way
Encore:
Chad & Mauro & Josh Jam (The Star-Spangled Banner performed by Flea)
Around the World
Soul to Squeeze
Give It Away