Refused played Terminal 5 again, with Ceremony (and Lou from Sick of It All again) — pics & video
Refused & Sick of It All's Lou Koller @ Terminal 5 - 4/23/2012

Let's cut to it. I like Refused. The Shape of Punk to Come is a good record, though not quite the benchmark that its namesake suggests. I find it flabbergasting that the band, who allegedly sold 45 tickets for a show in a Long Island basement before they broke up, can pack out two nights at Terminal 5? Insane. It makes me wonder if Deadguy or Botch attract even a fraction of that attention? Why didn't hardcore legends like Youth of Today or Gorilla Biscuits? It is, as Sick of It All's Lou Koller would say later that night, an "Injustice System".
Ceremony opened the show last night (4/23) at Terminal 5. I'm a fan of their live show (and a sometime fan of their recorded output), and have seen them many times, mostly in dank DIY spaces like ABC No Rio. Unfortunately, I don't think Ceremony has figured out how to translate their live show to such a big stage and their set suffered for it, which doesn't bode well for Warsaw on the horizon. For every ounce of disappointment that I felt, I'm sure it was made up for tenfold when they played the infinitely smaller Mercury Lounge later that night when the band lit up twitter with positive reviews.
Speaking of lighting up Twitter with good reviews... I thought Refused's set was good enough, not great. Vocalist Dennis was high-energy and sashayed around stage with a Mick Jagger swagger, even doing his best Iggy Pop by standing in the middle of the crowd. The band was air-tight and played the bulk of their The Shape of Punk To Come, lighting and aesthetics were simple and tasteful, the sound was surprisingly decent... it just wasn't quite the spectacle that so many have raved about.
To make matters worse, the room seemed all be waiting for the Swedish band's admittedly stellar single "New Noise." Mosh-pits and crowd-surfing were nowhere near as omnipresent as when that memorable solo-guitar riff kicked in and then, predictably, the room exploded. Even an appearance from Lou Koller of Sick of It All to do classic NYHC material, for the second night in a row, was met with some of that disappointing indifference.
Check out more pictures from the second night at Terminal 5 (first is here), with video of the Sick of It All part from night one, below.

--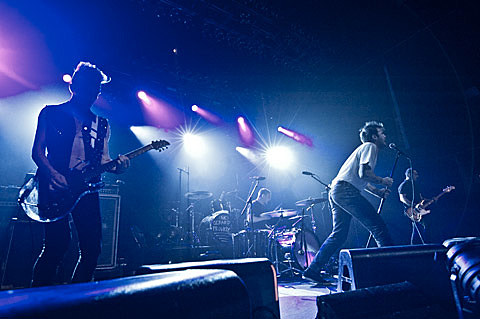 REFUSED NYC 4/22 five full songs (w/ SOIA's Lou Koller "Injustice System") via Alyssa Tanchajja)