Refused played MHOW with Creepoid & Obliterations, then a late show at Saint Vitus (pics, setlist) ++ LA in-store video
Refused @ MHOW - 6/4/15

Last night (6/4) on stage at Music Hall of Williamsburg, Refused singer Dennis Lyxzen told the crowd how he was a metalhead as a kid, but one day traded his copy of Napalm Death's Scum for a Youth of Today record, and the rest was history. He said he wanted his band to be just like those New York Hardcore bands, but there was one difference: they weren't tough. And it's true, Refused are not tough. They sound tough -- when they incorporated the intro to Slayer's "Raining Blood" into their own "The Deadly Rhythm" you would have thought it was part of the song if you didn't know any better -- but their stage show is pretty much the exact opposite of macho. They came out wearing blazers, and Dennis is more about flamboyant dancing than the typical moves of the hardcore bands that influenced them. It was as good a reminder as any that they were once labelmates with fellow Swedes The Hives.
Sometimes it was a little funny, like when you'd watch some of the burlier dudes stage dive in front of this band in suits, but mostly that juxtaposition is what makes them great. On one hand, you've got these could-be pop stars on stage, and on the other, they're chugging away at their guitars and screaming their heads off. It's not like no other band ever tried that approach, but even 17 years after their last record few can do it like Refused.
After the MHOW show, Refused headed to Greenpoint for a last-minute aftershow at Saint Vitus (similar to what they did at Acheron after Terminal 5 in 2012). Refused already played their great, regular Refused set for the night, but at this point it was 2 AM, Dennis had been "sweating for four hours straight" (as he said on stage), and they wanted to have some fun. They did a few off Shape of Punk (including the "Deadly Rhythm/Raining Blood" thing again and a ballistic encore of "New Noise"), a new one, and a handful of covers including Black Sabbath's "Fairies Wear Boots," Black Flag's "My War," Fugazi's "Bed For the Scraping," and threw in bits of Snapcase and Earth Crisis and more. They clearly weren't taking themselves too seriously, and I think just about everyone in that room, on stage and off, was having a killer time.
The Vitus show was opened by Primitive Weapons, and the MHOW show had Creepoid and an unannounced set from Obliterations. Obliterations play NYC again tonight (6/5) with Refused's west coast tourmates White Lung, which Dennis told the crowd they should go see (you can still get tickets).
Last week, Refused played an in-store at LA's Vacation Vinyl, which pro-shot video has now been released from. Watch that, with more pictures from Music Hall of Williamsburg, Refused's MHOW setlist and a video of the Sabbath cover from Vitus, below...

---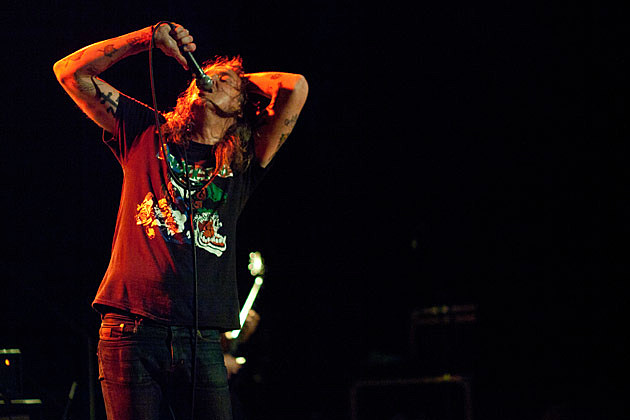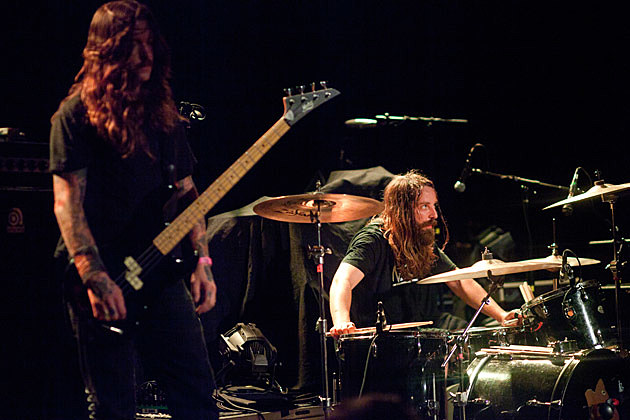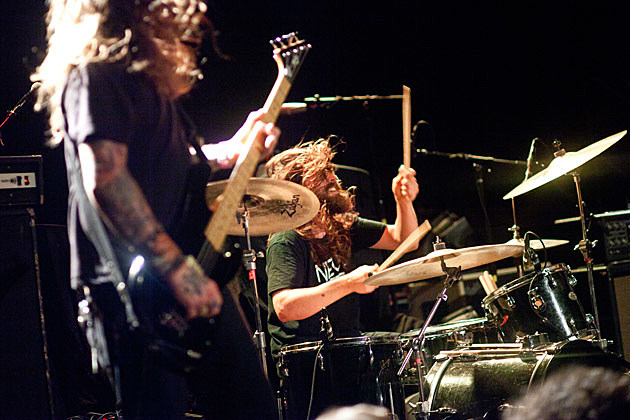 Refused @ MHOW - 6/4/15 Setlist (via)
Elektra
The Shape of Punk to Come
The Refused Party Program
Rather Be Dead
Summerholidays vs. Punkroutine
Françafrique
The Deadly Rhythm (with "Raining Blood" middle section)
Dawkins Christ
Coup d'état
Refused Are Fucking Dead
Liberation Frequency
Tannhäuser / Derivè
Encore:
366
New Noise
Worms of the Senses / Faculties of the Skull
Refused at Vacation Vinyl

Refused - "Fairies Wear Boots" (Black Sabbath cover) at Saint Vitus