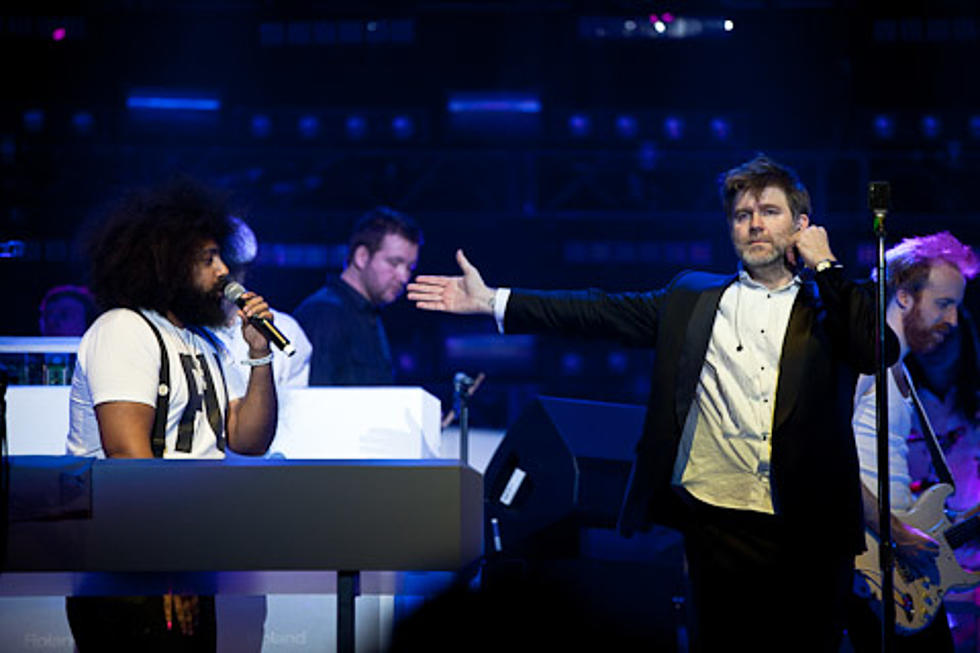 Reggie Watts played 2 shows @ MHOW & 4 LCD Soundsystem gigs, bringing 'Radio Play' to PS122 (and other dates)
Reggie Watts on stage @ MSG (more by Dominick Mastrangelo)

On Wednesday 3/30, Reggie Watts took time out of his busy schedule collaborating with LCD Soundsystem at Terminal 5 to headline two shows at Music Hall of Williamsburg. The early show sold out quite in advance, and if I didn't know any better I'd say the second show sold out as well, judging by the massive line of people waiting to get in to the late show as we were leaving. The night got off to a rocky start for me when none of the bartenders honored their usual happy hour drink specials. It even said there'd be a happy hour on the ticket! Luckily for everyone at MHOW, my wet brain has rendered me rather docile and I was paying full price in seconds. Innnywhoozle, to warm up the primarily seated crowd, opener Mark Normand took the stage. In all my years of seeing comedy, I've never managed to see him. As a matter of fact, the only reason his name rung a bell was because he replies "attending" to every single comedy event I also happen to be invited to on Facebook. I just assumed he was some superfan or something. But, good grief, he is freaking hilarious. I really wish I had seen him sooner. Check out his calendar and try and catch him one of these days. His completely non-musical, non-beat-based comedy will blow your mind.
After a super-brief intermission, Reggie came out to a stage festooned with all sorts of gear; samplers, a computer, a keyboard, and more... a larger arsenal than I am used to seeing him with. But I haven't seen him in a while, so maybe this additional gear is part of an evolution that I've missed a lot of lately. Either way, for over an hour Reggie completely tore the roof off the place. Reggie's sets seem to have a life of their own and their progression feels extremely organic and unscripted. His mixture of humour, skills with a sampler and other gadgets, coupled with is seemingly unending well of Franco-German-Russian-Beat-Boxing-HillBilly-accents makes for a spectacle that I cannot believe is sprung from one man's afroed skull. The guy makes me bust a gut as heartily as he blows my mind with his abilities to create insane music. He is absolutely one of my favorite performers of all time and I cannot wait until we have a chance to see him do another long-form show.
And it doesn't look like that wait will be very long because from May 6th through May 22nd Reggie will be at PS122 for a show called Radio Play. Radio Play is the brainchild of Reggie and co-creator Tommy Smith. It is described as follows:
Modeled after radio programs of yesteryear, RADIO PLAY gathers a group of actors, musicians and sound-effects artists to create a surreal sonic entertainment. Songs, stories and soundscapes collide in a comedic mash-up of non-temporal quasi-political pop-cultural tropes.
Even though I have yet to see Radio Play, the basic concept illustrates what makes Reggie one of my favorite performers in the world; he can do a short drop in set at one of NYCs many weekly comedy shows, he can sell out Music Hall of Williamsburg, or he can take the stage and completely dominate a more art-house oriented program. To simply regard him as a 'comedian' is an unfair reduction of one of the greatest performers in NYC.
And if you can't catch him live (or even if you can!), listen to him on CD or vinyl. Reggie released his debut comedy cd/dvd 'Why $#!+ So Crazy?' on Comedy Central Records in May 2010. He has a new album entitled 'Reggie Watts Live at Third Man Records' which became available as a limited edition vinyl in March 2011.
Dates and videos, including one of Reggie talking about his LCD experience, below...

--
James Murphy and Reggie Watts @ LCD SOUNDSYSTEM TERMINAL 5

FADER TV: Reggie Watts on LCD Soundsytem and the Definition of "Epic"

LCD Soundsystem and Reggie Watts - Shame On You (II. 45:33) Live at MSG, LAST SHOW!

4/30-5/1 - Austin, TX @ Fusebox Festival
5/6-5/28 - Radio Play at PS 122 in NYC:
Wednesday - Saturday at 8PM, Sunday at 6PM
Late shows at 10PM: Saturday, May 14 / Saturday, May 21 / Friday, May 27
No performances Sunday, May 8 / Thursday, May 12 / Friday, May 13