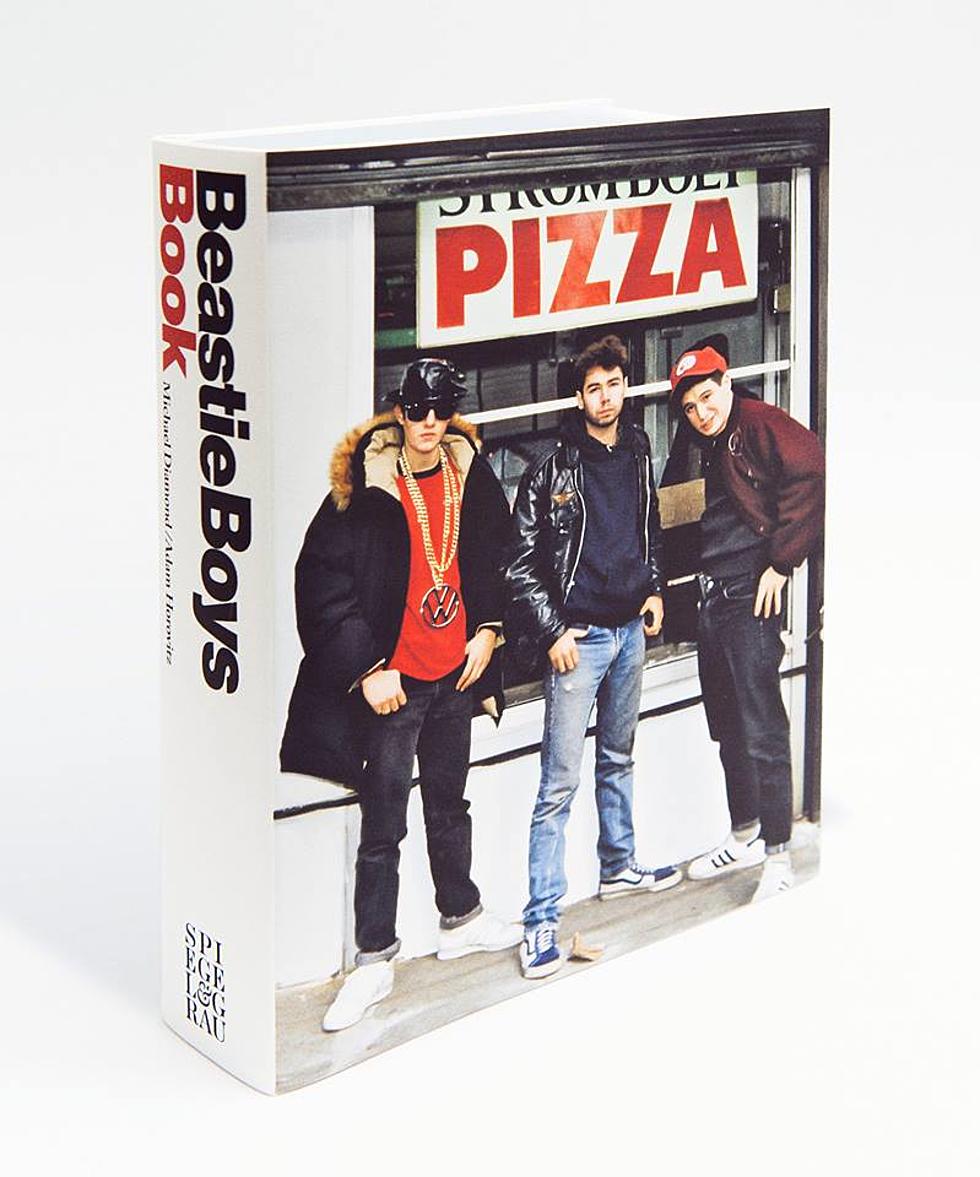 review: 'Beastie Boys Book' flows exactly the way their best records do
Shehzaad Jiwani fronts the Toronto noise punk band Greys and more recently released a guest-filled solo album as Golden Drag. He's also a Beastie Boys expert and fanatic and wrote the following review of their new memoir.
Every generation of musicians wishes they could have existed during a musical movement that preceded their own. Very few actually get to participate in new subcultures during their infancy, in the exact location where they are taking shape. The story of the Beastie Boys - three Jewish kids from Manhattan who started out as hardcore punks and became one of the most successful and influential hip hop acts of their generation - is about as unlikely a narrative as you'll hear in your lifetime.
Their autobiography, aptly titled Book, written by surviving members Michael "Mike D" Diamond and Adam "King Ad-Rock" Horovitz, does its best to explain exactly how the group's singular trajectory as rap pioneers, music video auteurs, record label moguls, lifestyle magazine editors, streetwear aficionados and more came to be while taking every opportunity to pay tribute to their fallen band member and best friend, Adam "MCA" Yauch.
Book spends nearly half of its page count on the Beasties' early days, from discovering punk rock and meeting at Black Flag's first New York gig, to becoming part of Def Jam's hip hop vanguard and their subsequent falling out with label heads Russell Simmons and Rick Rubin. The focus on these formative years establishes a context in which a ramshackle group of teenagers from the Lower East Side could blaze new trails in a genre they couldn't conceivably belong to otherwise by sharing snapshots of a bygone era in New York City history.
Throughout their coming of age until their loss of music industry innocence, Diamond and Horovitz cast pre-gentrification NYC and its colourful confluence of cultures as the primary benefactor of their musical upbringing. Essays, photo journals and assorted tidbits about the three MCs and their city are contributed by the likes of Jonathan Lethem, Spike Jonze, Amy Poehler and more to illustrate not only the group's cultural significance but the impact their surroundings had on them and many others. The contributors and band members alike largely credit the experience of growing up in the city during the early 80s - which of course bears little resemblance to New York today, they repeatedly point out in a charmingly geriatric way - as the reason they were exposed to so many new sounds, unwittingly finding themselves at ground zero for hardcore, no wave, and, ultimately, hip hop.
Painting such a vivid backdrop leaves considerably less space to explore the technical innovations that gave us landmark records like Paul's Boutique and Check Your Head, but if it's in depth cross examinations of classic albums you are after, you're better off looking elsewhere (specifically Dan LeRoy's 33 ⅓ entry on the former, and Brian Coleman's Check The Technique for the latter.) The authors are rightly more interested in telling tales about the surreal social lives they enjoyed upon moving to Los Angeles prior to the making of Paul's Boutique, and establishing their G-Son studio/clubhouse there for the prolonged Check Your Head and Ill Communication sessions, but have less to share about anything after the mid-90s. (2004's underwhelming To The 5 Boroughs gets, hilariously, a page of lip service.)
Fans who obsessively pored over the liner notes to 1999's anthology The Sounds Of Science will find a similarly engrossing read. Mike D and Ad-Rock let their anecdotal storytelling flow exactly the way their best records do, with hyperactive meandering and rapid fire name drops inspiring the reader to make a bibliography of their own. Their excitement for discovering and sharing music has always been a part of what made being a Beastie Boys fan so rewarding, and Book captures this enthusiasm perfectly.
By this point, so much has been made of their transformation from frat rap chuckleheads to socially conscious freedom fighters, and the band members once again come to terms with "becoming what you hate" during their infamously debaucherous Licensed To Ill era. More illuminating however is the perspective given by founding member Kate Schellenbach, who details her ostracization from the band at the behest of Rick Rubin, her falling out with her ex-bandmates as a result, and the eventual reconciliation with her childhood friends. Her contribution to the group is often mentioned as a footnote, but she is given space here to contextualize, condemn and exonerate their actions.
An aspect of the Beasties' legacy that goes relatively unchecked by both surviving members is their position of privilege and how it played a hand in affording them a much smoother path towards crossing over to the mainstream in comparison to their black peers. One could argue they address this by lovingly representing the artists they respected and learned from both in their music and on the page, but rarely is the issue addressed head on. It's difficult not to see the correlation between the first rap group to top the Billboard chart being comprised of three white dudes - not to mention the artistic freedom that initial success awarded them - and given their unique position as both musical pioneers and cultural gentrifiers, it would have lent more weight to a mostly light-hearted retrospective.
Mostly. Adam Yauch is in many ways the driving force of the book and, by the authors' admission, their entire career arc, but though they have every right to be, acknowledgements of his absence are never heavy handed or overly sentimental. Neither Horovitz nor Diamond linger on the subject of his passing and instead celebrate his life as only they could, but even their humorous in-jokes about the high concept pranks he would orchestrate are permeated with heartache. How could they not be? The book is as much a celebration of the Beasties' output as it is a case for Yauch's enduring legacy and why he will forever be missed. You never get the sense that they were anything other than brothers, and that chemistry is conveyed on every page.
For generations that didn't grow up with them, the Beastie Boys probably make very little sense on paper. Three white hardcore dudes who made a bunch of misogynistic, novelty rap songs, helped invent rap metal, played funk music and wore goofy outfits? They'd be forgiven for not wanting anything to do with that, and Book may not convince them otherwise, but Mike D and Ad-Rock's aversion to hyperbole, attention to detail, and characteristically energetic tone make this a disarmingly frank, funny and fascinating read that any longtime fan should own.
The book comes out Tuesday (10/30) and there's also an audiobook version with narration from Nas, Steve Buscemi, Kim Gordon, Jarvis Cocker, Snoop Dogg, Will Ferrell, Rosie Perez, Elvis Costello, Chuck D, Jon Stewart, NY1's Pat Kiernan, Jeff Tweedy, Maya Rudolph, Bette Midler, Jon Stewart, Ben Stiller and more. You can pre-order the book here.
Get Beastie Boys vinyl, including Paul's Boutique on 2LP purple vinyl and the Licensed to Ill 30th anniversary edition, in our shop
Mike D and Ad-Rock are on a book tour as we speak, hitting their hometown at Town Hall tonight (10/29) and Kings Theatre on Tuesday (10/30). Town Hall is sold out but some tickets for Kings Theatre are available. The band also posted a message for Town Hall ticketholders.
--
review by Shehzaad Jiwani