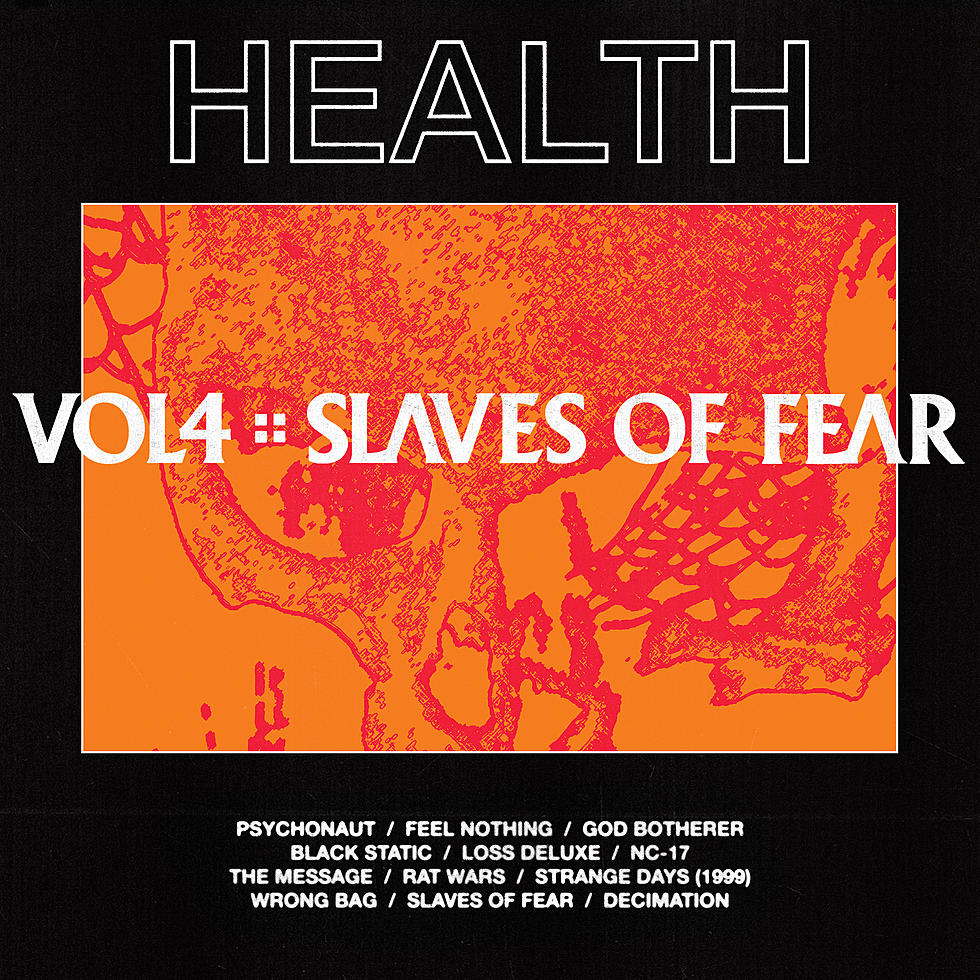 review: HEALTH's 'VOL. 4 :: SLAVES OF FEAR' carries the torch for industrial rock
When the once buzzy noise pop band HEALTH made 2015's Death Magic, they drastically expanded their sound and took it to new extremes in opposing directions. Not an album you could accurately describe as "noise pop," Death Magic embraced industrial and synthpop and was regularly compared to Nine Inch Nails and Depeche Mode. It had their biggest-sounding, most instantly-accessible songs yet, but it also was at times a genuinely heavy album. I made the argument that HEALTH would appeal to metal fans and I wasn't alone. They've since made even heavier collaborations with metal-leaning synthwaver Perturbator and metal-leaning EBM duo Youth Code, and their new album VOL. 4 :: SLAVES OF FEAR was called their "heaviest album yet" by metal mag Revolver, whose pages were entirely void of HEALTH during the band's much-hyped early days. As that quote may give away, Death Magic wasn't a fluke. They have indeed gotten even heavier on VOL. 4 :: SLAVES OF FEAR, which doesn't sound like an indie/noise band experimenting with industrial music but a true industrial record.
It opens with "PSYCHONAUT," a barrage of thunderous drums and electrifying distortion that gives Nine Inch Nails a run for their money, and the heavy, industrial rhythms of that song are all over SLAVES OF FEAR. There's the martial stomp of "FEEL NOTHING," the machine-gun blasts of "GOD BOTHERER" and "LOSS DELUXE," the classic arena metal crunch of "THE MESSAGE," the avalanche echo of "WRONG BAG," or the almost nu metal "STRANGE DAYS (1999)." HEALTH used aggressive tribal drums and harsh noise as far back as their 2007 debut, but they never sounded this fucking heavy back then. And as on Death Magic, they were never writing pop songs this good back then. As heavy as SLAVES OF FEAR is, Jake Duzsik's knack for crystal-clear boyish vocals and sticky melodies is in top form. (It's worth noting that, in addition to the recent Perturbator and Youth Code collabs, HEALTH did a song with indie pop act Soccer Mommy a few months ago too.) A lot of bands, including HEALTH themselves in the early days, have figured out how to make noise. But the reason Nine Inch Nails quickly went from the industrial underground to headlining arenas is that Trent Reznor was a gifted singer and he really knew how to write pop songs, songs that could appeal to listeners of alt-rock radio as much as they could appeal to fans of Godflesh. HEALTH straddle that same line on SLAVES OF FEAR. They probably won't actually score hits, but that's more of a comment on what kind of music the mainstream is willing to embrace in 2019 than a comment on the quality of HEALTH's songwriting.
Song after song, SLAVES OF FEAR delivers sticky hooks and the kinds of depressive slogans that teenagers will always relate to when they need proof that someone out there feels like them. (As on Death Magic, death — the fear of it, the inevitably of it, the acceptance of it — is an overarching theme on this album.) And if there was ever a chance for HEALTH to reach the popularity levels that industrial bands could reach in the '90s, SLAVES OF FEAR has a few songs that you could imagine becoming hits: "BLACK STATIC," "STRANGE DAYS (1999)," and the best of them all: the title track. With its sure-to-be-crowdpleasing hook of "Slaves of fear till we're dead in the ground / Why do we waste our years when there's nothing to fight about?", it rivals any of the best songs on Death Magic. Admittedly, though, not much else on SLAVES OF FEAR reaches the accessibility heights of Death Magic, but that isn't necessarily a bad thing. To keep the NIN comparison going, SLAVES OF FEAR is kind of the Broken to Death Magic's Pretty Hate Machine. Death Magic may have the immediacy of "Head Like A Hole," but SLAVES OF FEAR has the intensity of "Wish." It's less that one is better than the other and more that they complement each other so nicely. As listeners, we're lucky to have both.
VOL. 4 :: SLAVES OF FEAR comes out Friday (2/8) via Loma Vista. We'll update with a stream once it's out but until then you can hear three songs below. Also, catch HEALTH on tour.
UPDATE: Album is out now and you can stream it below.