Rhys Chatham's 'Crimson Grail (Outdoor Version)' w/ 200 Guitars & Liquid Liquid @ Lincoln Center – pics & videos
Timothy S. Griffin
Both the Chatham piece and Liquid Liquid were just perfect. (And a nice contrast btw LL's 'less-is-more' and Chatham's 'more-is-more' respective approaches.) What a perfect musical night! Anonymous | August 8, 2009 11:34 PM
Rhys Chatham's A Crimson Grail for 200 Electric Guitars debuted to perfect weather and a packed Damrosch Park on Saturday, August 8th. The NYT estimated a crowd of around 10,000 people. Rhys's piece began a little after 7:30pm and ran about an hour -- it was actually the first act of the night, not counting the Asphalt Orchestra, which played in Lincoln Center's main plaza.
Nothing they played was intrinsically complex; Mr. Chatham's piece dealt in massed sonorities and mingling overtones rather than manual calisthenics. An E major triad rose from nothingness, rumbling and sighing; around eight minutes in, Ryan Sawyer, a drummer onstage with Mr. Chatham, tapped out a steady beat on high-hat cymbals while glistening high notes pealed over a thumping bass line. The music dissolved into feathery whispers, then built to a jet-engine density before bursting at the 35-minute mark, giving way to a gentle coda.

In the work's second part Mr. Chatham shifted iridescent waves of tremolo from corner to corner and side to side within the ensemble. During the final section treble strings maintained a tingly sitarlike drone over a mellow countermelody and Mr. Sawyer's tick-tock pulse, inducing a bucolic Krautrock-style hypnosis. The roaring finale transformed a simple ascending diatonic scale into a vehicle for visceral catharsis, eliciting an approving roar from the audience. [NY Times]
Liquid Liquid closed out the show.
"If you know Grandmaster Melle Mel's White Lines (Don't Don't Do It), you know Liquid Liquid. The hip-hop track's bass line was lifted straight out of the track Cavern, by the Eighties NYC-based post-punk band." [Will you miss me]
More pictures, and some videos from the event, below...

Rhys Chatham and 200 Guitars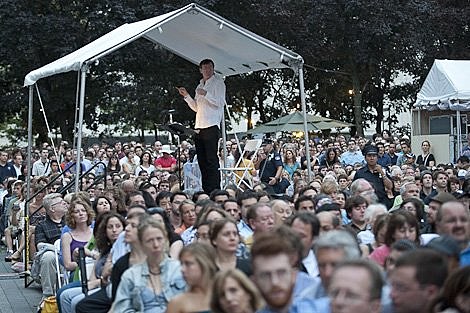 A Chrimson Grail for 200 Electric Gurtars Lincoln Center 8-9-09

Rhys Chatham (1 of 8) 200 Electric Guitars

Rhys Chatham (2 of 8) 200 Electric Guitars

Rhys Chatham (3 of 8) 200 Electric Guitars