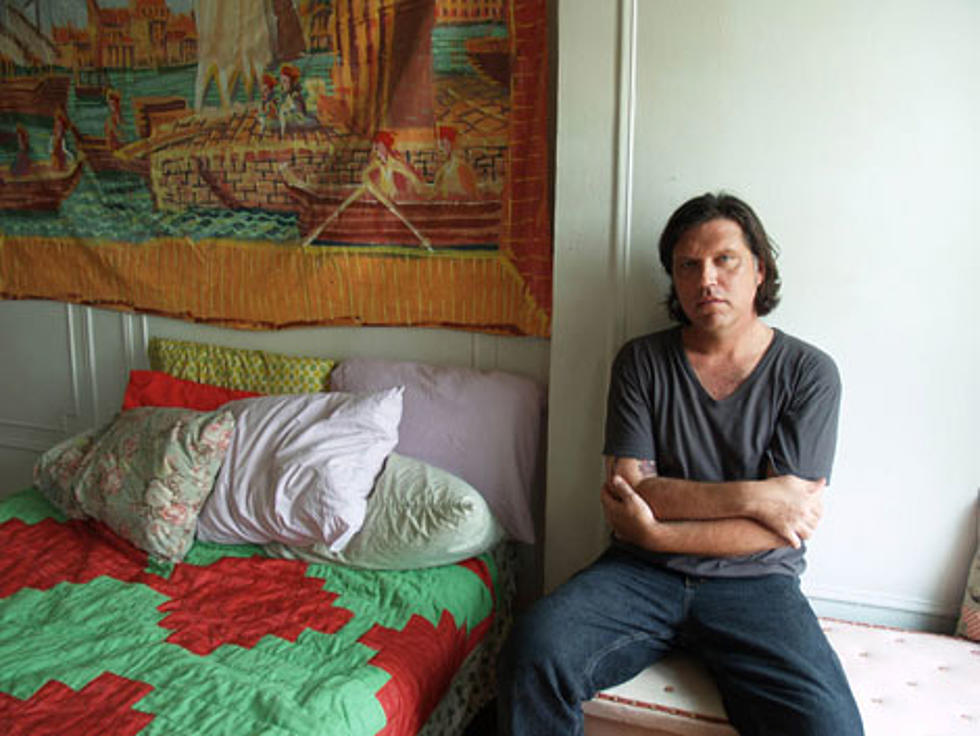 RICHARD BUCKNER – reissues, new album, a NYC show with ARBOURETUM & other 2009 Tour Dates
Modern troubadour Richard Buckner will play a Friday, March 20th NYC show at Mercury Lounge with Arbouretum, Ruby Throat, and Lia Ices
(tickets on sale) before heading out an April/May US tour in support of three previously out-of-print, Merge-reissued CDs.
Bloomed, The Hill, and Impasse are all up now as digital downloads on the Merge online store. In his extended take on the old discs (read it below), Buckner writes that he plans to release a new record on the label in 2010, his first since 2006's Meadow.
Opening the Mercury Lounge show is Arbouretum, who just released a new album, Song of the Pearl, on March 9th on Thrill Jockey. Check out the first track on the album, "False Spring", above.
"For two albums, a split EP, and who knows how many lineup changes, Arbouretum has reached further and further inward, honing and intensifying an idiosyncratic sound that is both doomy and folky, visceral and transcendent. They're powerful songs that sound both angry and melancholic, yet carry a sort of internal hypnotic, pacifying churn. The band's newest release, Song of the Pearl, is its most refined and to-the-point--the noodling of 2007's Rites of Uncovering is gone, the stylistic experiments are exhausted."
[Baltimore City Paper]
Buckner reissued press release and vids, and all tour dates below...

Richard Buckner on KCRW's Morning Becoming Eclectic Apr 4, 2007

Welcome.

I'm pleased to announce a series of performance dates based on
Merge's digital releases of three of my earlier records, Bloomed,
The Hill and Impasse.

Bloomed was originally (erroneously?) released on an unnamable
German label in 1994. I was living in San Francisco at the time, having
just moved out of a residential hotel and into the 1906 hilltop
prefab that adorns the cover. At the time, I was heading a band
called The Doubters. We were playing high profile events such
as The Covered Wagon Saloon's Musical Barstools, but weren't
making much headway. We had been turned down consistently
every year by SXSW, but I was somehow finagled in as an unannounced
guest onto an already unofficial SXSW showcase created
by Butch Hancock at his gallery in downtown Austin. There, I met
up with Lloyd Maines, who agreed to produce my first record.
We met in Lubbock, TX a few months later, where we worked
in a small recording studio walled in wooden shingles Sharpied
with bible passages from various church groups that also enjoyed
working there. It was 112 degrees F the morning I arrived under
the suspicious (Californians are merely B-grade yankees) gaze of
downtown's Buddy Holly statue. That first night there, it hailed so
hard that heaven's angry pellets were storming in under my hotel
door. It only let up for a few moments that first night, allowing me
to run across the street to get a butter burger and fries to go. We
finished four days later and I flew back to San Francisco, dismembered
the band and embarked on a tour that would last about 15
years (or a few days, if you count what I actually remember).

A couple of years later, I was on a slow burner to Tucson to
begin recording songs with JD Foster that would eventually
become Devotion & Doubt (out-of-print 1996 on the now-defunct
Musician Career Assassin label). With a week to kill and nowhere
to go, I drove east from Bakersfield and ended up near the mouth
of Death Valley at a place called The Ranch Olancha Motel (on
the 395 between Lone Pine and Dunmovin). Originally, there were
two hunting cabins along a desert landing strip built by Howard
Hughes, but about 40 years later someone converted a few other
buildings into sleeping quarters and called it a motel. I checked into
one that had previously been half of a garage. There was no phone
and no TV, so I checked in for a week. I was traveling with a guitar,
a four-track recorder and a copy of Edgar Lee Masters' Spoon
River Anthology, and spent the week doodling with the poems onto
a cassette. At the end of the week, I put the tape in my glove compartment
and headed south to begin constructing the second nail
in my coffin.

About four years later, I found myself in Alberta with writer's
block about halfway down a list of various other dysfunctions. I
had started a record earlier that year and failed and I was looking
for a distraction. A future-ex found the Ranch Olancha cassette
in my truck. I had forgotten about it, but after listening to it again,
thought that maybe it was the distraction I was looking for. So, I
rented an office space in a soon-to-be demolished medical building
in downtown Edmonton and set up a studio with a 16-track minidisc
recorder, an E-Bow and a couple of guitars and keyboards. A
few months later I drove back to Tucson to re-record about half
of the songs in a real recording studio with Joey Burns and Johnny
Convertino, one of the finest rhythm sections in musicdom. I gave
them a handicap, though, that they couldn't use the traditional bass
and drums setup, so Joey played cello and Johnny ran around the
room using various hand percussion instruments and such. The
result was The Hill. I, originally, released it in 2000 as a one-track
recording of eighteen songs smeared into one another. My thought,
at the time, was to have the listener read the poems along with the
music as one piece, since some of the characters in the book belong
next to each other, story-wise. My demands have lowered with age,
though, and the digital re-release on Merge is indexed song by
song.

With sales of The Hill rocketing into the dozens (half-hour song
cycles based on 100-year-old poems generally don't breach the
top 40 niche), I headed back to Edmonton to reattempt an earlier
failure. I set up shop in the basement of my house with a live-in
drummer and a number of cats. Somewhere between tours of the
lower 48 and ice hikes to The Black Dog in the Fog, Impasse was
finally completed and released in 2002.
Bloomed, The Hill, and Impasse will be re-released digitally in
March 2009.

As for the future, Merge and I are currently completing a new
contract for the 2010 release of a new record. The negotiations
are being held up, though, by our lawyers. Evidently, there are a
few kinks based on something called "The BBQ Clause" There is
a "use of sauce" stipulation that has yet to be worked out (Porky
vs. Supreme Court, 1873). The lawyers meet after midnight in
black, hooded robes under an 18th century oil painting of a smiling
pig while medieval fugues played on dobro fill a cavernous KOA
campground lean-to. They are hammering out the details, though,
between heated debates on the hopeful additions of shrimp and
grits and possibly even mac and cheese. These are matters of pride
and hunger, and some things just cannot be watered down with
Dixie Beer and legalese.

Thank you. Come again.

--Richard Buckner, February 2009
Richard Buckner - Souvenir

Richard Buckner - 2009 Tour Dates
03.19.2009 Arlington, VA - IOTA Club & Cafe
03.20.2009 New York, NY - Mercury Lounge #
04.07.2009 Buffalo, NY - The Mohawk
04.08.2009 Chicago, IL - Schubas
04.10.2009 Madison, WI - High Noon Saloon (early show)
04.11.2009 Iowa City, IA - The Mill
04.12.2009 St. Paul, MN - The Turf Club
04.16.2009 San Francisco, CA - The Independent
04.17.2009 Santa Cruz, CA - The Crepe Place
04.19.2009 Los Angeles, CA - McCabes Guitar Shop
04.24.2009 Portland, OR - Mississippi Studios (early show)
04.25.2009 Seattle, WA - Tractor Tavern (early show)
04.26.2009 Bellingham, WA - The Nightlight
04.28.2009 Moscow, ID - Mikey's Gyro
04.30.2009 Salt Lake City, UT - The State Room
05.01.2009 Denver, CO - The Walnut Room
05.02.2009 Kansas City, MO - Davey's Uptown Ramblers Club (early show)
05.03.2009 St. Louis, MO - Off Broadway
05.05.2009 Memphis, TN - The Hi-Tone
05.07.2009 Fort Worth, TX - Lola's Stockyards
05.08.2009 Austin, TX - Cactus Cafe
# w/ Arbouretum, Ruby Throat, Lia Ices
Arbouretum - 2009 Tour Dates
Mar 20 - New York, New York - Mercury Lounge #
Mar 27 - Baltimore, Maryland - Zodiac @
Apr 7 - Greensboro, North Carolina - Square One !
Apr 8 - Athens, Georgia - Tasty World !
Apr 9 - Jacksonville, Florida - Cafe Eleven !
Apr 10 - Ybor city/Tampa, Florida - New World ! *
Apr 12 - Orlando, Florida - TBA !
Apr 12 - Orlando, Florida - TBA !
Apr 14 - Talahasee, Florida - The Engine Room !
Apr 15 - Birmingham, Alabama - Bottletree !
Apr 16 - Asheville, North Carolina - Emerald Lounge !
Apr 17 - Chatanooga, Tennessee - TBA !
Apr 18 - Charlotte, North Carolina - Milestone !
Apr 19 - Wilmington, North Carolina - Soapbox Laundro-Lounge !
Jun 10 - Norfolk, Virginia - Norva $
Jun 11 - New York, New York - Carnegie Hall $
Jun 12 - Baltimore, Maryland - Ram's Head Live $
Jun 16 - Asheville, North Carolina - Orange Peel $
Jun 17 - Charlotte, North Carolina - Neighborhood Theatre $
Jun 18 - Myrtle Beach, South Carolina - House of Blues $
# w/ Richard Buckner
@ w/ Happy Salmon and The Existencils
! w/ Love as Laughter
* w/ Flexxehawk
$ w/ Band of Horses