Richard Lloyd played Television & Hendrix @ the Studio – pics
words & photos by Benjamin Lozovsky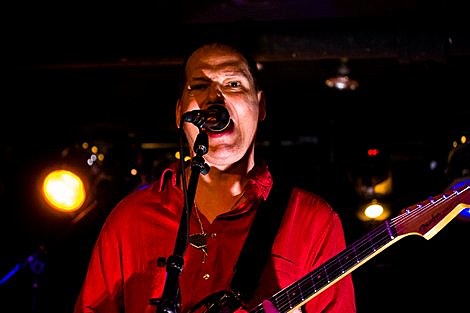 Like the store that one of the "hosts" of the evening owns, CBGBs it wasn't. A jerky stroll along downtown New York's dark and decrepit memory lane, it might have been. A show of stormy brilliance from a largely unsung legend still brimming with ability and art-punk attitude? Absolutely.
Try as it might, Richard Lloyd's show with Hey Battlefield last Thursday at the Studio at Webster Hall wasn't the-larger-than-life punk tribute it hoped to be. Rock photo legend Bob Gruen was in attendance, I'm sure 'co-writer of I Slept with Joey Ramone' (as he was introduced in publicity material) scenester Legs McNeil was there too. Neither served as hosts (as advertised) by any means however, more just like colorful wallflowers set amongst the spattering of younger fans and Mudd Club veterans that showed up for the under-attended performance. It was fortunate that it never felt like a prehistoric echo of remembrance though; instead it was just a high-caliber rock show with some gooey bits of nostalgia tucked inside for Television faithful.
continued below...


Opener Hey Battlefield played a set of indie-approved alt-country with mixed success to begin the night. Touches of Caribbean and doo-wop sounds blended with their generally rollicking approach. Sounding like a mix between Bob Dylan and Joe Strummer, albeit with more irony, singer/guitarist Jason Rossi was perfunctory with a detached charm, displaying just enough of it to avoid any potential eye-rolling. The music was largely held down by drummer Michael Scheideler though, who kept the band afloat with a moving pulse that unexpectedly ushered subtle fills into the air.
As for Lloyd, he was just as expected; raunchy, bluesy, and industrious, with as much roadhouse as arthouse in him. His raspy, full-bodied guitar moved in direct bolts, upward and downward through his angular fret-play. Performing both songs from his solo catalogue, like the powerful Field of Fire, and those hotly requested jams from his old band, Lloyd played as enigmatically as he might have done at Hilly's place so many years back. Whereas Tom Verlaine might be withdrawn and overly cathartic during his Television interpretations, Lloyd added a begrudging gregariousness to his inviting performances of such classic numbers as Friction and See No Evil.
Of course its not quite the same to see each of them perform without the other, especially evident in Lloyd's rendition of Elevation. It still had the mysterious weeping quality of the original, despite being without the supreme melodic counterpart of Verlaine. But all the underlying dissonance was still there, which will always remain Lloyd's greatest gift to the group. He brought the rock and roll aesthetic to Television, one he learned from the ground up through his idol and greatest musical inspiration, Jimi Hendrix.
Lloyd continues to honor Hendrix not just with his heavy Stratocaster playing, but also through his recently released album of Hendrix covers entitled The Jamie Neverts Story. Early in his musical development, a teenage Lloyd befriended Hendrix pupil Velvert Turner, and subsequently met the rock god and became a "secondhand student," as Lloyd calls it. He demonstrated some of that education Thursday night as he ran through a gamut of Hendrix covers, performed note-for-note with a Bowery-style savvy only Lloyd could personify. With a typical punk wit, he announced, "I'm going to play Beethoven's 5th by my favorite composer," before launching into Hendrix classics Purple Haze, Spanish Castle Magic, and Axis: Bold as Love. Even if CBGB is smoldering in the ashes of high-end menswear fashion, one of those brilliant men who made it all happen is still holding its torch high. Maybe it was a reverential night, after all.
More pictures from the show below...