Ringworm, Wormrot, Gaza, Magrudergrind, Cough, KEN Mode, Kill The Client, Salvation & Owen Hart @ Lovejoys (BV-BBG Austin Day 3 pics & video)
Ringworm @ Lovejoys (by BBG)

Owen Hart was the first band of the day and could have been the band of the day. Their furious riffy hard-grind was an excellent way to kick things off, and was one of my favorite sets of the week. Owen Hart fucking rules, so get out and catch 'em at a local house show before they start playing bigger stages.
Salvation left the Lovejoys floor bloodied and battered with their furious hardcore, and were followed up by the always incredible Kill The Client. Vocalist Morgan spent as much time shredding his throat as he did crowdsurfing during the Dallas grinders' killer set. They're an incredible live band propelled by the great Bryan Fajardo (Phobia, Noisear, etc) behind the kit.
KEN Mode's set mirrored the set they played two days earlier at Emo's in intensity and power, and slowed things up a bit before Richmond's 10-ton doom monster Cough. Primarily focused on their latter material, Cough is never anything less than impressive, and the walls shook outside the venue with their high volume doom riffery. Magrudergrind was on tour with Cough and sharing backline, so their slower parts packed an extra umph on Cough's (considerable) gear. Another quick and ballsy set from the always awesome Magrudergrind.
Gaza arrived a bit later than the rest of the gang due to their set at New England Metal & Hardcore Fest, and their off-time, dissonant hardcore was a big hit to the capacity Lovejoys crowd. Inciting gang chants of "He! Is! Never! Coming! BACCCCK!", vocalist Jon Parkin paced back and forth in front of the crowd as his Salt Lake City backing band concentrated their set on latter material.
Wormrot is one of the hardest touring and most impressive grind bands on the scene, and for good reason. Drummer Fit and his lightning fast feet clobber the bass drum and propel the tunes forward with unbelieveable precision and velocity. Meanwhile, guitarist Syid matches Fit's pummeling timing, but does so with a calm/collected manner; at these speeds you'd think Syid would be huffing, puffing and drenched in sweat. Amazing live set.
Ringworm's setlist was focused on Birth is Pain, the band's LP released in 2001 and were every bit as blistering as they were a few months earlier at Fun Fun Fun Fest. Pitting began, Human Furnace's drenched hair whipped about, and the band bruised the crowd past the 7pm curfew playing on an awesome full set. Cleveland's finest, indeed.
In all, I'd like to thank Lovejoys for being so accomodating, Left Hand Brewing for fueling the mayhem, all of the incredible bands, Andy, Merrick, Ron, my partner 1000Knives, and most importantly, everyone who came out to the show! More pictures & some videos, below...


Owen Hart by Jonathan McPhail
Salvation by Jonathan McPhail
Kill The Client by Jonathan McPhail
Kill The Client at Lovejoys 3/18/11
KEN Mode, KEN Mode portrait, additional shots by Jonathan McPhail
Cough by Jonathan McPhail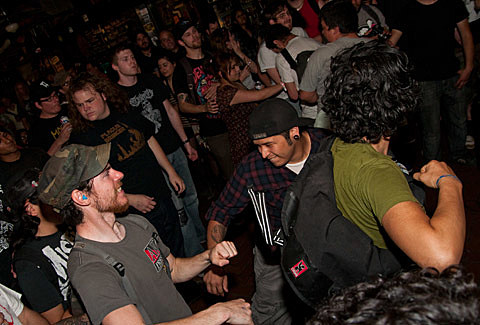 Wormrot at Lovejoys 3/18/11

Thanks again for making 3/18 such a hit, and thanks for coming... there were a lot of great shows that day, so your attendance was appreciated.