Riot Fest Chicago day 3 in pics (The Replacements, Pixies, Best Coast, Against Me!, Suicidal Tendencies & more)
FEI
photos by Cory Dewald
The Replacements / Pixies

For a band that thrived on an anything-goes approach to performing, the Riot Fest show ran with relative precision, with barely a pause between songs. Despite tossing the clock, [Paul] Westerberg and the boys finished precisely at 10:30 p.m. Everything on the set list was at least 23 years old. But the 25-song, 75-minute performance brimmed with energy and heart. Nostalgia it was, but there was nothing formulaic or phoned-in about it.
Looking like thrift-shop dandies with their splashy mismatched clothes and spiky hair, Westerberg and Stinson cracked jokes, blew a few lyrics, and laughed like they were just banging out tunes in their garage. They stayed loose but kept the pace brisk, with plenty of help from Freese's dynamic drumming and the bow-tied Minehan's concise lead guitar.
Westerberg's voice sounded appropriately rough and gritty on the opening "Takin' a Ride," the first song on the first Replacements album, "Sorry Ma, Forgot to Take out the Trash" (1981), and the sneering "Tommy Gets His Tonsils Out." But he also found the tenderness in a song ("Androgynous") that rhymes "kewpie dolls" with "urine stalls." [Chicago Tribune]
Chicago's Riot Fest (the second of three Riot Fests happening this year) wrapped up this past Sunday (9/15) with sets from The Replacements, Pixies, Rocket From the Crypt, Bob Mould, Mission of Burma, Quicksand, Touche Amore, Peelander-Z, Brand New, Best Coast and more. One set of pictures from that day is in this post, and a second set with more bands will be is up on BV Chicago soon.
If you haven't been keeping up with our Riot Fest Chicago coverage, check out day 1 pics, more day 1 pics, day 2 pics, and more day 2 pics. More of day 3 below...

---
Against Me!
Best Coast
Saves The Day
Suicidal Tendencies
Brand New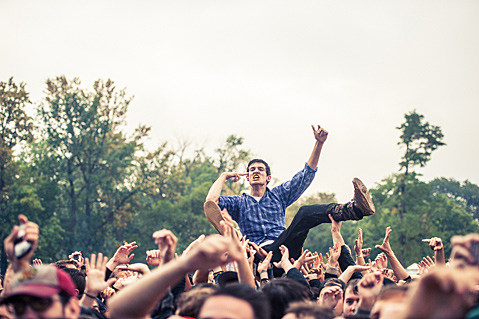 AFI
Pixies
The Replacements
More Riot Fest Chicago day 3 pictures, including shots of Rocket from the Crypt, Touche Amore, Quicksand, Peter Hook, Bob Mould, Mission of Burma, and more are up at BV Chicago.
--