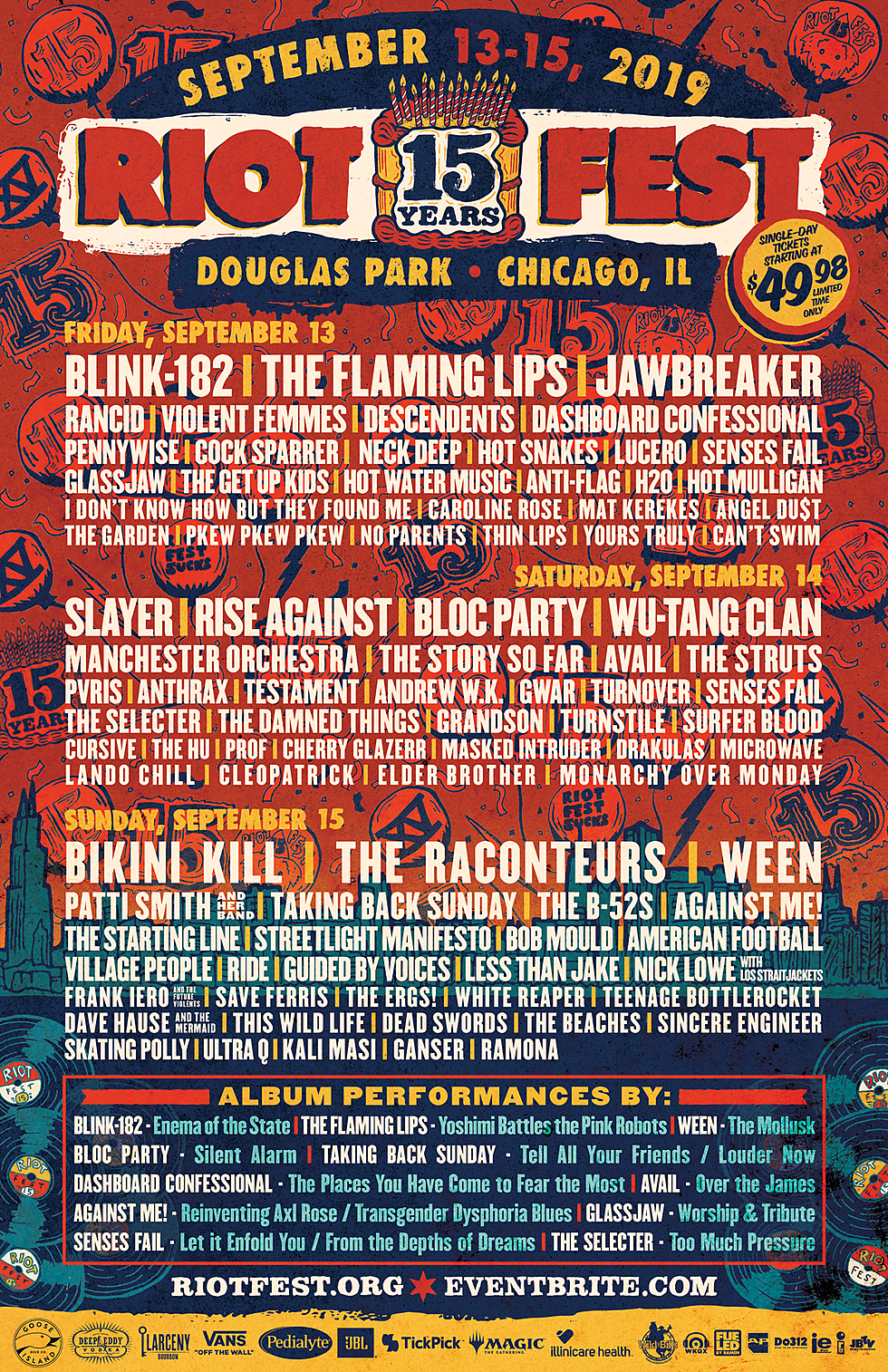 Riot Fest replaces Die Antwoord with Wu-Tang Clan on 2019 lineup
Die Antwoord have been pulled from the 2019 Riot Fest lineup, and in their place on Saturday, September 14 are Wu-Tang Clan. Saturday's lineup also includes Slayer, Rise Against, Bloc Party, Manchester Orchestra, Anthrax, Andrew W.K., GWAR, and more. Tickets are on sale.
Of the switch, Riot Fest have only said "Die Antwoord will no longer be performing at Riot Fest 2019." The South African group had already recently been dropped from the 2019 Louder Than Life festival in the days after a video surfaced showing Die Antwoord's Ninja physically attacking Hercules and Love Affair's Andy Butler in 2012. Yolandi is also heard using a homophobic slur during the altercation.
Ninja released a long statement about the video, accusing their former camerman, Ben Crossman, of having "cleverly edited this video clip to make it seem like me and ¥o-landi committed a hate crime towards a person because they are gay. However Ben beat up the guy from Hercules himself while filming this same video clip." Crossman has responded, telling EDM.com that he denies editing the video. "The footage has not been doctored," he told EDM.com. "Edwin from Edwins Generation on YouTube and Griffin the founder of Wat Kyk Jy both have the unedited clips and they can vouch that it is not doctored."
Crossman does does admit to participating in the assault on Butler -- according to EDM.com, he only "grabbed Butler's head to try to restrain him and then Butler swung at him and tore his shirt, but he did not punch Butler" -- because, he says, Yolandi told him she was molested by Butler. Yolandi later told tour manager Tyson Royle that she had made up the allegation. "My apologies go out to Andrew Butler," Crossman continued. "I was utilized as a flying monkey by Ninja and Yolandi in this instance and for that I am not proud."