River Rocks adds Saint Rich, Honeyblood, Spires and Here We Go Magic (who play a free show in Brooklyn tonight)
Here We Go Magic @ Baby's All Right, Dec. 2013 (more by Amanda Hatfield)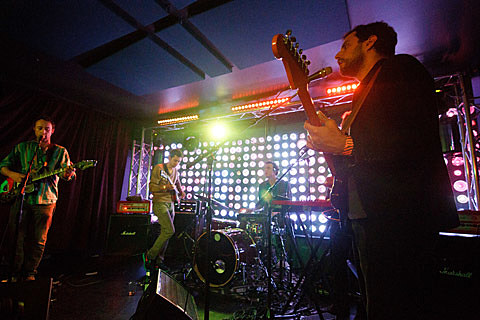 As we just posted, Scottish duo Honeyblood and Saint Rich were added to Teenage Fanclub's River Rocks show on July 24. (This will be TFC's first NYC show in four years.) That's not the only update to the line-ups of the three free River Rocks shows they're doing at Hudson River Park's Pier 84 this summer.
The August 7 show with Temples now has Here We Go Magic and Spires on the bill as well. River Rocks' 2014 kickoff show is July 10 with Wild Beasts and Mutual Benefit. If you show up early that night -- pardon the self-promotion -- I'll be DJing from 6 PM till Mutual Benefit start (around 8 PM).
All River Rocks shows are free, all-ages and open to the public, with gates opening at 6 PM for each one.
Speaking of free Here We Go Magic shows on a Pier, they're playing TONIGHT (5/14) at Pier 2 in Brooklyn Bridge Park with Gospels and Porcelain Raft. It's the official pre-party for New York Road Runner Five-Borough Series: Brooklyn Half Marathon which happens on Saturday (5/17). Show tonight starts at 8 PM.