Robert Plant played Brooklyn Bowl (pics, setlist) & 'Colbert Report' (videos)
Robert Plant @ Brooklyn Bowl 10/9/2014

Throughout the set, which included only four Lullaby tracks and one from the 2005 Strange Sensation album Mighty ReArranger, the singer made a running gag of referring to the songs he had played with Led Zeppelin as "folk songs," after explaining how a Leadbelly tune had inspired Lullaby's "Poor Howard." "If you don't call [that] a folk song, this surely must be headed towards being a folk song," he said before playing a mesmerizing, stripped-down version of "Going to California," accompanied only by acoustic guitar and mandolin. Similarly his daring takes on a simplified "Thank You" - which was almost drowned out by the sounds of women cheering - an electronics-infused "Black Dog," a banjo-infused "Nobody's Fault But Mine" (dedicated to Mavis Staples) and a mega-medley of "Whole Lotta Love" - sandwiched between covers of Bo Diddley's "Who Do You Love?" and Muddy Waters' "Hoochie Coochie Man" - sounded altogether rejuvenated. [Rolling Stone]
Following the three NYC-area shows (two at BAM, one at the Cap) on Robert Plant's now-concluded North American tour, he squeezed in an intimate Brooklyn Bowl show last night (10/9), or technically this morning (10/10), considering he took the stage at midnight following a DJ set from Questlove. Like the other shows on his tour, it included a few from the new album he put out this year, plus a handful of Led Zeppelin classics and old blues numbers that the Led used to get out. Pictures of the show and the setlist are in this post.
Ahead of last night's show, he appeared on The Colbert Report to perform there as well. Videos from that, plus more pictures from Brooklyn Bowl, below...

---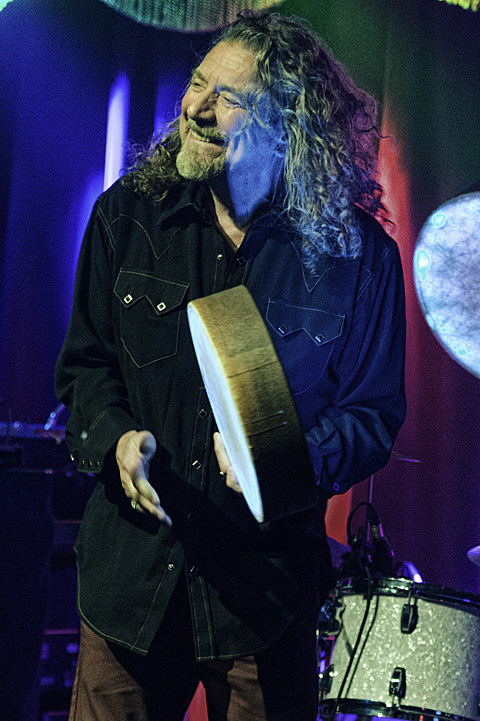 SETLIST
"Spoonful"
"Rainbow"
"Tin Pan Valley"
"Thank You"
"Poor Howard"
"Going to California"
"Black Dog"
"Fixin' to Die"
"Rock & Roll"
Encore:
"Nobody's Fault But Mine"
"Little Maggie"
"Hoochie Coochie Man"/"Whole Lotta Love"/"Who Do You Love"