Robin Pecknold of Fleet Foxes, Daniel Rossen of Grizzly Bear & Neal Morgan covered Pearl Jam's "Corduroy" on Fallon
a short-haired Robin Pecknold & Daniel Rossen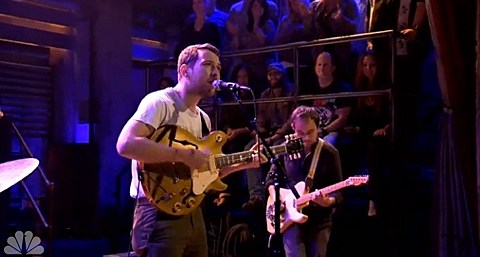 It's been about two years since we've heard anything from Fleet Foxes or their frontman/songwriter Robin Pecknold, but Robin broke his silence last night (10/22) with a performance on Late Night with Jimmy Fallon for Pearl Jam Week. Robin covered the fellow Seattle band's track "Corduroy" with help from Grizzly Bear's Daniel Rossen and Joanna Newsom/Bill Callahan drummer Neal Morgan. It's not the first time Robin's collaborated with a Grizzly Bear member -- you may remember he teamed up with Ed Droste for some beautiful harmonies on "I'm Losing Myself". No beautiful harmonies this time though, just a double attack of grungy guitars. Check out the video of their performance below.
The actual Pearl Jam are also taking part in Fallon's Pearl Jam Week, which they're doing fresh off of two Barclays Center shows.
And though Fleet Foxes have been quiet, former member Father John Misty has been anything but.
Robin Pecknold, Daniel Rossen, Neal Morgan - "Corduroy" (Pearl Jam cover) on Fallon