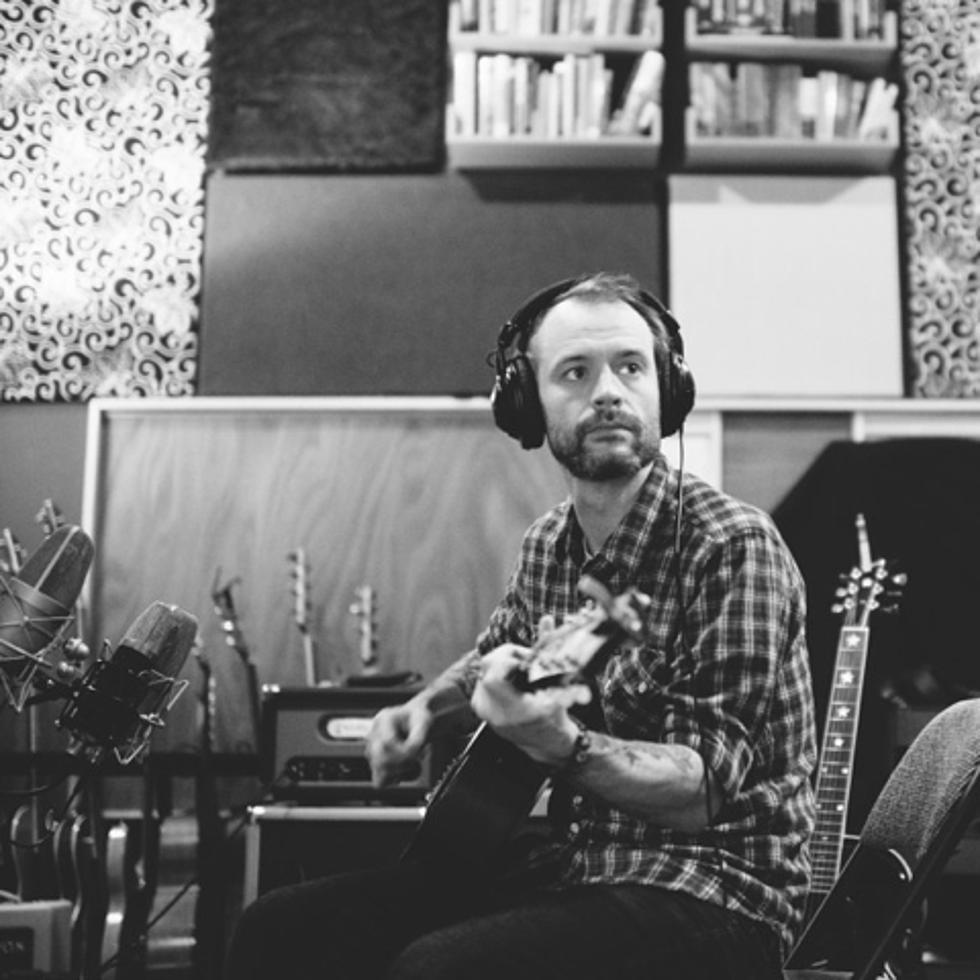 Rocky Votolato releasing new LP on No Sleep, touring, hitting NYC w/ Cassie Ramone & Kind of Like Spitting's Ben Barnett
photo by Amber Zbitnoff

Long-running singer/songwrriter and former Waxwing frontman Rocky Votolato is returning this year with his eighth solo album, Hospital Handshakes, which is due out on April 21 via his new label home No Sleep. It follows releases on Barsuk and other labels, making him at least the second artist after Harvey Danger to team up with both Barsuk and No Sleep. The record was produced by former Death Cab for Cutie member Chris Walla, who also produced Harvey Danger frontman Sean Nelson's recent solo album and many other records.
While Rocky's often heard without too much more than an acoustic guitar, the album's lead single "The Hereafter" is the kind of catchy, driving indie rock that wouldn't be out of place on another Walla-produced album, Nada Surf's The Weight Is a Gift. And while it still retains Rocky's intimacy, there's also an undeniable Springsteen influence on those anthemic melodies. Listen below, via Stereogum.
Rocky's gonna get even more intimate when he goes on his living room tour which begins in Orcas Island, WA this week (3/12) and wraps up in Seattle in late April. Like they usually are on these living room tours, the venues are unannounced, but advance tickets for most dates are on sale.
The tour's NYC stop is technically in a living room, but it's a living room that frequently doubles as Bushwick DIY venue Suburbia. It happens April 2 with a great lineup featuring another '00s Barsuk songwriter, Kind of Like Spitting's Ben Barnett (now on Topshelf), and former Vivian Girl Cassie Ramone. This show actually has no advance tickets; it's $10 at the door.
That's one day after Kind of Like Spitting's full-band tour with The City on FIlm (Braid co-frontman Bob Nanna's other band) hits NYC at The Studio at Webster Hall (4/1). Opening that one is the No Sleep-signed Lee Corey Oswald, and the band Living Room... who live at Bushwick venue Suburbia. Tickets are still available.
All Rocky Votolato dates are listed, with the new song, below...

---
Rocky Votolato - "The Hereafter"

Rocky Votolato -- 2015 Tour Dates
Mar 12 Living Room Show Orcas, WA
Mar 13 Living Room Show Bellingham, WA
Mar 15 Living Room Show Tacoma, WA
Mar 17 Living Room Show Richland, WA
Mar 18 Living Room Show Walla Walla, WA
Mar 19 Living Room Show Salt Lake City, UT
Mar 20 Living Room Show Denver, CO
Mar 21 Living Room Show Kansas City, MO
Mar 24 Living Room Show Des Moines, IA
Mar 25 Living Room Show Sioux Falls, SD
Mar 26 Living Room Show Minneapolis, MN
Mar 27 Living Room Show Chicago, IL
Mar 28 Living Room Show Grand Rapids, MI
Mar 29 Living Room Show Cleveland, OH
Mar 30 Living Room Show Rochester, NY
Mar 31 Living Room Show Haverhill, MA
Apr 02 Suburbia Brooklyn, NY w/ Ben Barnett, Cassie Ramone
Apr 03 Living Room Show Philadelphia, PA
Apr 04 Living Room Show Washington, DC
Apr 07 Living Room Show Birmingham, AL
Apr 09 Living Room Show Houston, TX
Apr 10 Living Room Show Waco, TX
Apr 11 Living Room Show Austin, TX
Apr 13 Living Room Show Albuquerque, NM
Apr 14 Living Room Show Phoenix, AZ
Apr 15 Living Room Show Las Vegas, NV
Apr 16 Living Room Show San Diego, CA
Apr 17 Living Room Show Los Angeles, CA
Apr 18 Living Room Show Los Angeles, CA
Apr 19 Living Room Show Los Angeles, CA
Apr 21 Living Room Show Santa Rosa, CA
Apr 23 Living Room Show Portland, OR
Apr 24 Fremont Abbey Seattle, WA
May 08 KFZ Marburg, Germany
May 09 Knust Hamburg, Germany
May 10 Pumpe Kiel, Germany
May 13 Gleis 22 Münster, Germany
May 14 Kleiner Klub Saarbrücken, Germany
May 15 Universum Stuttgart, Germany
May 16 Exil Zurich, Switzerland
May 17 JUBEZ Karlsruhe, Germany
May 19 Schlachthof Wiesbaden, Germany
May 20 Gebäude 9 Cologne, Germany
May 21 Faust Hannover, Germany
May 22 Lagerhaus Bremen, Germany
May 23 Orange Blossom Special Festival Beverungen, Germany
May 24 Postbahnhof Berlin, Germany
May 27 Feierwerk Munich, Germany
May 28 Hirsch Nuremberg, Germany
May 30 Café Central Weinheim, Germany
May 31 FZW Dortmund, Germany
Jun 04 Werk 2 Leipzig, Germany
Jun 05 Beatpol Dresden, Germany w/ Arcane Roots
Jun 06 B72 Vienna, Austria
Jun 07 Bäckerei Innsbruck, Austria
Jun 11 Mahogany Hall Berne, Switzerland
Kind of Like Spitting -- 2015 Tour Dates
WED 25 March The Moon Room @ Summit Music Hall Denver, CO, US
FRI 27 March Beat KitchenChicago, IL, US*
SAT 28 March The Smiling Moose Upstairs Pittsburgh, PA, US*
SUN 29 March The Barbary Philadelphia, PA, US*
MON 30 March Brighton Music Hall Allston, MA, US*
TUE 31 March The Space Hamden, CT, US*
WED 1 April The Studio at Webster Hall New York, NY, US*
THU 2 April Suburbia Brooklyn, NY (Ben solo) w/ Rocky Votolato, Cassie Ramone
FRI 3 April Metro Gallery Baltimore, MD, US*
SAT 4 April Strange Matter Richmond, VA, US*
MON 6 April Grog Shop Cleveland Heights, OH, US*
TUE 8 April The Emerson Theater Indianpolis, IN, US*
THU 9 April Fubar St Louis, MO, US
SAT 11 April 7th Street Entry Minneapolis, MN, US
WED 15 April Stage 112 Missoula, MT, US
THU 16 April Big Dipper Spokane, WA, US
* - w/ The City on Film, Lee Corey Oswald