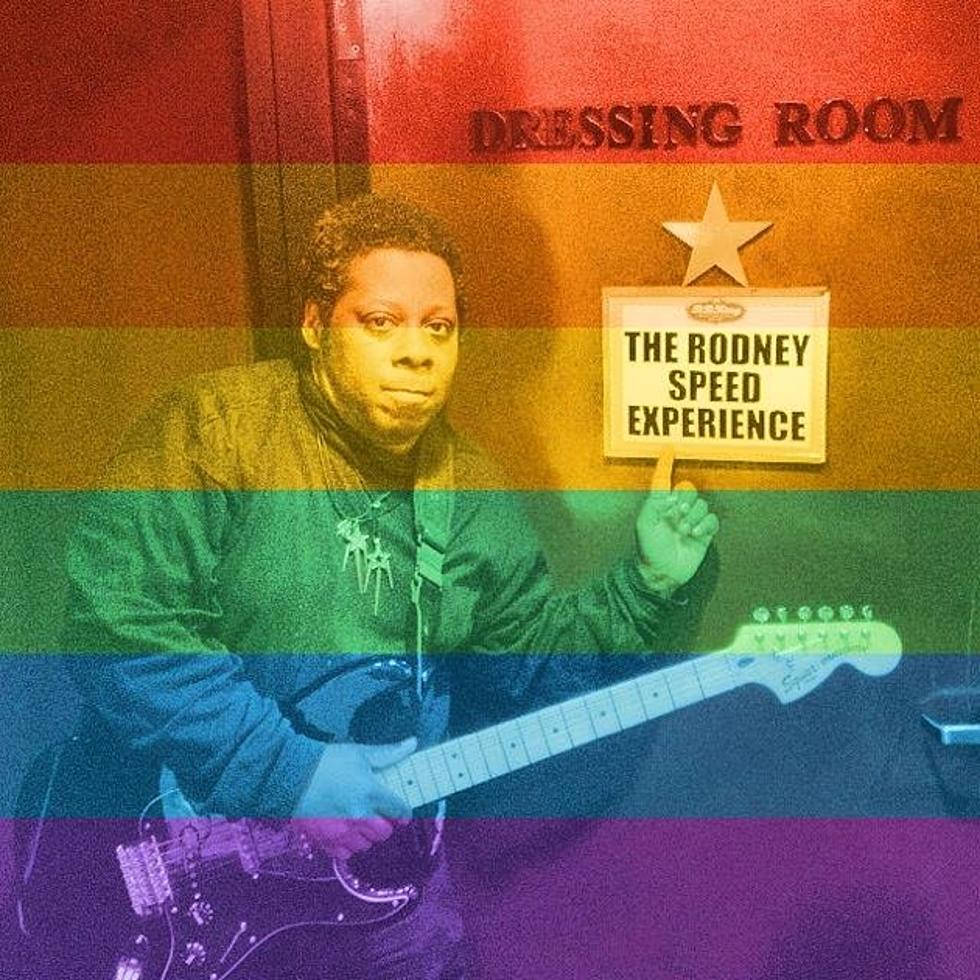 Rodney Speed (Wetlands, CBGB) has passed away; wake and funeral in NYC this Wednesday
photo via Rodney's Facebook

Rodney Speed, who worked at NYC club Wetlands from 1989 through 2001 and was a staffer and DJ at CBGB, BB King's and Brooklyn Bowl, passed away last week at 53 years old. Jake Szufnarowski, former Wetlands booker, Rodney's bandmate in The Rodney Speed Experience, and current Rocks Off talent buyer, said the following via Relix:
I'm speechless. I'm stunned. I'm in shock. I'm completely devastated. I can hardly breathe, much less talk or type. Today I lost my best friend, my big brother, my little brother, my soul mate and my inspiration all at once. Rocks Off lost our mascot. The Rodney Speed Experience lost our leader. New York City lost our best DJ. The world of Rock N Roll lost our most loving and lively patron saint and its most spirited motivator and cheerleader... And the universe lost our biggest dreamer and its brightest soul.
Jake also shared a story of seeing Rodney perform at Wetlands as a surprise guest with members of moe., The Spin Doctors, and more. Here's an excerpt:
Their final song was the Deep Purple classic "Smoke on the Water". One of the first guitar riffs that aspiring axemen learn. But when the band kicked into gear, Rodney's keen musical sense knew something wasn't right. Rodney sang the first line of the song and then turned to the band and told them "hold it, hold it!" He then proceeded to explain to Al Schnier, professional guiatrist extraordianire with more than 1,000 gigs and 1,000,000 miles under his belt, that HE WAS PLAYING THE SONG WRONG!!! Rodney told Al that he the song was in the the wrong key, that it needed to be played in G, and the pointed out the frets on the guitar neck that al needed to play the power chords on. Al complied, and the band followed suit, and Rodney grabbed the mic and screamed "Now that's what IM talkin' about!" and DJ Stitch started cutting and scratching on the phrase "OH SHIT." The band proceeded to tear the house down with a raging version of the tune... and the legend of Rockin Rodney Speed was cemented! I've seen a lot of shit in my day, but I've never seen a literal first-timer school of a buncha of fucken PROS onstage in front of a sold out crowd. Rockin' Rodney Speed is truly one of a kind. When God made Rodney, he didn't brake the mold. Rodney tore that mold out of God's hand, threw it on the ground, and stomped on it like it was a narc at a biker rally. I'm not exaggerating a single fucking piece of that story.
Read more at Relix and watch that "Smoke on the Water" video below.
Jake also tweeted, "Wake and funeral for Rodney Speed this 5-8pm Weds Jan 20th at Trambo Funeral Chapel 115th & St Nicholas Ave Harlem NYC."
Cheap Trick paid him tribute too an you can see that below. Rest in peace, Rodney.

---