Roger Waters played Newport Folk Fest backed by My Morning Jacket, Lucius & more (pics/video/review)
Roger Waters @ Newport Folk Festival 7/24/2015

The 2015 Newport Folk Festival was definitely one for the history books. For example, this year's festival marked the 50th anniversary of when some man named Bob Dylan (in)famously decided to go electric. This move totally flipped the wigs of many of his deadbeat hippie/beat fans and created a deep chasm among his many devotees. As a matter of fact, on Saturday July 25, exactly 50 years to the day that Bob went electric at the Festival, the very Fender Stratocaster that Dylan used back 1965 to go electric made an appearance at the festival. The guitar, which Dylan left on an airplane like a doofus back in 1965, ended up in the hands of the plane's pilot until 2012. In 2013 the pilot's daughter put it up for auction where it fetched almost a million US dollars and ended up in the hands of Indianapolis Colts football team owner Jim Irsay.
Cool story bro. However, for me, the festival was all about the highly anticipated and very surprising headlining set by former Pink Floyd leader Roger Waters. The Newport Folk Festival is notorious for selling out before the line-up is even announced. So when the Fest announced that Waters would be headlining opening day of the festival (Friday July 24), a lot of people in possession of Friday tickets were extremely stoked, while millions of Roger Waters/Pink Floyd fans without tickets were extremely bummed out. I was one of the bummed out legion until fate intervened on my behalf and I miraculously found myself in attendance.
When Roger announced on facebook on May 21, 2015 that he would be participating in the 2015 Newport Folk Festival and promised "an intimate appearance specifically crafted for Newport Folk," the ambiguity of his declaration had Floyd-heads reeling at the possibilities. Would he be doing a full scale performance of "Dark Side" or "The Wall"? Or even stripped-down versions? Would he be performing his seminal 1992 album Amused to Death in full? After all, Friday July 24 also happened to be the day "Amused to Death" would see a large-scale, multi-format re-release.
What the Festival audience ended up getting from Waters was better than any of the above, in my opinion. For rather than use his headlining slot as an opportunity to remind us of his immense back catalog, both as a solo artist and as Pink Floyd's primary creative force, Waters took the opportunity to deliver a diverse setlist that not only gave a hearty nod to his work with Pink Floyd and as a solo artist, but he used the opportunity to pay homage to the festival's history, the legacy of folk music, and to hit us with the ultimate double-whammy; performing a brand new, never-before-heard song while playing piano in front of a crowd, according to Waters, "for the first time ever."
Waters was preceded by a scorching eight-song set by My Morning Jacket. As the dust settled from their 8th song, MMJ remained on stage as Roger Waters sauntered out with Amy Helm (daughter of the late Levon Helm), G.E. Smith as well as Lucius and Sara Watkins. These folks, combined with My Morning Jacket, banded together and served as Roger's explosive and unbelievable back-up band.
Roger kicked things off by performing that new, powerful, and no doubt provocative, song called "Crystal Clear Brooks," which has its origins as a poem penned by Waters that he brought to light back in 2014. He followed that with the Pink Floyd classic "Mother" which segued into one of my personal favorites from Amused to Death, "The Bravery of Being Out of Range." At this point in the set, he switched gears and performed a really great cover of John Prine's "Hello in There" which is a sad reflection on aging and the fact that life is basically one long casting off. Sort of a cross between "Death of a Salesman" and Hanson Towne's "Around The Corner." Ugh, get me a pistol. Anyhow, from there they moved into Floyd territory and unleashed another song about loss and longing; the classic "Wish You Were Here."
At this point, the rain was REALLY coming down and besides being soaked to the bone and shivering like an orphaned dog, I was also officially coming to terms with how well-crafted and totally unpredictable this set was. He followed "Wish You Were Here" with Buddy Miller's "Wide River to Cross," a song completely foreign to me but played beautifully by the assembled musicians and expressed superbly through Waters' vocals. The next three songs were completely Waters territory; the band tore into the title track from "Amused to Death" with staggering results and then headed into "Dark Side" territory with flawless renditions of "Brain Damage" and "Eclipse." They company closed out the set appropriately and paid tribute to The Newport Folk Festival in general and Bob Dylan in particular with a version of Planet Waves' "Forever Young."
At some point towards the tail end of this magnificent set, the rain tapered off, the clouds began to part, and the sun finally began to reappear again. Roger Waters had assembled an amazing crew of musicians and pulled off a truly amazing, unpredictable, and fulfilling performance that lacked ego and pretension.
Unfortunately, Roger doesn't have many live dates coming up in the near future. However, he will be performing at Dar, Constitution Hall, in Washington DC on Friday October 16, 2015. Billed as "Music Heals" the concert will feature Roger Waters, the musicians of MusiCorps, and will feature special guests Bill Corgan, Sheryl Crow and Tom Morello. More info:
Music Heals: an exceptional one night only concert where some of the world's biggest recording artists will join forces to raise money for MusiCorps - a charity supporting injured service men and women and their families. The MusiCorps Band is made up of injured service members who have learned, and in some cases relearned, how to play instruments through the charity. MusiCorps is a non-profit charitable organization which helps wounded veterans play music and recover their lives. Praised by the Wall Street Journal as "revolutionary," the conservatory-level program enables the wounded to learn, relearn, and perform music as a core part of their rehabilitation.
Tickets for this show are on sale now.
In honor of the re-release of Roger Waters' 1992 solo album Amused to Death, we are giving away a limited edition 2xLP picture disc to one lucky person. Details on how to win are below.
Pics, videos, and setlist below.

---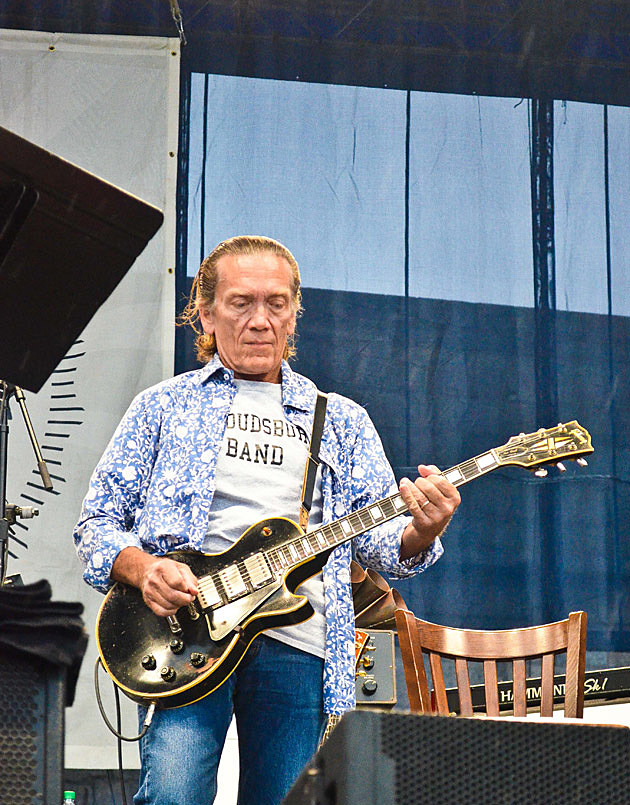 Roger Waters - 2015 Newport Folk Festival - Setlist
Crystal Clear Brooks (live debut)
Mother
The Bravery of Being Out of Range
Hello in There (John Prine cover)
Wish You Were Here
Wide River to Cross (Buddy Miller cover)
Amused to Death
Brain Damage
Eclipse
Forever Young (Bob Dylan cover)
======================
For a chance to win a ROGER WATERS "AMUSED TO DEATH" picture disc: Either tweet something that includes both @BrooklynVegan AND "ATDvinyl" in the tweet, or send an email to BVCONTESTS@HOTMAIL.COM with the subject line "ATDvinyl". Include your first and last name in the email. We'll pick a winner at random and contact them with more details. If you enter by email, it will not be shared with anyone else. Good luck!
======================