Roky Erickson playing live shows backed by Okkervil River in NYC, at SXSW (at a BV day party) ++ MP3, album art, dates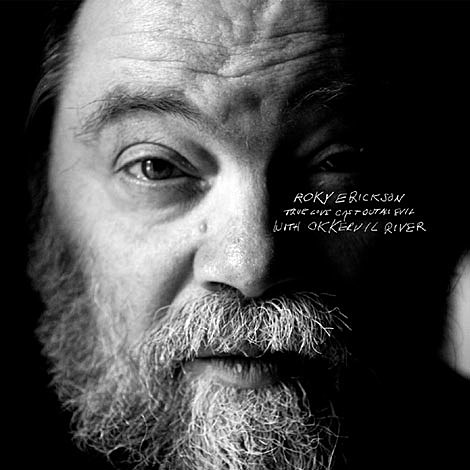 Roky Erickson has shows coming up in various places around the country. One of those is a Tuesday, May 25th at Webster Hall with Okkervil River (Will Sheff included) as his band. Tickets go on AmEx presale Wednesday, February 24th at noon. General sale starts Friday (2/26) at noon.
Roky & Okkervil will also be playing their hometown of Austin during SXSW. Their official showcase takes place Thursday, March 18 at 12:30 AM La Zona Rosa. You can also catch them at the previously unannounced BrooklynVegan/M for Montreal SXSW day party at Galaxy Room (formerly Radio Room, formerly Bourbon Rocks) on Saturday, March 20th (noon-5:30pm) with Andrew WK (whose Q&A at Santos tonight is streaming) and others TBA. Unlike any other day BV day party so far in history, this one is "official" aka actually part of the SXSW schedule (though please note: SXSW CURRENTLY HAS IT LISTED AS FRIDAY, BUT IT IS SATURDAY). Still no badges necessary and 100% free, but part of SXSW (aka on their schedule).
Stay tuned for more exciting BV show lineup announcements. All Roky Erickson tour dates and a video of Roky and Will Sheff at Toy Joy in Austin, TX, are below...


'True Love Cast Out All Evil' tracklist
01. Devotional Number One
02. Ain't Blues Too Sad
03. Goodbye Sweet Dreams
04. Be and Bring Me Home
05. Bring Back The Past
06. Please Judge
07. John Lawman
08. True Love Cast Out All Evil
09. Forever
10. Think Of As One
11. Birds'd Crash
12. God Is Everywhere
Roky Erickson backed by Okkervil River - 2010 Tour Dates
Feb 24 Houston, TX - Continental Club
Feb 26 New Orleans, LA - One Eyed Jack
Mar 06 Cleveland, OH - Beachland Ballroom
Mar 18 Austin, TX - La Zona Rosa (official SXSW showcase)
Mar 20 Austin, TX - BrooklynVegan/M Is for Montreal SXSW Day party @ Galaxy Room
Apr 24 Austin, TX - Paramount Theater
May 18 Los Angeles, CA - Mayan Theatre
May 20 San Francisco, CA - Fillmore
May 25 New York, NY - Webster Hall