Ron Sexsmith played Highline Ballroom w/ Caitlin Rose (pics), subject of a documentary (that premiered @ SXW)
photos by Dominick Mastrangelo
Ron Sexsmith @ Highline Ballroom

In the documentary film about Ron Sexsmith, "Love Shines," Elvis Costello casts the Canadian musician in the same realm as one of rock 'n' roll's historic performers.

"I think Ron has got one of the purest seams of melody, that he has access to exclusively, since Paul McCartney," Costello says.

There's no higher praise, but some folks are undoubtedly saying "Who's Ron Sexsmith?"

...He's just released a fantastic album, "Long Player Late Bloomer," which features the production of Bob Rock, best known for his work with Metallica, Bon Jovi and Motley Crue. The biopic "Love Shines" premiered recently at South By Southwest, and Sexsmith made a national television appearance on "Jimmy Kimmel Live!"

Sexsmith admits he's excited, a far cry from the melancholy that haunted him after his previous album, "Exit Strategy of the Soul," more or less tanked. When Rock agreed to produce "Long Player" Sexsmith's joy was leavened by a sense of disbelief. -[Pittsburgh Tribune-Review]
"Love Shines" was an audience favorite at SXSW.
Speaking of Elvis Costello, who is playing a solo set at this year's Newport Folk Fest, he's playing a small, late show at Gramercy Theatre tonight (4/1), and probably something before that too. Those staying home can catch him on TV.
Ron Sexsmith played Highline Ballroom on Monday (3/28), part of his US tour with Caitlin Rose in support of the new LP Long Player Late Bloomer which is out now.
More pictures from that show (including one of the setlist), tour dates, videos from Kimmel and SXSW, the documentary trailer & more, below...

--
Caitlin Rose
Ron Sexsmith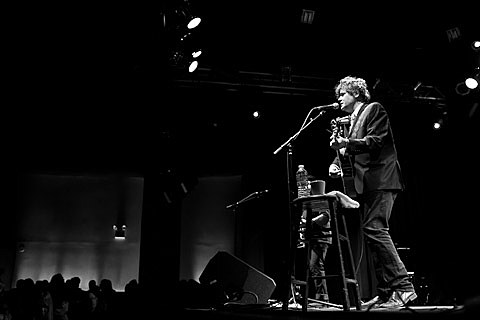 Ron Sexsmith Performs "Love Shines"

Ron Sexsmith Performs "Believe It When I See It"

SXSW 2011: Ron Sexsmith @ The Hilton

Love Shines - Official Trailer

Love Shines - Ron Sexsmith & Elvis Costello at the Apollo

Ron Sexsmith performs 'Love Shines' in a QTV exclusive.

RON SEXSMITH - 2011 TOUR DATES
April 01 Vancouver BC Rio Theatre
April 02 Victoria BC St. Ann's Auditorium
April 04 Portland OR Doug Fir Lounge
April 05 Seattle WA Crocodile Cafe
April 07 San Francisco CA Café Du Nord
April 08 Los Angeles CA Largo @ The Coronet
April 15 Ottawa ON First Baptist Church
April 16 Peterborough ON Market Hall
April 19 Waterloo ON Starlight
April 20 Hamilton ON Hamilton Place
April 21 Toronto ON Lee's Palace
April 25 Stockholm SE Göta Källore
April 27 Berlin DE Admiralspalast
April 28 Amsterdam NL People's Place
April 30 London UK Barbican Theatre
May 02 Paris FR La Maroquinerie
May 03 Cologne DE Kulturkirche
May 04 Ghent BE Handelsbeurs