Roots Picnic this weekend (stream it), new Little Dragon album in July (and a SBTRKT track now)
Little Dragon at MHOW in January (more by Brook Bobbins)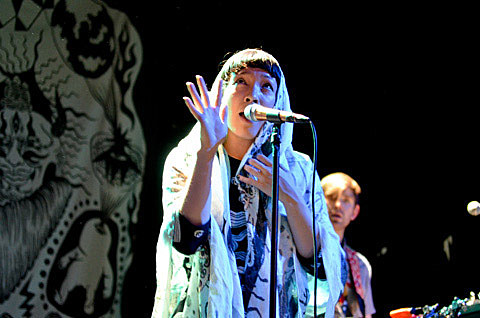 If you won't be able to make it out to Philly this Saturday (6/4) for The Roots Picnic, you're in luck because starting at 1PM a live webcast from the main stage will be streaming on Okayplayer (the website owned by The Roots) and XPN. The webcast will be hosted by Warren and XPN DJ Mike Vasilikos. Philly's DJ Afrodjiak will chat with artists throughout the day. Performances to be webcast include Little Dragon, The Dismemberment Plan, Ariel Pink, Edward Sharpe & The Magnetic Zeroes, Esperanza Spalding with The Roots, Wiz Khalifa, and Nas with The Roots. You can also catch videos of the performances at XPN and Philadelphia Music Magazine after the event.
The Roots Picnic is only one of a bunch of festival appearances Little Dragon will be making this summer (and fall). The band also plays Outside Lands, MusicfestNW, Moogfest, and a few others overseas. Their upcoming album Ritual Union now has a release date of July 12 via Peacefrog Records. Check out the track "Nightlight" and the artwork and tracklist below. Little Dragon also recently contributed to the song "Wildfire" off the UK producer SBTRKT's upcoming self-titled debut. Download the collaboration above.
All dates and Ritual Union stuff below...

--
Little Dragon - "Nightlight"

Ritual Union Tracklist:
01 Ritual Union
02 Little Man
03 Brush the Heat
04 Shuffle a Dream
05 Please Turn
06 Crystalfilm
07 Precious
08 Nightlight
09 Summertearz
10 When I Go Out
11 Seconds
--
Little Dragon 2011 Dates
June 4, 2011, Roost Picnic, Philadelphia, US
June 10, 2011, Caribana Festival, Crans-Pres-Celigny, Switzerland
June 11, 2011, Volt Festival, Uppsala, Sweden
June 16, 2011, Sonar Festival, Barcelona, Spain
June 24, 2011, Glastonbury Festival, UK
July 15, 2011, Melt Festival, Grafenhainichen, Germany
July 23, Soundwave Festival, Petrcane, Croatia
Aug 14, 2011, Outside Lands Music & Arts Festival, San Fransisco , US
Sept 7, 2011, MusicfestNW, Portland, OR
Oct 28, 2011, Moogfest, Asheville, NC