Rorschach played ABC No Rio (video), LPR & Acheron (pics, review) after Maryland Death Fest
words by Lauren Jackson, photos by Shaun Regan
Rorschach at LPR - 5/26/12

Both later shows were brimming over with enthusiastic fans of Rorschach as well as the supporting bands, especially at Le Poisson Rouge. Much like the venue itself -- polished, cool, even a bit too cool -- so too was the show. Decidedly more star-studded than its later counterpart, the penultimate line-up included noisy newcomers Xaddax (mem Dazzling Killmen), local heroes Indecision and the ever-popular Converge, who played alongside Rorschach to a predictably sold out LPR.
Those in attendance were a curious mix of young and old (see: potbellied old schoolers surrounding a pit of fresh-faced and angsty teenagers). Most of the former faction left before Rorschach took to the stage, obviously drawn to the show less by the legends of both the headliner and Indecision and more by the celebrity of Converge.
Converge acted as a peculiar, if not entirely misplaced, bridge between Rorschach and Indecision. Their younger fan base and undeniably "edgier" aesthetic (frontman Jake Bannon sported a t-shirt for the band Master's Hammer, an obscure and experimental Czech black metal band) added a singular and ever-so-slightly awkward segue between bands. Their performance, however, was as brutal as fans have come to expect of Bannon and company.
In similar fashion, Rorschach delivered the night's crowning performance, bringing the show at LPR to a shrill crescendo. Though one might expect their final performance of the night to be more subdued than the two prior, their set at the Acheron was perhaps more uproarious than at LPR.
The show at the Acheron was significantly more intimate--and more raucous--than the two that came before... and not only because both frontmen of Concrete Cross and Psychic Limb ended up in various states of undress during the night. The true, dedicated, and bedraggled few trekked to Rorschach's final performance of the night, bringing with them an air of camaraderie and familiarity that Le Poisson Rouge lacked.
Characterized by sweat, laughter and grown men in underwear, Rorschach's last hurrah on Saturday was definitely the one everyone should have attended... if not for the striptease, then definitely for the fraternal atmosphere that shows these days too often lack.
More pics from LPR and a video from ABC No Rio are below...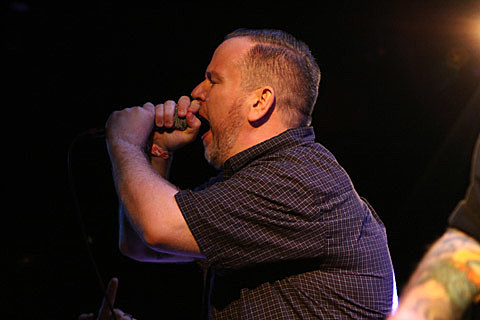 --
Rorschach at ABC No Rio 5/26/12