Rot in Hell releasing As Pearls Before Swine (MP3), playing A389 Anniversary (tix on sale)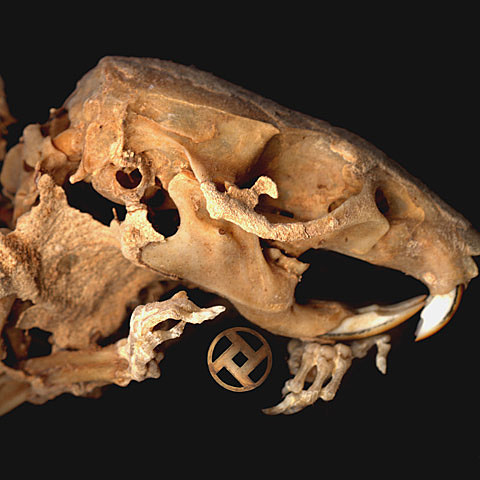 The UK's Rot In Hell are not to be fucked with. The band takes crusty hardcore and adds a blackened-metallic spin much like the Clevo-core "Holy Terror" crew and its disciples (Ringworm, Gehenna, Pulling Teeth, etc) have done to such great/furious effect. The band's previous releases like Hallways of The Always have indicated the brutality to come, but now comes word of Rot in Hell's first LP!
As Pearls Before Swine is the band's first full-length of new and unreleased material, and will be released on February 1st via Deathwish Inc (album art above). Check out "Behavioral Resistance MMX" which is downloadable above/streamable below for the first time, as well as an additional two songs, "Traitor's Gate" and "Coyotenia", that are currently streaming in a Deathwish player. Preorder details are on the way.
Rot In Hell have one show on their calendar in the US, that is supporting Integrity, Haymaker, Dropdead, Pale Creation, and a slew of others at Sonar on January 22nd as part of the A389 Anniversary show in Baltimore. If you're in the area (or even if you aren't) then make sure and get there. Tickets are on sale.
If you go to the show, make sure and hit the merch table:
This year we will have a limited edition show only release: (A389-058) V/A 'The Show That Ends The World' 10? for sale at this show. Featuring a song by each of the bands that played last year (INTEGRITY, RINGWORM, GEHENNA, PULLING TEETH, SERAPHIM, GRAY GHOST) recorded live with a mobile studio and mixed by Keven Bernsten @ Developing Nations. There will only be 200 for sale ever (with an additional 100 split up between the 6 bands) and they will be available at this show only.
Sold. Look for that as well as the Rot In Hell one-sided live 12" Niu which is also currently up for sale at A389.
Song stream, A389 flyer and some video is below.

--

Rot In Hell - "Behavioral Resistance MMIX"

rot in hell - kingdom of heaven (integrity cover)

Rot in Hell - The barrens/chlorothrax

unbroken last show, ceremony, ritual, rot in hell, abolition, disembodied. london 2010