Röyksopp & Nite Jewel @ Webster Hall (night 1) -pics, setlist
Erez Avissar
words & photos by Erez Avissar
LA's Nite Jewel was a three-piece, joined by a live bassist, which boosted their show tremendously. They played a pair of new tracks, but the highlights to me were the familiar moments: when Ramona Gonzalez asked the sound guy to turn up the bass, I should have known they were about to launch into their evocative noir-disco banger "What Did He Say". It left the crowd no choice but to move their feet and hips. Hearing that devastating bass line played with real fingers and strings brought serious force to the delivery, and I think that that track in particular deserves to go down as an Italo classic. They received lots of shout-outs and volume love from the crowd, and judging by the amount of people who asked me what they're called, successfully won over the house.
Röyksopp opened with a slow-burning builder before launching into a setlist which basically went: hits, worthy gems, hits. Their live vocalist, Anneli Drecker, played such a fitting substitute to Karin Dreijer Andersson that you had be looking pretty close to tell the difference on those songs - every inflection sounded uncanny. Her execution was absolutely flawless, and when they rolled out with the surprise of the night, a note-for-note cover of Kate Bush's "Wuthering Heights," she put on a dead-on Kate croon.
Röyksopp stand behind their setup on an elevated riser in the back, occasionally popping out to strut, sing, or bang on something, but mainly leaving the focus on the prominent Drecker, with her many outfits, the light show, and mainly, you know, the music. Their 90-minute set left everyone in the house satisfied, and judging from their faces when the house lights went up, totally drained and disoriented from the experience. As good a sign of a great show as any.
Röyksopp and Nite Jewel played two nights in a row in NYC at Webster Hall (Monday 11/24 - Tuesday 11/25). The review and pictures in this post are from night one. The pictures are continued, with the setlist, below...


Nite Jewel
Royksopp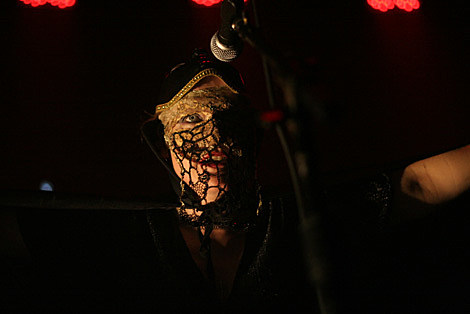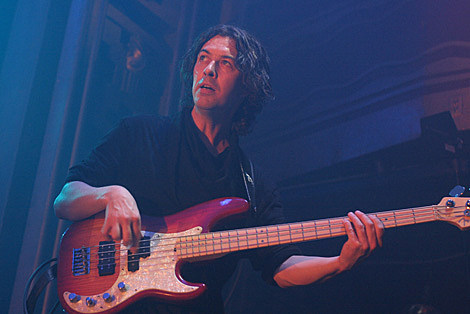 Royksopp - night 1 setlist
Intro
Royksopp Forever
This Must Be It
Remind Me
Happy Up Here
Tricky Tricky
Alpha Male
You Don't Have A Clue
I Wanna Know
The Girl And The Robot
Eple
What Else Is There
Only This Moment
--
So Easy
Poor Leno
--
Wuthering Heights
Fat Burner